Jennifer Aniston Has No 'Rules' for Food
Jennifer Aniston, known for her ability to defy aging, doesn't make any food off-limits.
Jennifer Aniston is fitness goals. 
But as she revealed in an interview with Yahoo, she doesn't have any hard and fast rules when it comes to what she eats to fuel her body. 
The 50-year-old is among others in Hollywood such as Jennifer Lopez who seem to age backward. Aniston hasn't changed much since her days of filming Friends thanks to the hard work she's put in taking care of herself. But that doesn't mean she has lots of restrictions. 
Aniston on her food intake: 'I don't give myself rules anymore'
The Murder Mystery star is known for stocking her fridge with hard-boiled eggs, sliced fresh vegetables, and egg whites. Her trick to staying on track healthwise? Reaching for healthy foods. 
"I don't let eating habits get out of control where I need a reset button," Aniston told the news outlet. "It's pretty clear: Eat as much organic fruits and veggies as you can, keep sugar [intake] low, drink tons and tons of water, and get good sleep."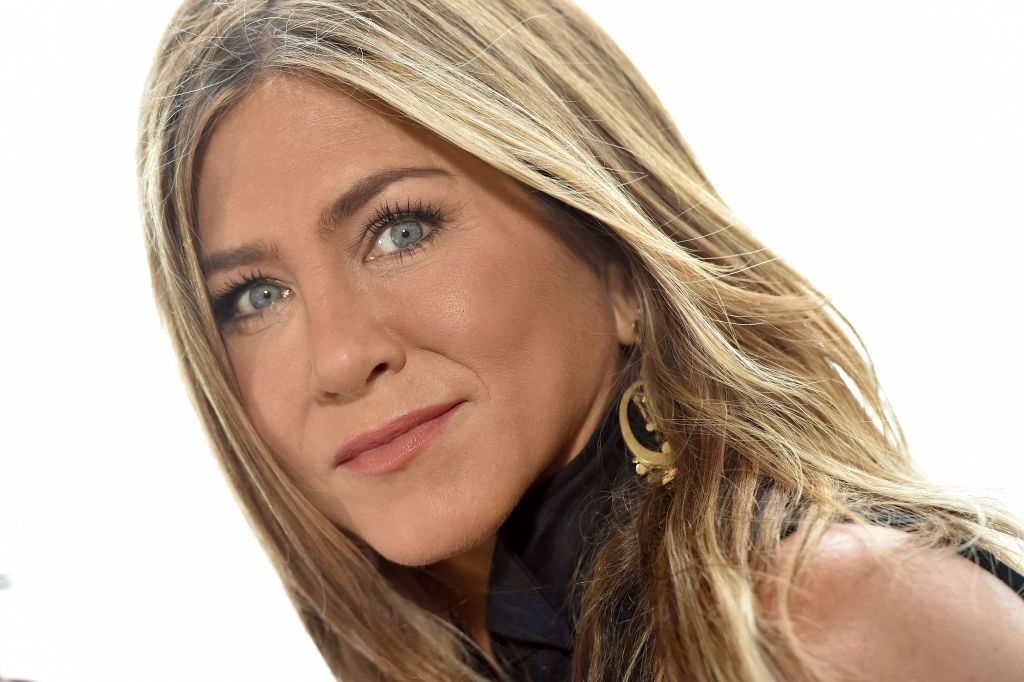 What she said isn't revolutionary, we've been hearing this type of fitness advice for years and years. But what's surprising about Aniston is that she doesn't shy away from pizza or tequila. The home she shared with her ex-husband, Justin Theroux, had a pizza oven. And she often invited friends over to her house for make-your-own pizza night or homemade vegetable lasagna. 
Also in the interview, she explained she's allowed to satisfy cravings for junk food. "I allow myself to indulge once in a while…but I don't give myself any rules anymore," Aniston said. 
So, if Aniston wanted to have some potato chips, she probably ate them instead of denying the craving. But she likely didn't chow down on a family-size bag because, as she's demonstrated in interviews, she's disciplined when it comes to what she puts in her body. 
What does Jennifer Aniston eat in a day? 
In 2016, Aniston let People magazine in on what she eats on a daily basis. She started her day by drinking a cup of hot water with lemon followed by coffee. For breakfast, she chose a chocolate-flavored protein shake made of fruit, collagen peptides, and more. To tide her over until lunch, she reached for a hard-boiled egg. 
When it came time for her second meal of the day, Aniston continued her pattern of eating lean proteins and lots of vegetables. At the time, her favorite meal to eat for lunch consisted of seared ahi tuna with cucumber and lentil salad. 
Following an afternoon snack — a cheese stick or a cup of soup — Aniston had zucchini noodles with chicken. Back then she revealed she let herself have wiggle room with her food. 
"I'm not as strict as I was. It was always sort of a monitored watch," she said. "Then I thought, just give yourself moderation." 
What's the one food Aniston can't say no to? Foods that are "salty savory." 
How much money does Jennifer Aniston spend on her physical appearance? 
For the average person, following Aniston's diet is more realistic than other things she does to maintain her image. According to E! News, the actress spends approximately $43,000 annually on her physical appearance, not including money spent on groceries or workout sessions with her personal trainer, Mandy Ingber. 
So, what does that amount of money get Aniston? Biweekly spray tans, skincare including microcurrent facials and laser treatments, eyebrow grooming, and haircuts and hair color.