Jennifer Aniston Is Nominated for an Emmy but Won't Be Attending for This Relatable Reason
Friends star Jennifer Aniston celebrates a surprising Emmy nomination for the HBO Max special, Friends: The Reunion. The 72nd Primetime Emmy Awards will air on Sept. 20 on CBS. Aniston said she wouldn't attend — and her reason is entirely relatable. Here's what she said about this year's award ceremony.
Has Jennifer Aniston won an Emmy in the past?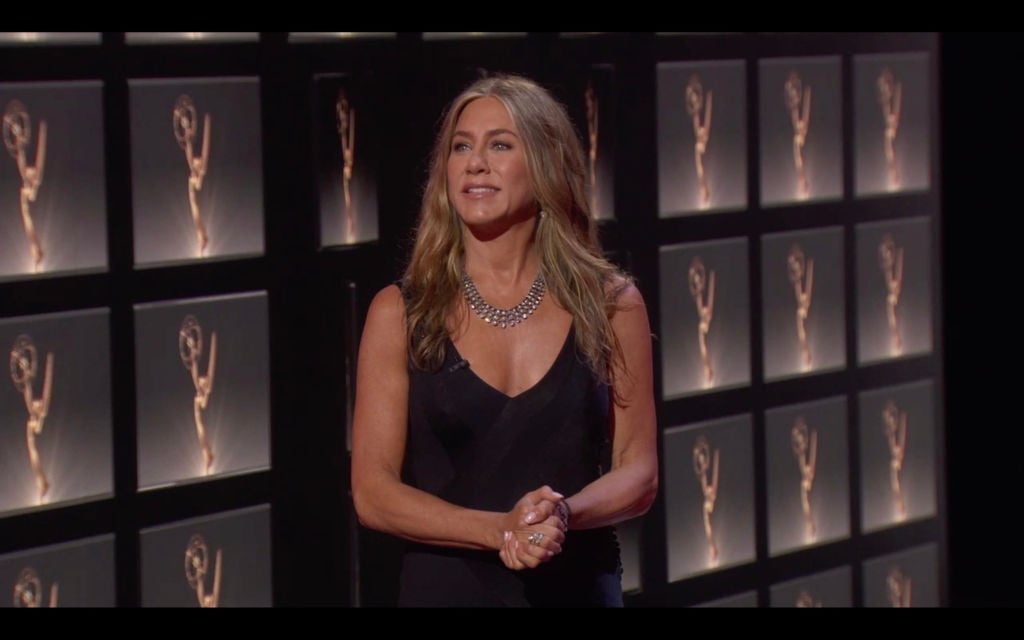 Friends: The Reunion received four Emmy nominations this year in Outstanding Variety Special, Production Design, Lighting Design, and Direction for a Variety Special. The 2021 additions make a total of 62 nominations throughout the entire 10-season run. In total, Friends aired 236 episodes.
Aniston previously had five Emmy nominations for her role as Rachel Green. She took home "Oustanding Lead Actress in a Comedy Series" in 2002. Lisa Kudrow received six nominations, Matt LeBlanc had three, and David Schwimmer and Matthew Perry had one each. Courteney Cox is the only cast member without a nod (until now). The nomination makes the "Outstanding Variety Special" a significant win for the ensemble so Cox can join her Friends co-stars.
Here's why Jennifer Aniston won't attend the 2021 Emmy Awards
During an appearance on Jimmy Kimmel Live, Aniston said she's out this year.
"No, I won't be going," she told Kimmel regarding the LA event. She explained that attending [Kimmel's] show was "a big step for me just to be here." She's been taking "baby steps" from the pandemic life and only goes where necessary. The sentiment is a familiar one, as many A-listers will likely watch virtually for similar reasons.
Aniston's very vocal about her stance on the coronavirus (COVID-19) vaccine. In past interviews, she admitted to cutting people out of her life for choosing against it.
This year, the Television Academy maintains a four-person rule for attendance. Friends Reunion producer Ben Winston will represent the cast. The pandemic shifted the way the Emmys aired last year: the virtual event and in-depth social-distancing measures made for an exciting watch. Kimmel hosted from the Staples Center in 2020. Cedric, the Entertainer, will take over hosting duties for 2021.
Jennifer Aniston is gearing up for 'The Morning Show' Season 2 premiere
RELATED: 'The Morning Show': Who's Returning For Season 2
Despite Aniston's avoidance of the Emmys, she's busy promoting The Morning Show. The first season of the Apple TV+ series follows Aniston's character, Alex Levy. Her morning news co-anchor Mitch Kessler (Steve Carrell) is accused of sexual misconduct and immediately fired, leaving Alex to pick up the pieces. The network casts fresh-faced Bradley Jackson (Reese Witherspoon) in Mitch's place.
The series highlights the effect of the #MeToo scandal, making The Morning Show an instant hit. Season two will premiere the first episode on Set. 17, and the streaming service will release a new episode each Friday after that.
The Morning Show was nominated for eight Emmys in 2020, with star Billy Crudup taking home the award for
Outstanding Supporting Actor In A Drama Series for his role as Cory Ellison. Aniston was also nominated for the show last year but didn't win.
The 2021 Emmy Awards air Sunday, September 19 at 8 p.m. ET on CBS.