Jennifer Aniston Once Admitted She Was 'Confused' By the End of Her Marriage to Brad Pitt
Fifteen years ago, the world watched as Jennifer Aniston's marriage to Brad Pitt crumbled before our eyes. Their seemingly perfect union came to an abrupt end thanks to Pitt's affair with Angelina Jolie on the set of the 2005 flick Mr. and Mrs. Smith.
The Friends alum has since moved on and put that heartbreak in the past. Pitt and Jolie's relationship subsequently came to a nasty end in 2016. But in her first interview after her split from Pitt, Aniston admitted that she was "confused" by the end of her marriage.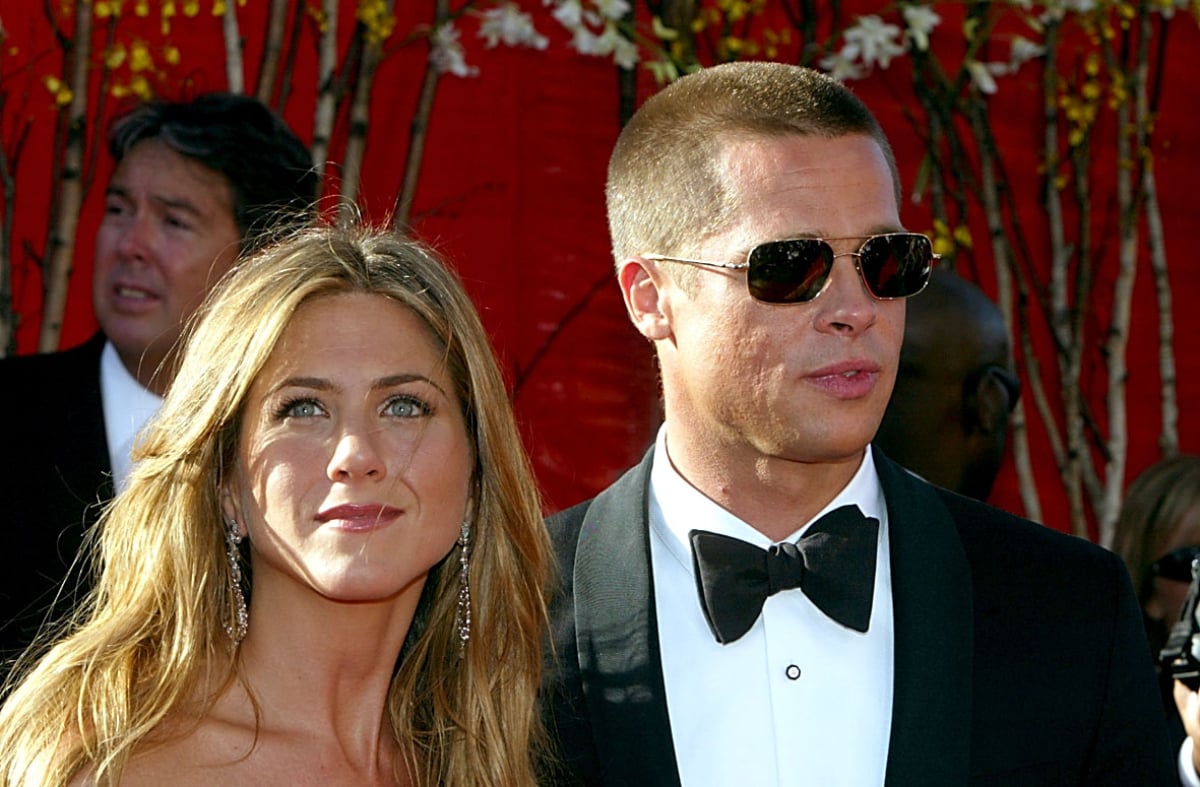 Jennifer Aniston said goodbye to 'Friends' the same month Brad Pitt met Angelina Jolie
It wouldn't be an understatement to say that Aniston went through a lot in 2004. In May, Friends aired its final episode after ten seasons. That same month, Pitt met Jolie on the set of Mr. and Mrs. Smith.
Just weeks earlier – in February 2004 – Aniston told The Guardian that she was ready to say goodbye to Rachel Green and start a family with her husband.
"It's time. It's time. You know, I think you can work with a baby, I think you can work pregnant, I think you can do all of it. So I'm just truly looking forward to slowing down," Aniston said.
RELATED: Jennifer Aniston Knew She and Brad Pitt Were Meant to Be On Their First Date
Little did she know that her marriage was about to fall apart. By January 2005, she and Pitt were done.  The couple announced their split in a joint statement. And they claimed that it had nothing to do with the rumors swirling around Pitt and Jolie in the tabloids.
But in a December 2006 interview with Vogue, Jolie admitted that sparks flew between her and Pitt when he was still married to Aniston.
"Because of the film we ended up being brought together to do all these crazy things, and I think we found this strange friendship and partnership that kind of just suddenly happened. I think a few months in I realized, 'God, I can't wait to get to work,'" Jolie said.
The 'Friends' alum opened up about her split from Brad Pitt in a big 'Vanity Fair' interview
In October 2006, Aniston was finally ready to spill her heart and tears to Vanity Fair. At the time, only her closest friends knew the truth about what really happened. And she admitted that nearly two years after her divorce, she had still had deep, conflicting emotions.
It didn't help that the paparazzi wouldn't leave her alone. To make matters worse, Pitt and Jolie were flaunting their new relationship, and he had taken a paternal role with Jolie's son Maddox.
RELATED: Brad Pitt and Jennifer Aniston Have Never Stopped Gushing About Each Other In Public
This was all happening at the same time Aniston thought she would be pregnant. The aftermath of the divorce was worse than the split itself.
"There are many stages of grief," Anniston said. "It's sad, something coming to an end. It cracks you open, in a way—cracks you open to feeling. When you try to avoid the pain, it creates greater pain. I'm a human being, having a human experience in front of the world. I wish it weren't in front of the world. I try really hard to rise above it."
Jennifer Aniston admitted that she was 'confused' by the end of her marriage
Aniston retreated to a rented Los Angeles bungalow after her split from Pitt and tried to lay as low as she could. She spent time with her girlfriends, and avoided the tabloids.
"Am I lonely? Yes. Am I upset? Yes. Am I confused? Yes. Do I have my days when I've thrown a little pity party for myself? Absolutely. But I'm also doing really well," Aniston said. "I've got an unbelievable support team, and I'm a tough cookie.… I believe in therapy; I think it's an incredible tool in educating the self on the self. I feel very strong. I'm really proud of how I've conducted myself."
The actress explained that it was important for her not to read or see anything in the tabloids because it was too toxic. She called this strategy her "saving grace" and she was sure it avoided a lot of suffering. However, she still had her emotional moments.
RELATED: Jennifer Aniston Reveals How She Really Felt About Angelina Jolie And Brad Pitt's Affair
"I would be a robot if I said I didn't feel moments of anger, of hurt, of embarrassment," Aniston confessed.
At the time, she was still trying to figure out what really happened in those few months in 2004, and she admitted that there was still a lot she didn't understand.
"I just don't know what happened," Aniston said. "There's a lot I don't understand, a lot I don't know, and probably never will know, really. So I choose to take away with me as much integrity and dignity and respect for what that relationship was as I can."