Jennifer Aniston Regretted Giving Over 'So Much' of Herself in Her Marriage With Brad Pitt
In September 2005, Vanity Fair posted a lengthy interview with Jennifer Aniston following her separation from Brad Pitt. In the interview, Aniston discussed dealing with tabloid rumors, how she adjusted to being alone again, and her emotional state following the breakup. At one point in the interview, Aniston said she regretted giving "over so much of" herself in the marriage.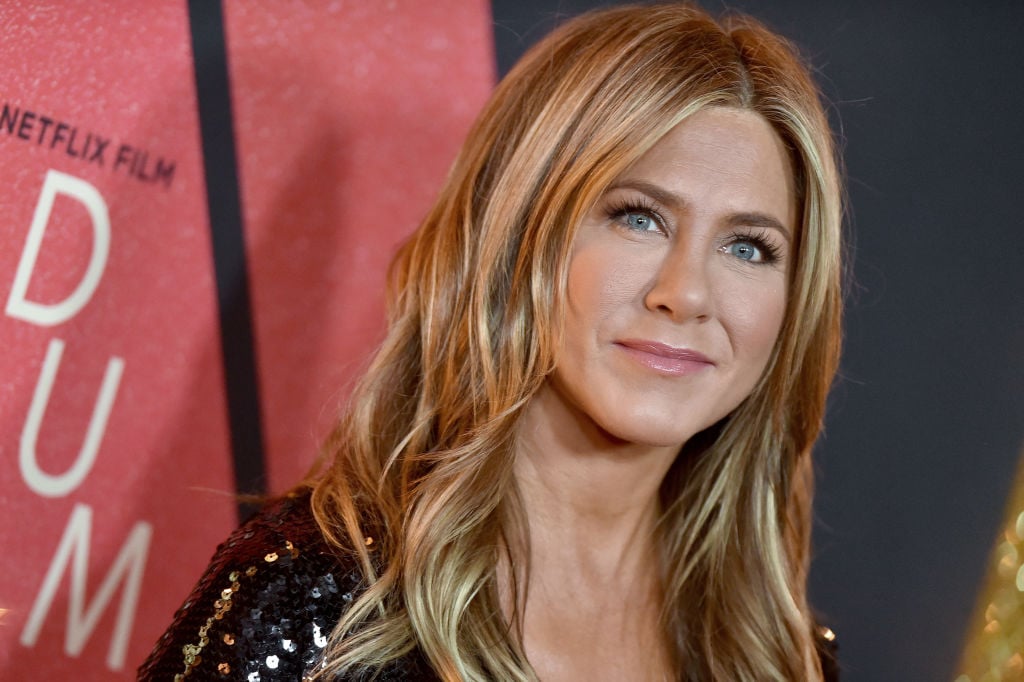 Jennifer Aniston does not regret her marriage with Brad Pitt
In the interview with Vanity Fair, Aniston made it clear that she did not regret falling in love with or marrying Pitt. However, the actress did have some regrets from the past few years.
"There's a lot I would probably do differently," she told Vanity Fair. "I'd take more vacations—getting away from work, enjoying each other in different environments. But there was always something preventing it; either he was working or I was."
She continued, "I wouldn't give over so much of myself, which I did at times. It was that thing about being a nurturer; I love taking care of people, and I definitely put his needs before mine sometimes. It's seamless; somewhere along the way, you sort of lose yourself. You just don't know when it happens. It's such an insidious thing, you don't really see where it started—and where you ended. There's no one to blame but yourself. I've always been that way in relationships, even with my mom. It's not the healthiest. I feel like I've broken the pattern now. I'll never let myself down like that again. I feel like my sense of self is being strengthened because of it."
RELATED: Jennifer Aniston Once Said Brad Pitt Is Missing a 'Sensitivity Chip' After He Embarrassed Her
The actress enjoyed being alone again
After separating from Pitt, Aniston spent time learning how to be alone again. Part of that involved moving into a new place and decorating it with her individual style.
"It's beautiful here; I love it. I've always wanted to have a little Malibu beach house, and it feels good. I'm enjoying simplifying things… Brad and I used to joke that every piece of furniture was either a museum piece or just uncomfortable," Aniston said. "He definitely had his sense of style, and I definitely have my sense of style, and sometimes they clashed. I wasn't so much into modern."
When asked what she enjoyed about living on her own, Aniston replied, "I can have a comfortable couch."
Aniston admitted that while she did get lonely following the separation, she was enjoying being alone and felt it was good for her.
"I feel like I'm nesting. I love being home. I have friends that come over. My girlfriends I've had for 20 years. When things happen, the tribe gathers around and lifts you up. I've had lonely moments, sure, but I'm also enjoying being alone. There's no question it takes getting used to… It's uncharted territory, but I think it's good for me to be a solo person right now. You're forced to re-discover yourself and take it to another level."
Jennifer Aniston never wanted to be viewed as a victim
While Aniston was often viewed as a victim following her separation and divorce from Pitt in the media, she did not see the situation that way.
"I would be a robot if I said I didn't feel moments of anger, of hurt, of embarrassment," she said. "I don't feel like a victim. I've worked with this therapist for a long time, and her major focus is that you get one day of being a victim—and that's it. Then we take responsibility for our own input. To live in a victim place is pointing a finger at someone else, as if you have no control. Relationships are two people; everyone is accountable."