Did Jennifer Aniston Think Dolly Parton Was 'Tacky' For Revealing Husband's Naughty Fantasy?
Dolly Parton told Jimmy Fallon and the world that her husband, Carl Dean, fantasizes about bringing Jennifer Aniston into their bedroom. She also made a hilarious quip about his ability to perform if that situation ever presented itself. But did Aniston think it was 'tacky' of Parton to talk about and also bring her into it?
Country queen Dolly Parton hilariously revealed on late-night that husband, Carl Dean, fantasizes about him, her, and Jennifer Aniston. While it might not be a highly unusual fantasy, not everyone generates the interest of the world when they dish on their partner's dirty thoughts.
So, did Aniston think it was "tacky" that Parton shared the story? And what does Dean think about some of Parton's comments about her expectations for his performance?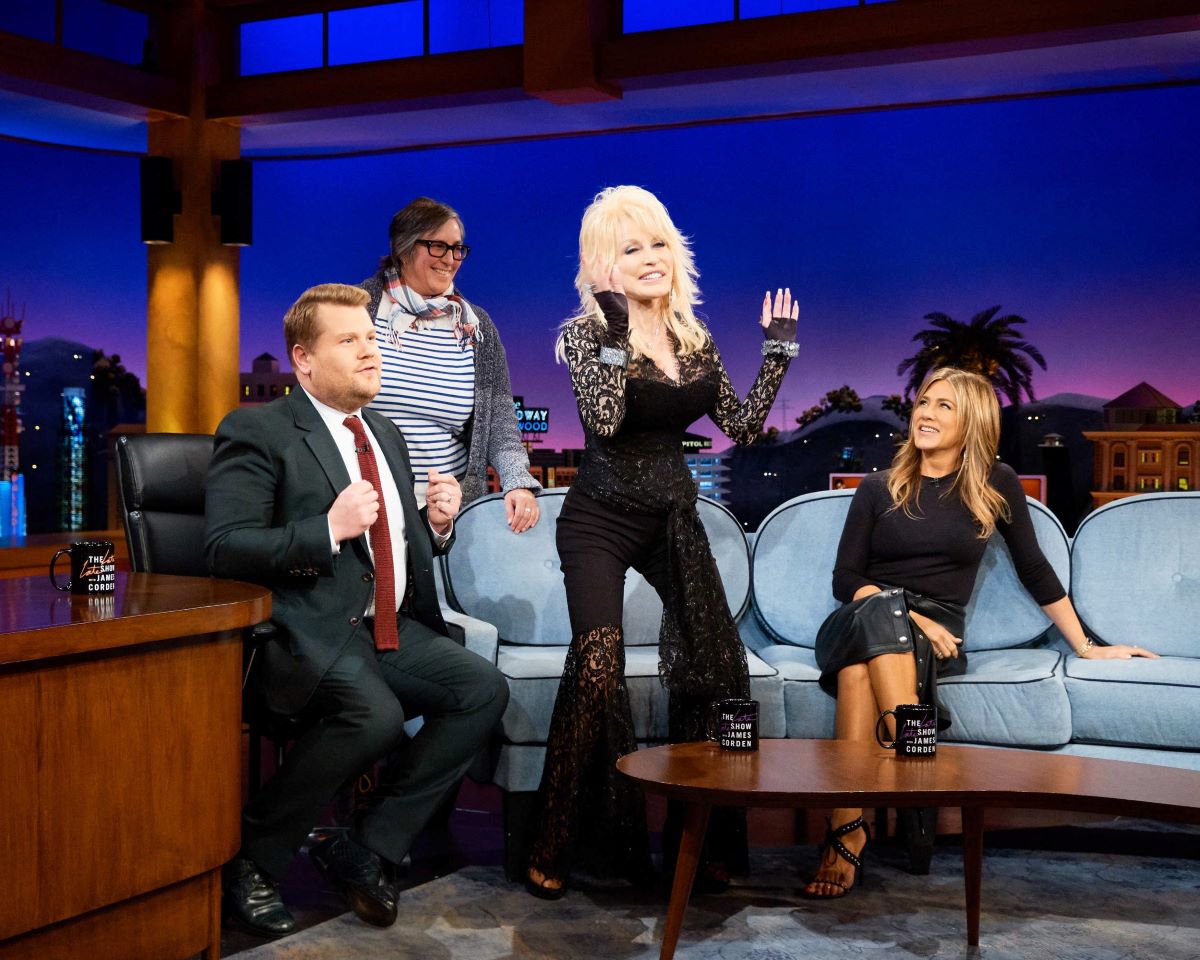 Dolly Parton: Carl Dean 'fantasizes' about a threesome with her and Jennifer Aniston
As Parton has emphasized in multiple interviews, her elusive spouse is a big fan of Aniston. And in 2018, while on The Tonight Show talking to Jimmy Fallon, she revealed something a little more specific about what Dean might be thinking.
"See, I think he kinda fantasizes, like, a threesome with us," she told Fallon before quipping, "I mean he can't even get it out to pee, much less get it up for three."
The comments were met with an uproar of laughter that night. But while Parton was being interviewed with Aniston later, the Friends star got the chance to give her own reaction.
Dolly Parton hopes 'nobody thought it was tacky' but doesn't regret saying it
When the subject came up again with Aniston present, Parton said she just thought it would be funny to say, as reported by Entertainment Tonight. And according to her, Dean also thought it was a "hoot."
Notably, Aniston said her friends kept sending her the clip and she also thought it was a hilarious line. And when Parton said, "I hope nobody thought it was tacky," she replied with a long, "No."
While talking to Access Hollywood in another joint interview, The Morning Show star said she'd never met Carl, but she already felt affection for him. "I love Carl, too," she said before repeating the message for him, personally: "I love you, Carl."
And as for the stir caused by the remarks, Parton didn't seem to have any regrets.
"I said it and that's fine," she concluded of the disclosure. "And it's true. He does fantasize it."
Jennifer Aniston was flattered by Dolly Parton's comments
When Aniston was asked separately about Parton's Tonight Show interview, she admitted that the moment made her jaw drop. But she didn't seem to be offended by it.
"It was hilarious, I think it's flattering. And that's Dolly's sense of humor," Aniston told USA Today. "No one in the world can get away with saying anything like that about their partner on live television, except Dolly. I mean, that is a quote."
Of course, Aniston assures fans it was all just "fodder" for the talk-show and her friendship with the longtime superstar is much more G-rated than her husband might like.
Specifically, she said Parton sends her handwritten letters. She shared, "They're beautiful, all on stationary with this Dolly (letterhead). She's so old-fashioned."
Aniston added, "I give her a phone call back after she writes. I like talking to her on the phone."
So, it seems Parton's comments were met with laughter from Aniston — as they were apparently meant to be.