Jennifer Garner's Peaches and Biscuits Recipe Features a Vegan Dish From Tabitha Brown
Jennifer Garner made Tabitha Brown's peaches and biscuits recipe, 'cause that's her business. The Alias alum featured one of the vegan star's recipes on her "Pretend Cooking Show" in July 2020, and while she didn't make vegan biscuits, she did follow Brown's peaches recipe, and it's about to be your new favorite sweet treat.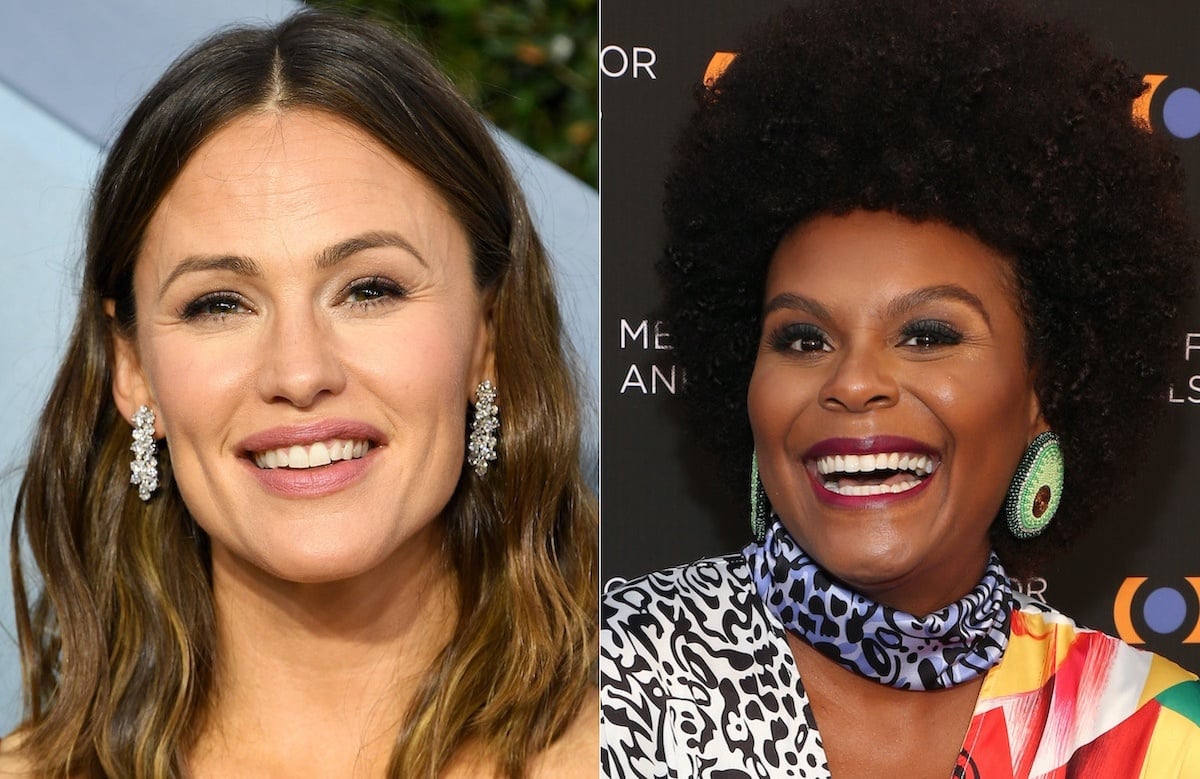 Jennifer Garner and Tabitha Brown want to be friends
Garner took on Brown's peaches concoction on July 1, 2020. The actor gushed over Brown in her caption, thanking her for always making her feel happy when watching her videos.
"Miss @iamtabithabrown— thank you for always making me smile, for these incredible peach biscuits and for the parenting phrase that will get my kids through summer 2020—'it's MY business,'" Garner wrote. "I hope you don't mind me cooking alongside and sharing the ♥️🍑♥️. Like so, like that."
Brown, a fellow actor, said Garner sharing her recipe on "Pretend Cooking Show" was one of her highlights of the year on her own Instagram.
"Hey Jennifer in 2021 let's learn to make vegan biscuits from scratch together girl," Brown said.
As Garner replied, "Tabitha! I'll make vegan biscuits with you—I'll make anything with you—Happy New Year! Thank you for being a light!"
RELATED: Ina Garten Just Gave Jennifer Garner a New Favorite Recipe and It's 'the Perfect Comfort Food'
Tabitha Brown's peaches recipe and Jennifer Garner's biscuit recipe
While Brown is an expert at vegan cooking, she said she's not as strong of a baker, so she opted to make vegan biscuits from a can. Garner opted to make her non-vegan biscuits from scratch. Also keep in mind that Brown eyeballs a lot of her ingredients, so watching her recipe videos is a helpful way to get more guidance on serving sizes.
Here's everything you'll need for Brown's peaches recipe and Garner's biscuit recipe:
Brown's Fried Peaches Ingredients
1 peach, chopped
Vegetable oil
Ground nutmeg
Ground cinnamon
Lemon juice
Maple syrup
Vegan butter
Garner's Biscuits Ingredients
2 cups AP flour
1 Tbsp baking powder
1/2 tsp salt
3 Tbsp sugar (plus extra for sprinkling)
8 Tbsp unsalted butter, chilled, cut into 1/2 inch pieces
1 large egg, lightly beaten
1/2 cup (plus 1 Tbsp) half-and-half or milk
1 large egg white
RELATED: Natalie Portman's Vegan Potsticker Recipe Calls for Homemade Dough That's Deceptively Easy To Make
How to make the peaches and biscuits
Start this recipe, take your chopped peach and throw the pieces in a skillet over medium heat with the oil. While they're cooking, add the ground nutmeg, ground cinnamon, lemon juice, and maple syrup. Cook until the peaches start to brown.
When they start browning, turn the heat off, cover the pan, and let the peaches simmer until the peaches are soft. Take the peaches out of the pan and set aside.
Now, start prepping Garner's biscuits, which is basically shortcake. First, adjust the oven rack to the lower-middle position, and preheat the oven to 425 degrees. Mix the flour, baking powder, salt, and sugar in a bowl or a food processor. Scatter pieces of butter over the mixture and stir to coat the butter in the dry ingredients.
In the processor, cut the butter into your dry ingredients using five 1-second pulses. Continue doing this until the flour is pale yellow in color and looks like course cornmeal. The butter pieces should be no bigger than peas. Put this mixture into a bowl.
In a separate bowl, mix a beaten egg with half-and-half, and pour this into the bowl with the flour mixture. Combine these using a rubber spatula until there are large clumps. And then, knead the mixture on a floured, flat work surface.
Pat the dough with your fingertips and shape into a 9 x 6-inch rectangle, about 3/4 inches thick. And then, using a floured, 2 3/4-inch biscuit cutter, cut out 6 biscuits. Place them on a small baking sheet, and brush the tops with egg white and a sprinkle of sugar.
Bake the biscuits for 12 to 14 minutes, until golden brown. Cool until they're warm. You can add some cinnamon to the biscuits right before you put them in the oven, like Brown, as an added treat.
While the biscuits are in the oven, put the vegan butter in a saucepan over low heat. Add cinnamon, maple syrup, and lemon juice, and stir. When the biscuits are cooled enough, cut them in half and stuff them with the peaches, and pour the butter and maple liquid over top.
You can sprinkle some powdered sugar on the top at the end, and enjoy!