Jennifer Lopez's Green Engagement Ring Has a Big Significance: 'My Lucky Color'
Jennifer Lopez is used to the spotlight. After all, she's been a force to be reckoned with in the entertainment industry since the late '90s. Music, movies, stage shows… J.Lo conquers them all with grace and dignity. However, these days, Lopez has a whole new reason to celebrate.
The 52-year-old's renewed romance with Ben Affleck has everyone talking. In light of their recent engagement, fans can't get enough of the fairytale love affair. Recently, Lopez shared a clip to followers of her exclusive newsletter, raving about the stunning ring Affleck gave her. 
Jennifer Lopez and Ben Affleck are engaged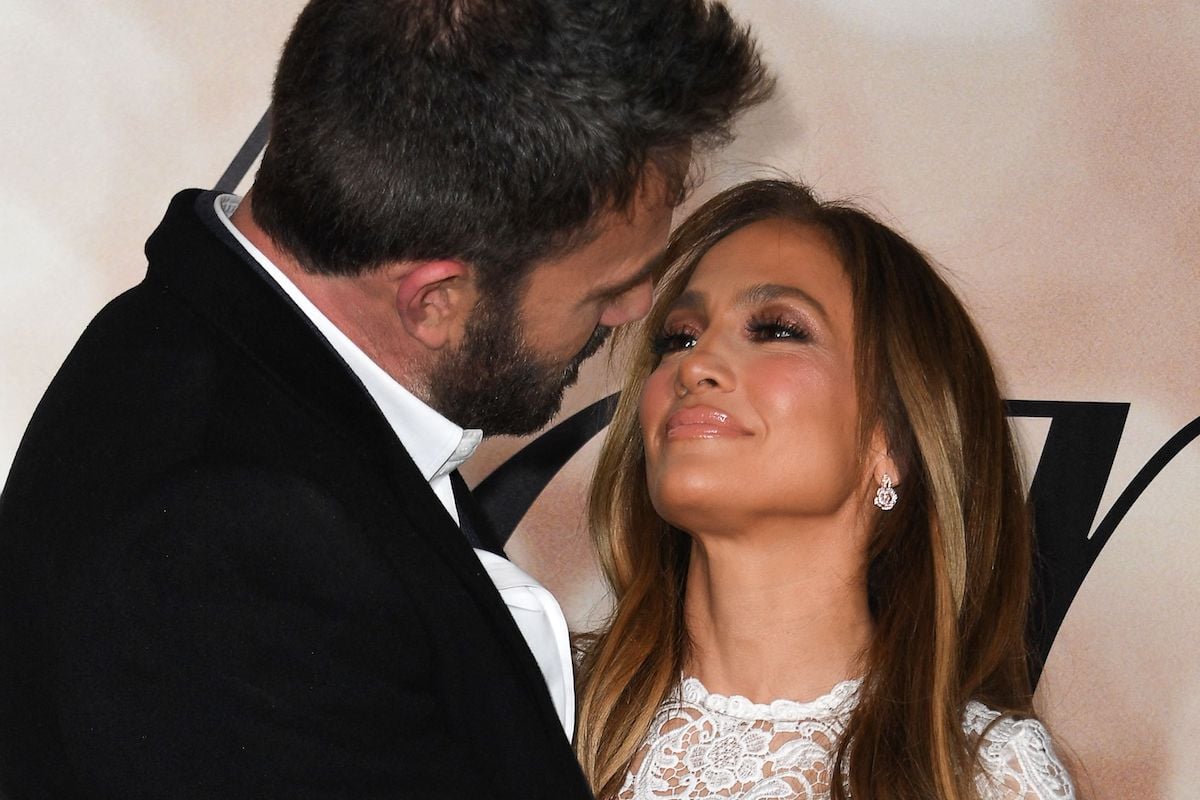 "Bennifer" first connected in 2001 after meeting on the set of the movie Gigli. Their unlikely romance made headlines, and tabloids relentlessly pursued the pair for photos. Lopez and Affleck got engaged in 2002. The Deep Water star presenting Lopez with a beautiful pink diamond ring.
However, by 2003, they called off their wedding, citing media attention as one reason for their breakup. While they both went on to marry other people and have families, but they never lost their deep affinity for each other. Fast-forward nearly 20 years later, when the two connected again on a romantic level.
Lopez and Affleck started dating again in 2021, on the heels of Lopez's highly-publicized split from Alex Rodriguez. Fans were thrown for a loop, but it was clear from the beginning that the couple knew what they wanted.
In early April 2022, the Marry Me star took to her "On the J.Lo" newsletter to share an exclusive clip. In the 12-second video, Lopez smiles and shows off a green engagement ring while emotional music plays in the background. She says "you're perfect" in the voiceover.
What kind of ring did Ben Affleck give Jennifer Lopez?
Lopez has owned her fair share of engagement rings over the years. But the green engagement ring gifted to her by Affleck is truly something special. According to Page Six, the ring features an 8.5-carat natural green diamond center stone.
The Diamond Pro CEO Mike Fried told the publication, "If that is indeed a green diamond, then I am stunned. A green diamond of that size is incredibly rare and would dwarf the value of their previous engagement ring. I would value the ring well over $5 million and could be worth more than $10 million."
Fortunately, curious fans were able to get a glimpse of the ring in Lopez's video. Some previous statements by the triple-threat entertainer might just reveal how special the green diamond is to Lopez. 
What did Lopez say about her engagement ring?
In a previous edition of her "On the J.Lo" newsletter, Lopez opened up about the significance of the color green in her life. According to Us Weekly, Lopez revealed "I always say the color green is my lucky color. Maybe you can remember a certain green dress. I've realized there are many moments in my life where amazing things happened when I was wearing green."
While Lopez clearly referred to her iconic Versace dress, her brand-new engagement ring likely trumps even that fabulous red-carpet moment as a green memento to remember. 
For fans, Lopez's love affair with Affleck is not only nostalgic but proof that it is never too late for love. In the coming months, pop culture fans will be eagerly looking for more sneak peeks and behind-the-scenes moments between Lopez and Affleck.