Jennifer Lopez Has a Weirdly Specific Coffee Preference
Jennifer Lopez is one of Hollywood's biggest superstars, a triple threat who can sing, dance, and act. She's also a successful businesswoman and has curated lines of clothing, fragrances, and skincare. In addition to all of her work duties, Lopez is a devoted mother to her twins, Max and Emme. It might seem as though Lopez does it all magically, but she works hard for her success. To stay healthy and fit Lopez dedicates herself to a strict diet and exercise routine – and her diet includes a few bizarre tweaks.
Jennifer Lopez is known for her figure
When she first burst onto the Hollywood scene in the mid-nineties, Lopez was fresh, exciting, and original. She was clearly talented, with the ability to emote dramatic dialogue, act out difficult scenes, as well as sing and dance. Lopez also looked different than many other nineties superstars. While many of them were twig-thin, like Gwyneth Paltrow or Kate Moss, Lopez was curvy, athletic, and sultry.
These days, Lopez looks better than ever, at the age of fifty. She often posts pictures and videos where she is rocking skimpy bikinis and daring evening gowns that would be intimidating to women half her age. She hasn't found the fountain of youth — rather, she just works incredibly hard for her famous figure. Lopez loves to exercise and challenges herself by changing up her workout routine on a regular basis. She also follows a diet that, for many, would be near-impossible to commit to.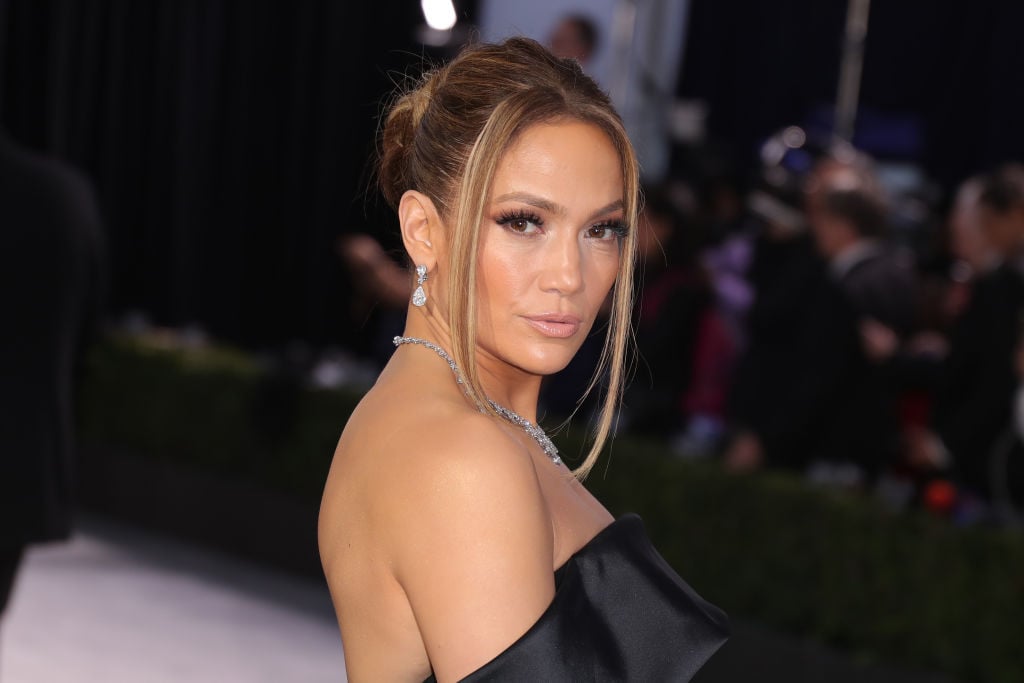 What is Jennifer Lopez's diet?
While working out is an important part of Lopez's daily routine, what she eats plays a huge role in how she has been able to maintain her incredible figure. Lopez believes that staying healthy is important to her overall wellness and enables her to be a better mother to her children and a better partner to her fiance, Alex Rodriguez.
Lopez's day to day diet includes lots of lean protein, like fish and chicken. She also fills her plate with filling, complex carbohydrates such as quinoa, brown rice, and sweet potatoes. Snacks for Lopez do not include gas-station essentials like chips and candy bars. She eats a lot of fruits and vegetables and makes sure to keep them on hand for quick, healthy snacking. While she has gone on insane crash diets from time to time, such as her no-sugar, no-carb diet that she followed when preparing for Hustlers, in general, Lopez prefers to maintain steady energy and eat consistently. Lopez's trainer, Tracy Anderson, has stated that everything Lopez eats is "organic and it's all very well thought out, with the balance of very high-quality proteins and a lot of nutrient-dense food."
Jennifer Lopez's bizarre coffee order
As part of her healthy eating routine, Jennifer Lopez keeps herself hydrated with lots and lots of water. She rarely drinks alcohol or coffee at all. However, if she feels the need to reach for a caffeinated beverage, she orders a coffee, rather than tea or energy drinks. In fact, Lopez reportedly has a very specific way that she takes her coffee. According to an article in Delish, Lopez prefers to have her coffee drinks stirred counterclockwise.
There is no word as to why Lopez likes to have her coffee stirred counterclockwise, but considering she has developed a bit of a reputation as a diva, it isn't terribly out of the realm of believability.