Jennifer Lopez Reveals What She's Always Drinking in Her 'Blingy Cup'
Jennifer Lopez aka J. Lo revealed what's in her "blingy cup" — her reusable cup covered in rhinestones — that she's been seen sporting for the last few years. Ahead, learn what the 50-year-old star of Hustlers (learn how she filmed the movie's pole dancing scene) revealed she sips on in her shiny cup.
In a recent YouTube video for Vanity Fair about her day — she went through a typical day while filming Hustlers — Lopez explained what liquid her "blingy cup" is filled with.
"Every single day I carry around my blingy cup that was given to me for my birthday a couple years ago," she said in the video.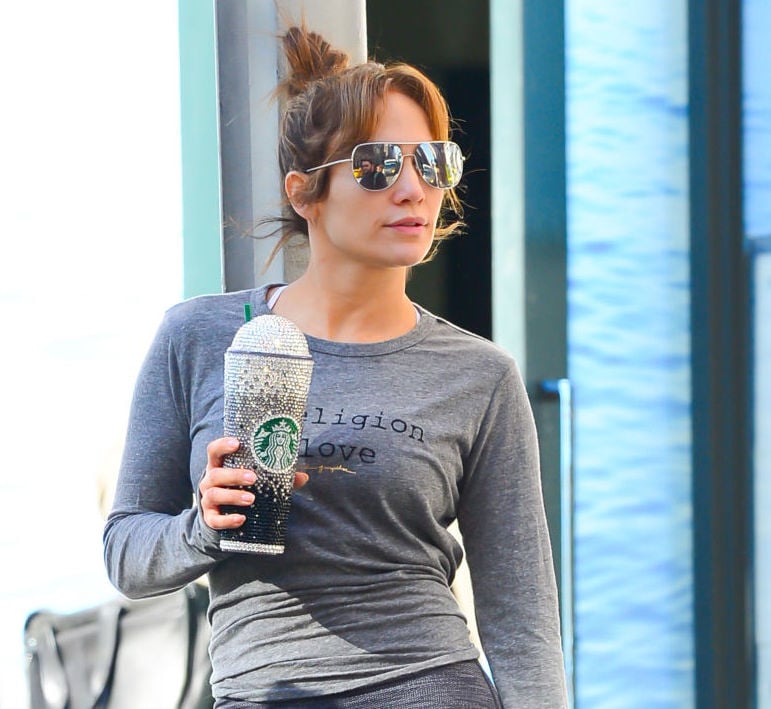 The singer, producer, actress, and dancer then explained the cup sparked a tradition for her. "Now, I make one for every single shoot I'm on. So I have my Hustlers blingy cup." She also gifted her Hustlers co-stars with their own "blingy cups."
Jennifer Lopez drinks a ton of water
She answered a question that's most certainly been on everyone's minds — OK, maybe just ours — since the "Love Don't Cost a Thing" singer first stepped out with the extra glamorous travel cup in 2017.
"It's just water in there," Lopez said.
Her answer doesn't come as much of a surprise because J. Lo is known for being diligent when it comes to her health (get her workout routine here). She's known for abstaining from caffeine, alcohol, and cigarettes.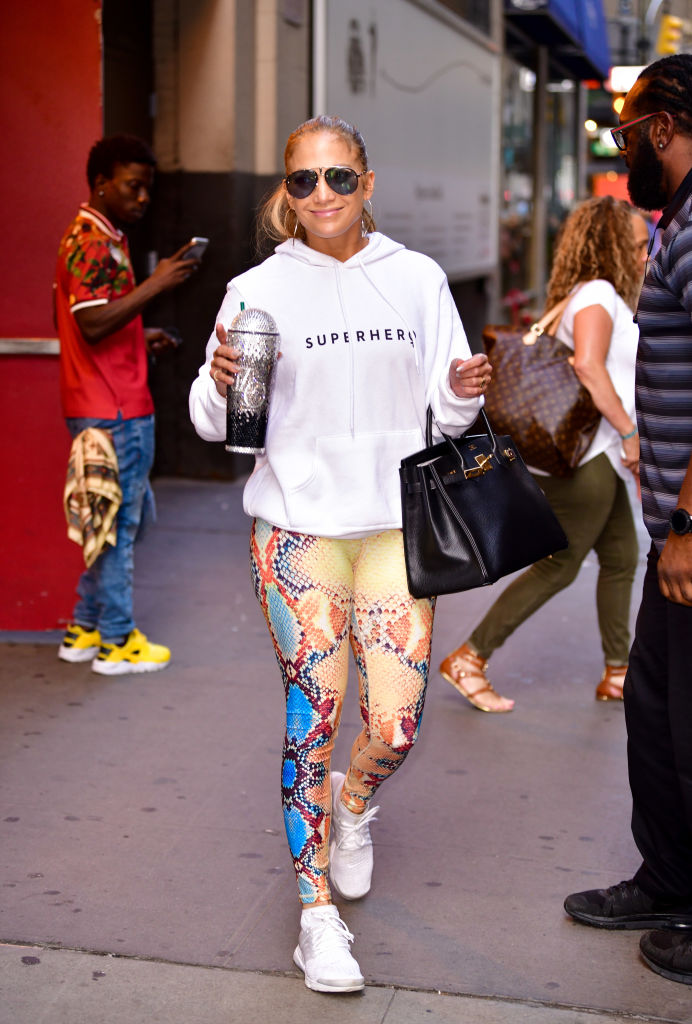 In 2003, Lopez who is now engaged to former MLB player Alex "A-Rod" Rodriguez, told InStyle magazine she hadn't had any alcohol in years. Although she did say she'd have a sip on special occasions.
"I think that ruins your skin," she said of drinking alcohol in 2003 before adding, "Of course, during celebratory toasts, everybody's like, 'You can't toast with water!' So I'll toast with alcohol and just take a sip."
In the Vanity Fair video, Lopez said she has a cup of coffee — decaf of course — to start her day before moving on to water.
"I drink a cup of coffee in the morning and then you know, water all day long," she said.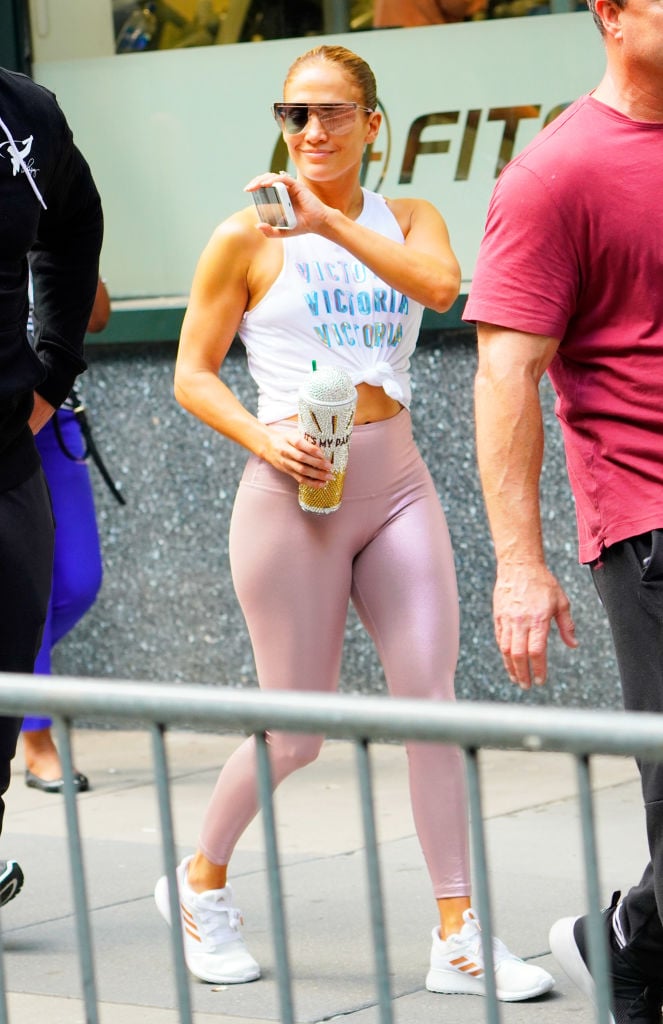 She continued, saying people have asked her what she's got in her cup. "Everybody's like, 'What do you have in that cup?' You drink it all day long. I don't know if they thought I had like, alcohol, in there … Just a little bit throughout the day to keep me going," she said with a laugh.
"No, no, no. It's just water," she added.
Watch the full video below and go to the 4:35 mark to watch her discuss her famous cup.
J. Lo's manicurist gifted the star with her first 'blingy cup'
Lopez received her first "blingy cup" as a birthday gift from her manicurist, Elle Gerstein, in July of 2017 (her birthday's July 24), according to Refinery29.
Gerstein, who has worked with Lopez for more than 20 years, gifted her client a Swarovski crystal-encrusted cup from TaylorMade Bling after discovering the company on Instagram and purchasing two for herself because she doesn't like to drink water.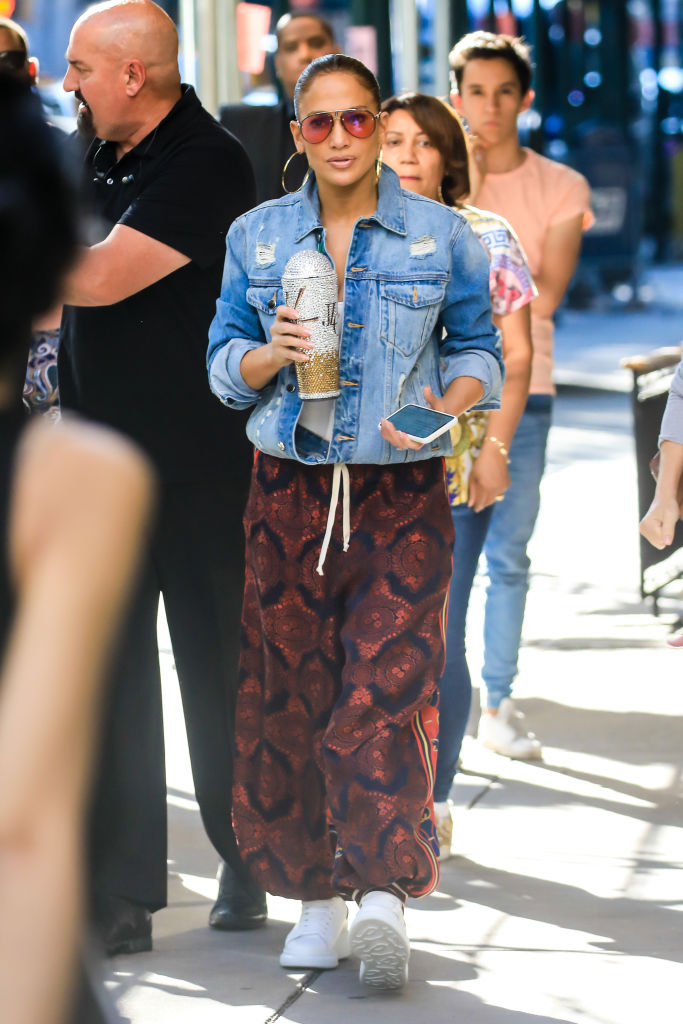 "You always see her with the paparazzi, getting photographed, and she's always holding a water cup in her hand," Gerstein said. She thought, "Why does she have to have a Starbucks cup? Let's get her THE Starbucks cup."
Clearly, the birthday gift was a huge hit because J. Lo's been photographed with a number of different "blingy cups" since 2017. Even A-Rod has one.
Consider J. Lo's "blingy cup" filled with water the 21st-century version of the Fountain of Youth. Excuse us while we order our own "blingy cup" and sip our way to an age-defying look.