Jennifer Lopez's Trainer: This Is the 50-Year-Old Star's Essential Fitness Secret
Celebrity trainer Tracy Anderson shares Jennifer Lopez's 1 essential fitness secret.
It's no secret that superstar Jennifer Lopez is in fantastic shape. The 50-year-old singer/actress/overall sensation leaves 20-somethings in the dust with her endless energy and youthful appearance.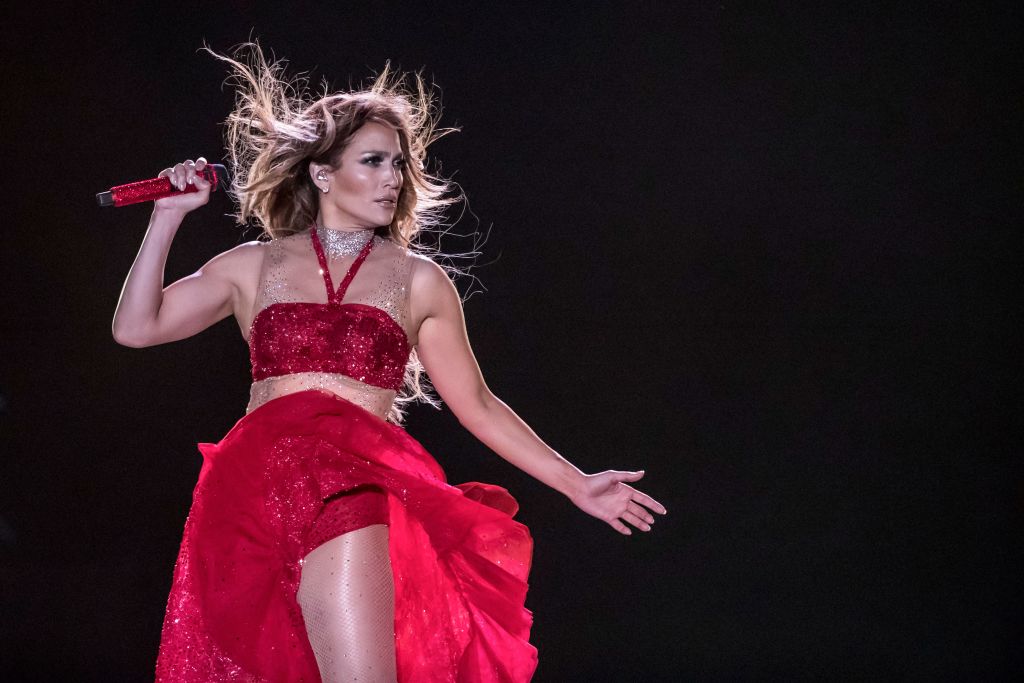 What is more of a secret is how the entertainer keeps such an enviable figure. From her Las Vegas residency to her quite athletic performance in Hustlers to the upcoming Super Bowl Halftime show, Lopez has been going from strength to strength.
JLo's personal trainer, Tracy Anderson, recently shared her client's secret to success. Find out the very doable tip that anyone can try to set the foundation for the best shape of their life.
Getting ready for the Super Bowl Halftime Show
Lopez and Shakira were announced as the 2020 Super Bowl Halftime Show stars in September of 2019. The Selena star has been training for the event since then.
Her fiancé, former Yankee Alex Rodriguez, shared with Extra in November 2019 about how much Lopez is looking forward to the Super Bowl event.
"We're excited about the Super Bowl. I mean, it's been a lifelong dream for her to be in the Super Bowl. When we got the phone call from Roger Goodell and the NFL, it was an absolute privilege. It is our hometown in Miami, our four kids are there and look, you'll have 150 million people watching and an incredible show and Jennifer is thrilled!"
Lopez says she feels better now than she did 20 years ago
Most women at Lopez's age, or even in their 40s, start to slow down, and age at a faster rate. Lopez appears to be reversing the aging process.
In an interview with Evening Standard in September 2019, the Monster-in-Law star said, "Did I think I would be doing this at 50? I didn't think I'd stop, but I didn't know that it would be the best moment of my life."
"We're conditioned to think, as women, that it would be over by now. And the truth is, it's not like that at all. I find myself growing and getting better every year and that's exciting."
"This business is not for the faint-hearted — it eats people up. To survive in it for as many years as I have, you've got to have a tough skin." 
Trainer Tracy Anderson says this is Lopez's 1 most important secret
Renowned celebrity trainer Tracy Anderson told Us Weekly this week what she feels is Lopez's essential secret to her incredible fitness and great shape.
It's not squats, cardio, keto, or macros. It's attitude and hard work. Not sexy or exciting, but it's easy to see why these work for Lopez. Attitude and hard work equal consistency, and they mean the hard work is done in her mind first before anything else.
"Working out with her, it's kind of remarkable because she is so hardworking and she has such a good attitude," said the trainer to the stars. "She's got great energy. She's positive and giving. She's just an awesome woman."
Anderson went on to say that Lopez hardly ever takes a day off from her workouts, regardless of what's going on.
"I think she's in the best place in her life," she says. "She does the work for herself and it's a really great example. She makes her dreams come true and you can see it's beautiful to watch."