'Jeopardy!': Aaron Rodgers Debuts as Guest Host and Fans Weigh In
NFL star Aaron Rodgers just launched his two-week stint as guest host of Jeopardy!. Fourth on the roster to man the lectern after the death of game show icon Alex Trebek in November 2020, Rodgers is trading in his helmet and cleats for a turn at the helm. Fans had plenty to say after his recent debut, and took to Instagram to share their thoughts.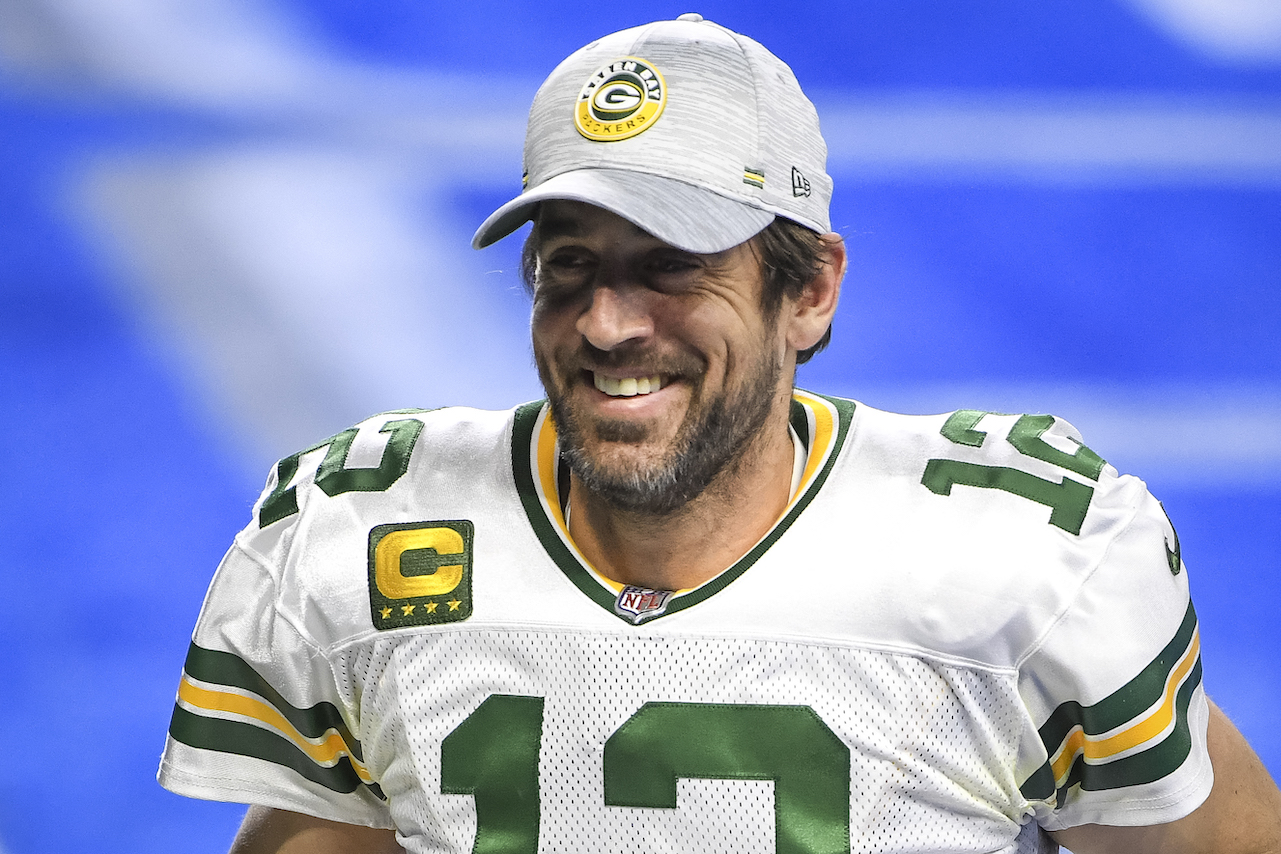 Aaron Rodgers scored with fans on 'Jeopardy!"
Apparently, Rodgers is a fan fave off the field as a Jeopardy! guest host. Viewers commented on Instagram to give the Green Bay QB some props.
"My favorite football 🏈 player and now my favorite game show host too! Awesome sauce," one fan remarked. "Thought Aaron did a good job today. I was pleasantly surprised!" another wrote. "Great job guest hosting," a follower posted.
Serving at the lectern following Ken Jennings, Katie Couric, and Dr. Mehmet Oz, some are naming Rodgers as their top pick.
"Loved him, best one so far❣️," a viewer remarked."He was good. Nice presence, banter was entertaining. Very cool," a fan commented.
"Ok you're now my favorite @aaronrodgers12 !!!! Cmon jeopardy you got your host. He's down to earth, relatable, non political and fun!!!! Alex would be proud," another raved.
Some 'Jeopardy!' viewers weren't cheering for Aaron Rodgers
Though Rodgers earned high marks from many Jeopardy! fans, there were still some naysayers who weren't thrilled with his guest-hosting skills.
"I'm sorry, but I'm not really enjoying him as host. So monotone and lacks excitement. Bring back Ken!!" a follower wrote. "Another two weeks without Jeopardy!" one fan remarked. "Ummm, Aaron is also a NO!" a viewer commented.
"Is it just me or is Aaron Rogers voice so flat I'm gonna pull my hair OUT! If I didn't love this game and Alex's legacy I'd stop watching. PLLLLEEAASEE be done with these painful guest hosts!!" another posted.
How old is Aaron Rodgers and who is he engaged to?
In addition to being in the Jeopardy! spotlight, the 37-year-old quarterback recently made headlines for his engagement to Divergent star Shailene Woodley. She promoted his Jeopardy! gig on her Instagram stories.
"So you guys, I have a very important announcement to make," Woodley said in a video on Monday alongside Rodgers, according to Page Six. "This guy, right here, is super sexy, super attractive, just shaved his neck this morning, has a little man bun growing. … This guy is hosting Jeopardy! tonight. So, you could watch it and you should watch it."
While Woodley's viewing status of the game show is still in question, Rodgers revealed she'll be an avid fan for the next two weeks. Their engagement announcement in February took fans by surprise, where Rodgers explained that coronavirus (COVID-19) restrictions helped in keeping their relationship under wraps.
"It just wasn't the same amount of travel," he told USA Today. "Wearing a mask all the time gives you just a little bit more anonymity. But we spent a lot of time together during the season, and then she was off doing a movie really shortly after we got engaged."
Their wedding date remains unknown at this time. Rodgers is guest hosting Jeopardy! through April 16.