'Jeopardy!': Aaron Rodgers Revealed the 'Code Words' He Kept at the Lectern While Guest Hosting
NFL star Aaron Rodgers is next in line to guest host Jeopardy!. Taking over for Dr. Mehmet Oz, whose two-week stint just ended on April 2, Rodgers is the first athlete to have a turn at the helm. The Green Bay Packers' quarterback had a few tricks up his sleeve to help settle any guest-hosting jitters.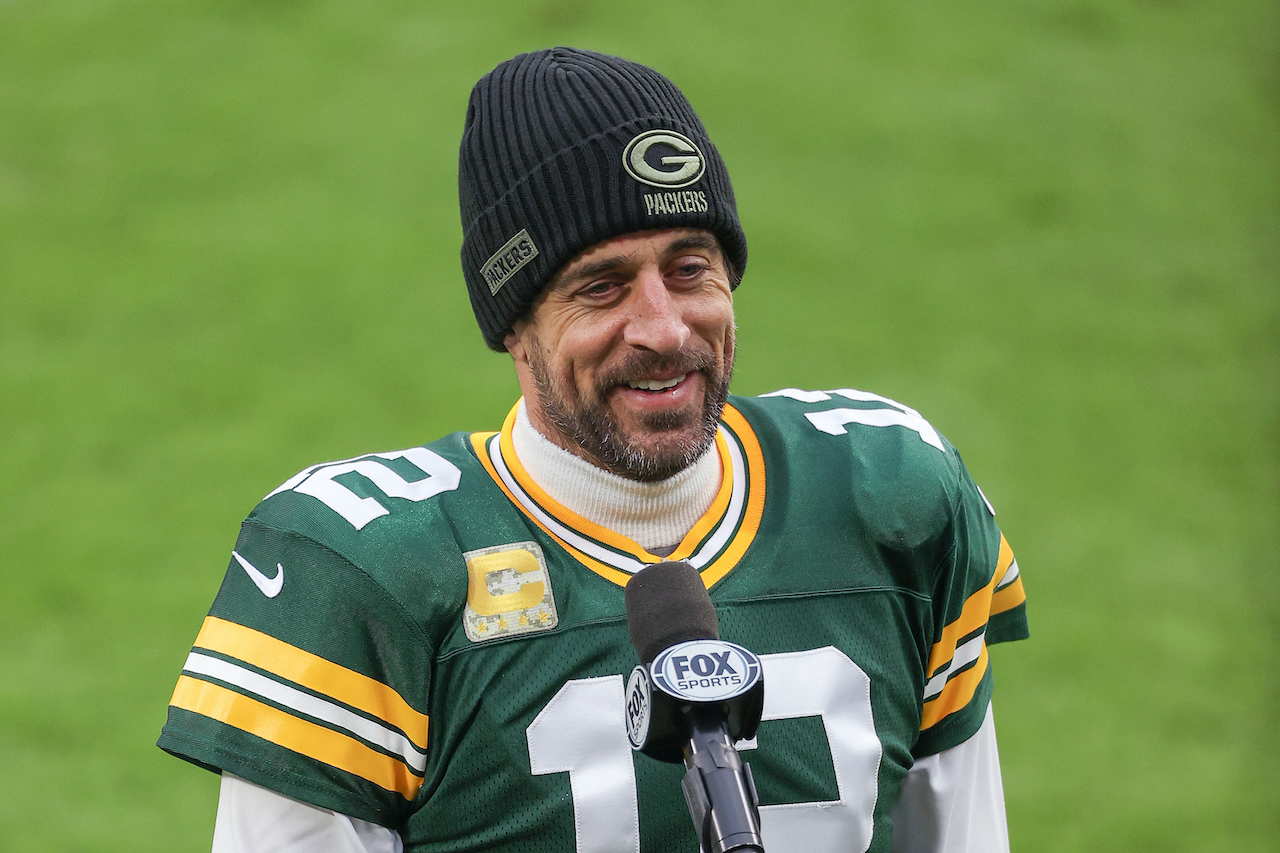 How Aaron Rodgers kept calm at the 'Jeopardy!' board
Rodgers has long proclaimed his love of Jeopardy!, even winning the competition in a celebrity version of the game show in 2015. Serving as one of many guest hosts after the death of legendary Jeopardy! king Alex Trebek in November 2020, Rodgers came up with some strategies to keep his cool at the lectern.
"The biggest thing that I just wanted to think about was slowing down," the Green Bay QB said in an interview with Jeopardy!. "I think the nerves come up, especially the first few games, when I really felt like I had some problems with some of the clues… I ended up writing on my podium, just some kind of code words: 'slow down', 'relax', 'speak clearly'."
The star athlete included a few other reminders that he hoped went unnoticed by others.
"Then I put a funny one on there that I was wondering if anybody could see," Rodgers revealed. "'Don't pick your nose'. 'Don't pick your butt'. Just a couple of important things."
Green Bay QB practices 'box breathing'
Rodgers also used a technique at the quiz board that he uses on the football field to calm his nerves.
"The most important thing that I tried do before the show is something that I've been doing for awhile now," he shared. "I like to do it before games, on the field, before two-minute drives. It's called 'box breathing'.
Explaining the "rhythmic breathing structure that helps to lower your heart rate," Rodgers uses the exercise in stressful situations to help ground himself.
"What it does is it really relaxes your system," he said. "I was doing that just because there were times when I was like, 'Oh my God, this is real' … It started to be overwhelming, the nerves that came up. So I just really tried to settle myself. Not sure it worked every single time. But I did definitely feel better after doing those breathing routines."
Aaron Rodgers hopes to honor 'Jeopardy!' icon Alex Trebek
Rodgers recalled meeting Trebek when he competed in 2015, and noted the magnetic presence of the iconic game show host.
"Getting the chance to meet him for the first time was really, really special," Rodgers told USA Today of Trebek. "When Alex walked in, you realized, 'Man, I'm on Jeopardy! right now. This is real.' And it was a really special moment."
In preparation for his guest-hosting stint, Rodgers watched countless hours of Jeopardy! in the hopes of being worthy of Trebek's spot at the lectern.
"I thought the best way to honor Alex's legacy was to really understand the game inside out, and to do his memory justice by having the same approach to hosting that I would to any game I've ever played," he remarked. "From the first moment I got on set … everybody could feel how special it was to me and how important it was to be prepared. And I felt ready to go right away."
Rodgers appears on Jeopardy! as guest host from April 5 through April 16.