'Jeopardy!': Aaron Rodgers Revealed Some Behind-the-Scenes Secrets of the Game Show
Green Bay Packers QB Aaron Rodgers continues his two-week stint as guest host of Jeopardy!. A longtime fan of the game show, Rodgers learned a few off-camera secrets while manning the lectern and decided to share some details with fans.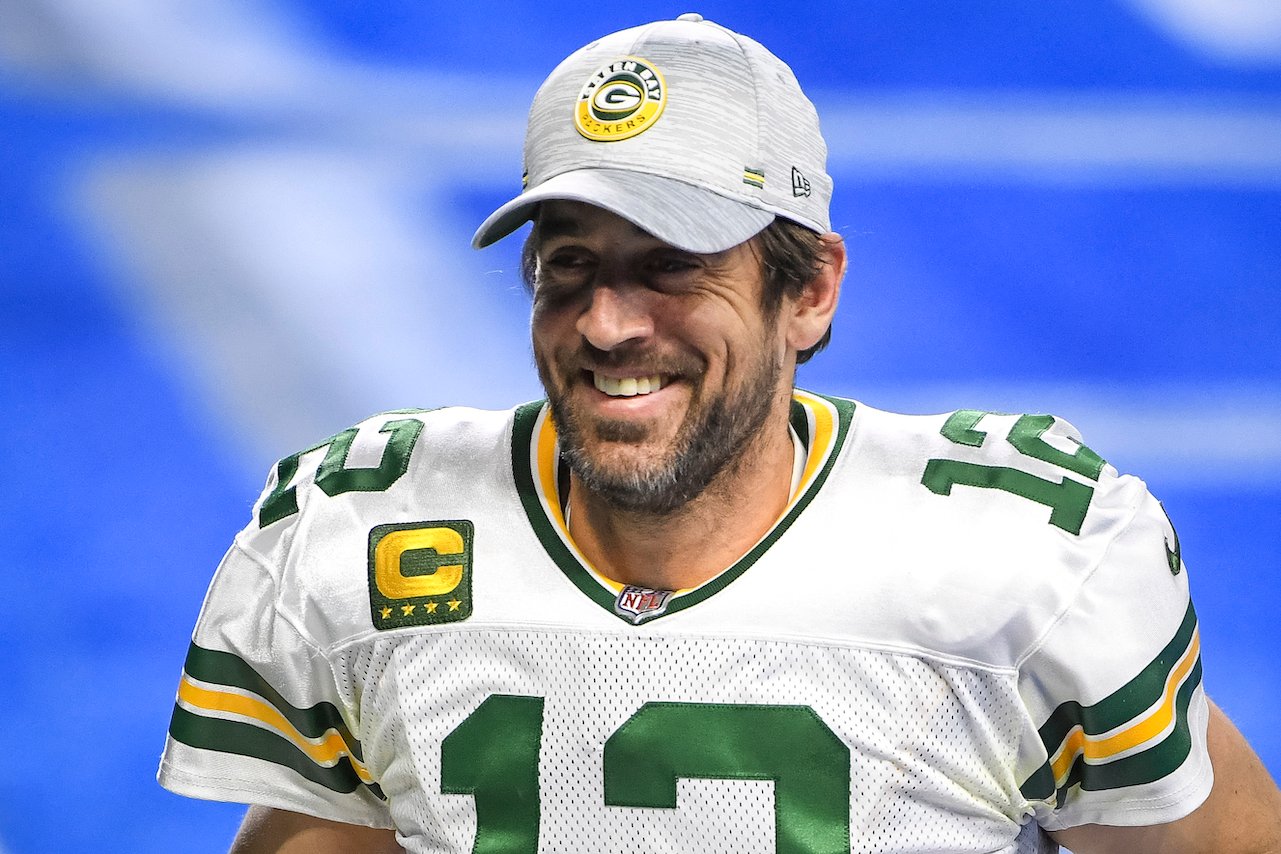 Aaron Rodgers had to learn the ropes on 'Jeopardy!'
With a full roster of guest hosts after the death of Jeopardy! icon Alex Trebek in 2020, Rodgers wanted to honor the game show legend by taking a turn at the helm. The Super Bowl champ is a longtime viewer of the show, yet had certain questions on keeping everything in check when running the quiz board.
"It's looking down to read the clue and then looking up to call on a contestant, and also understanding what the answer is in case none of the contestants get it right," Rodgers explained to The Ringer on serving as guest host. "Then realizing at that point that you've got to work on your posture, and where you're looking and know who you're talking to when you give that response."
Rodgers gave props to Trebek for flawlessly moderating the game, despite all the juggling that is required.
"There were so many little things that were important for Alex being so smooth that I just wanted to be sure I had down," the Green Bay QB said. "How did Alex remember whose turn it was when nobody got the question right? I learned a little secret of Jeopardy!: There's a little white light at the bottom of the [contestant's] podium that tells you who's up."
Aaron Rodgers could see the answers of 'Final Jeopardy!' before viewers
Rodgers gleaned a few other tricks of the trade during his stint as guest host, such as getting to read the contestants' answers in the final round before they're revealed on camera.
"You learn that during Final Jeopardy!, you're able to look at the podium and see what people are writing down," Rodgers revealed.
The NFL star also discovered how Trebek would connect with contestants with information provided prior to the show.
"Before the game, they give you these cards for the three people with fun facts: their last name, where they're from, what they do for a living," Rodgers explained. "It's based on a questionnaire they fill out. The set producer will highlight questions that they've prompted them on. But a lot of times when I read the fun facts, I thought there was something way more interesting… that's where I would go."
How Aaron Rodgers practiced his guest-hosting skills for 'Jeopardy!'
With Jeopardy! writers and researchers standing in as contestants, Rodgers was able to have several dry runs as guest host before officially taking over the lectern. The football quarterback was challenged with several different situations that may occur during game time.
"These guys were hilarious," Rodgers said of the Jeopardy! crew. "They tried to bring scenarios that might trip you up, like adding an 's' at the end of a word to pluralize something that made the answer not correct, or not answering in the form of a question during the Double Jeopardy! round."
The prep equipped Rodgers with the tools he needed to handle whatever may arise when the trivia board was in play.
"It was really helpful to me to have gone through these scenarios before it was actually live, so I could start to think about how I was going to respond in those situations," he explained. "It was great to be able to practice not just calling on contestants, but really listening to the answers they gave—to remember how to check with the judges, and the interview style and going through that whole thing."
Rodgers is guest hosting Jeopardy! through April 16.