'Jeopardy!': Alex Trebek Once Ran Down a Robber and Popped His Achilles Tendon
Something about Alex Trebek has always made him seem respectable and dignified with an air of mystery. Fans of Jeopardy! can hardly wait for his memoir to drop, but in the meantime, we can entertain ourselves with random stories about the man beneath the sharp-witted exterior.
You know he's capable of rapping clues, roasting contestants, and renovating his own home. But did you know he's capable of heroics too?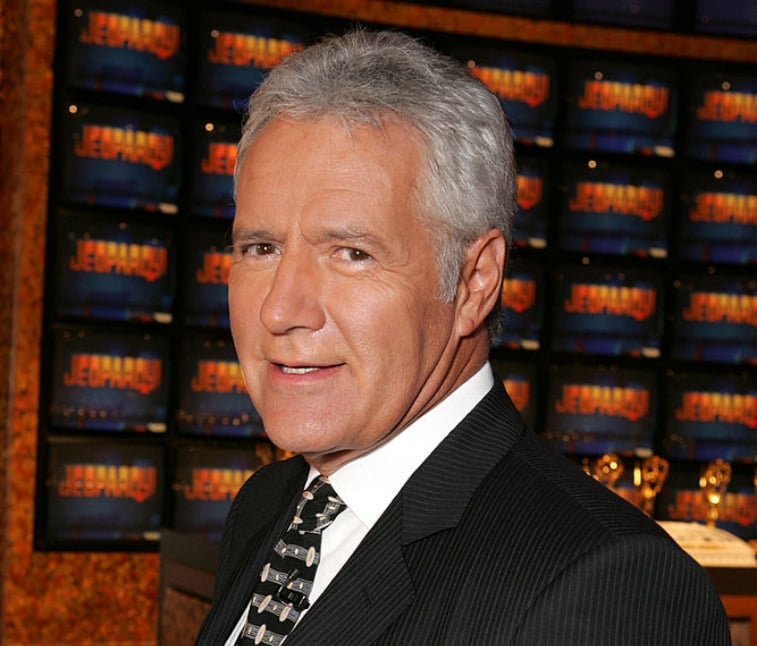 Alex Trebek chased down a thief
As if we needed another reason to designate Alex Trebek as a legendary badass, we're reminded of one of his past encounters. Back in 2011, Trebek and his wife Jean were staying at a hotel in San Francisco for his hosting gig at the National Geographic World Championship.
That night, he was awakened by the sound of someone in the room. According to Vulture, Trebek jumped up, put on a tee and underwear, and chased a woman down the hall. Trebek told a crowd the story and explained how he snapped his Achilles tendon:
I rushed down the hall after this woman. I didn't see her when I got to the elevator bank, but a few seconds later she came out of the little anteroom where the ice machine was. I said, "What were you doing in our room?" She said, "I wasn't in your room." I said, "Yes, you were. I saw you." She said, "No, I wasn't." I said, "Well, let's let security decide what happened." I went to the phones in the hallway next to the elevators. She said, "Oh," and took off. I'm in a T-shirt and underwear. I was running down the hallway. All of a sudden, I heard click and I collapsed. Immediately, I had severed my Achilles. I struggled to my feet and got back to the phone because I had contacted security just as she took off. I got back to security and I described her. They found her.
She'd taken some cash, a wallet, purse, and a Gucci bracelet. The bracelet was given to Trebek by his mother and was one she found years before in a store parking lot. Although the other items were located, the bracelet was never recovered.
Suspect had a strange explanation
The suspect, Linda Moyers, was arrested onsite. She told police she was a prostitute in the hotel to meet a client. According to The Hollywood Reporter, Moyers' attorney denied any involvement with a burglary and said she was there to meet a date.
Moyers stated she never entered Trebek's room and proceeded to leave the hotel floor after her client never answered the door. Moyers added she was afraid security would catch her engaging in prostitution in the building, so she attempted to flee. In court, she pleaded not guilty but was sentenced to six years in jail.  
Trebek trooped through surgery
After injuring himself, Trebek needed to have surgery and wear a cast for six weeks. He still made it through his hosting duties in San Francisco that week—on crutches—then took time to recover.
Trebek commissioned a replacement bracelet not knowing that his wife was surprising him with a replica too. He had two, but wondered about the lost one. Out of curiosity, he contacted Moyers in prison to find out what happened to the original.
Look, I'm not trying to cause any problems for you, but I'm curious as hell. You were so sharp in how you disposed of the bracelet or hid the bracelet. She wrote me back, and she apologized. She said, 'I put the bracelet in a trash receptacle on a lower floor. That's why you weren't able to find it. So it's in the San Francisco dump.'
Trebek's memoir, The Answer Is… will arrive in July 2020. Perhaps there will be more stories like this in it.