'Jeopardy!' Host Alex Trebek Once Swapped Jobs With Pat Sajak And It Confused Fans
We can't imagine what the last 40 years of television would have been like without Jeopardy! host Alex Trebek or Wheel of Fortune's Pat Sajak. The game show hosts are TV icons and beloved by fans whether you prefer one show or enjoy both during their primetime power hour.
It may seem like there's a friendly competition going on between the shows, but that's not the case. In fact, there was one crossover event that still makes fans smile.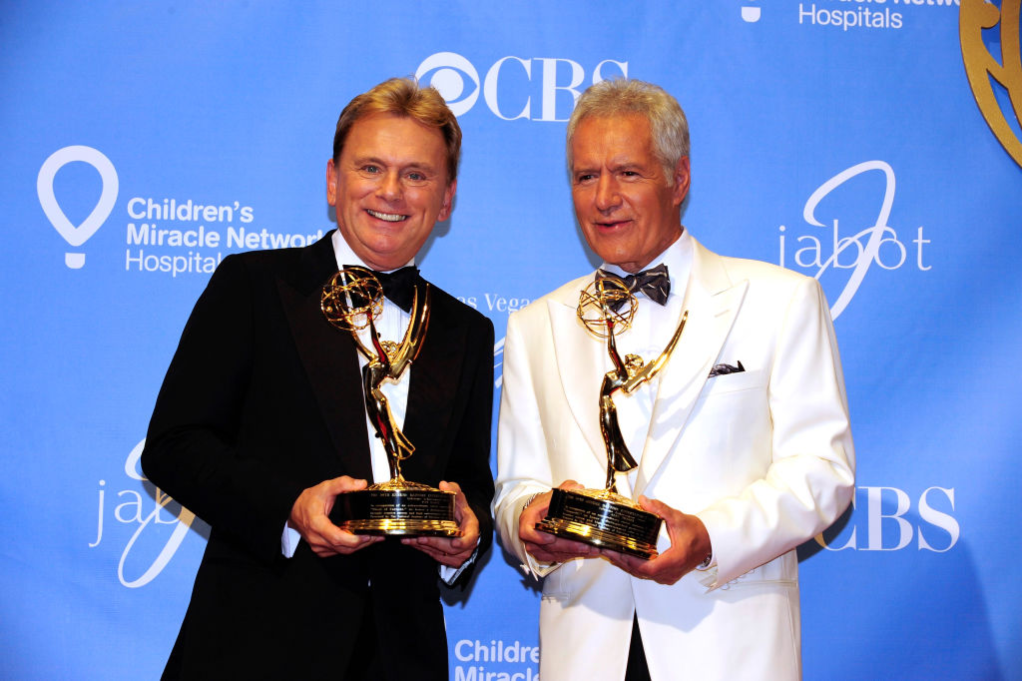 Alex Trebek and Pat Sajak pulled a fun prank
Once upon time, Wheel of Fortune and Jeopardy! were living in their own separate time slots, with their own chiefs, and providing their own versions of entertainment. But one day, producers decided to do something different, and it went down in 1997.
One evening, when viewers tuned in for Wheel of Fortune, they were surprised when Alex Trebek came out and was introduced as the host. "I'll leave you to figure out why I'm here today," he said. Only two contestants played the game: Vanna White and Pat Sajak.
That same evening, the audience was equally shocked—and amused—when they watched the latest episode of Jeopardy! and the host turned out to be Pat Sajak.
Was it a shakeup? Was it a fluke? No and no. It was just April Fools' Day. Click here to watch the fun and to see how well each host handled the job swap.
One detail proved Trebek and Sajak are friends
In the Wheel of Fortune episode, Sajak and Trebek ribbed each other and exchanged funny banter during the game. But before things got started, another special guest was brought out as White's replacement. It was Sajak's wife, Lesly.
She and Trebek partnered up to run the show and fans could easily tell that off-camera, all of them are good friends. White and Sajak's switcheroo as contestants that night was all for a good cause, as they each won $25,000 for a charity of their choice.
Over on Jeopardy!, Sajak got a taste of what it was like to do Trebek's job with a set of three new contestants. Once fans figured out what was happening, they loved both episodes of the shows.
It's not the only time they celebrated April Fools' Day
For decades, audiences have been able to count on seeing at least one prank in action on Wheel of Fortune. One year, Sajak made everyone gasp when he revealed his toupee, and Vanna White almost lost it.
Back in 2016, Jeopardy! viewers were asked to play along at home and spot 10 changes in the episode. The very first was a shot of Trebek walking out onto the floor without any pants.
Yup, no pants. It was actually a clip from 2004 and later in the episode, fans were almost fooled again when Trebek appeared with his mustache from a 1998 clip.
You can watch a few minutes of that April Fools' special here, and see if you can catch all the quick takes. Keep tuning in each night at 7 p.m. EST for America's favorite game show hour.