'Jeopardy!': Alex Trebek Reveals His Plan for the Last 30 Seconds of His Final Show
Fans are not looking forward to the last time Alex Trebek hosts Jeopardy!, but he already knows how he'll say goodbye.
Alex Trebek just wants a chance to say goodbye.
After hosting Jeopardy! for more than 36 years and 8,000 episodes, it would be tragic if the game show legend doesn't get that much at least. An interview from 2018 took on new significance in the face of Trebek's more recent cancer diagnosis, but even with that, the 7-time Emmy winner is determined to keep hosting Jeopardy! until he no longer can.
And when the time comes to exit the show, he's going to address the audience one last time just like another famous host did long ago.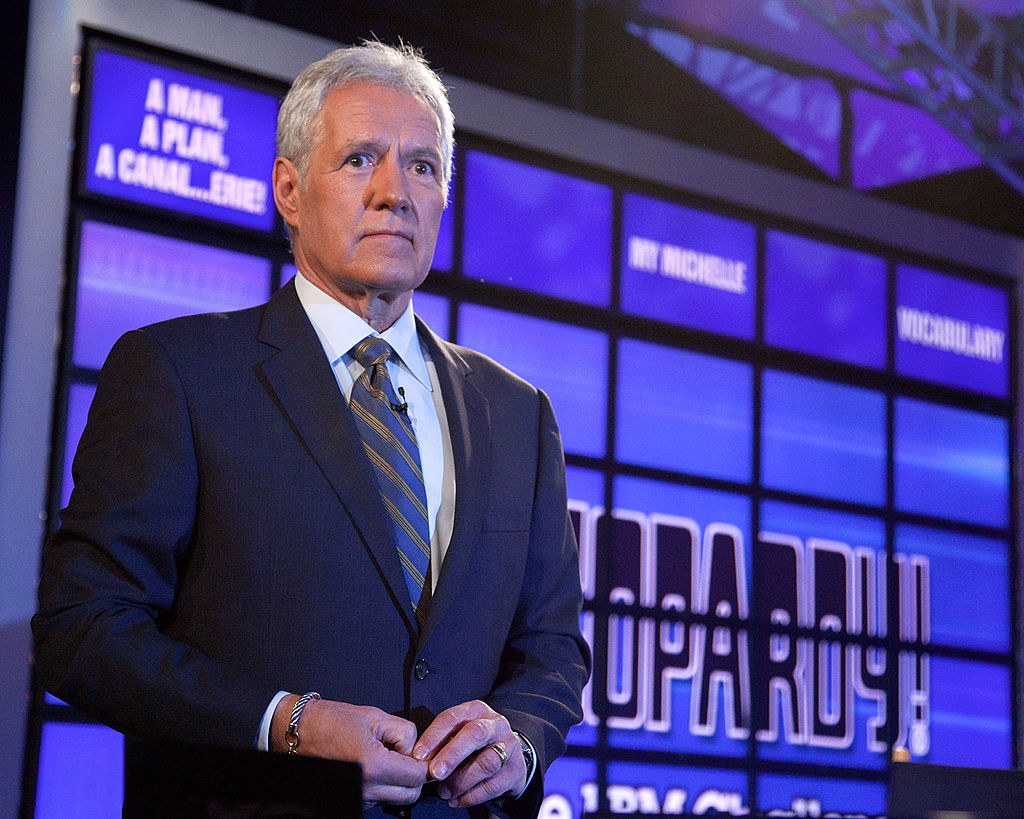 Alex Trebek was diagnosed with cancer in 2019
Trebek began his career at the Canadian Broadcasting Corporation (CBC) but has been the sole host of the trivia game show Jeopardy! since 1984. After telling shocked fans that he'd been diagnosed with stage 4 pancreatic cancer in March 2019, the 79-year-old host began chemotherapy treatment and kept working the entire time. He's still fighting the cancer today.
"The one-year survival rate for stage 4 pancreatic cancer patients is 18%," he shared on social media in March 2020. "I'm very happy to report I have just reached that marker."
He's still hosting through cancer treatments
As it stands, Trebek's contract is extended until 2022, and he's promised audiences he will continue showing up to host the show if he's physically and mentally able to.
"Some weeks are good, some weeks are bad, but it comes with the territory," he told CNBC. "When you've been in the same job for that long period of time, it moves you to think at some point about retiring. Thinking about retiring and retiring are two different things."
The 'Jeopardy!' host already planned his final episode
Trebek didn't have plans to retire in 2018, either. But he did reveal during an interview with Vulture that he has a specific mission for his last planned episode of Jeopardy! no matter when it happens.
"I will tell the director, 'Time the show so that I have 30 seconds at the end,''' Trebek said.
"Because when Ken Jennings lost after 74 wins in a row, I had a tear in my eye and no time for a good-bye. So all I want on my last show is 30 seconds, and I'll do what Johnny Carson did: 'Hey, folks, thank you. Been a good run and all good things must come to an end.' Then I'll move on."
Will Alex Trebek choose his successor?
For some reason, Jeopardy! fans are convinced that Trebek will help choose his replacement host. The trivia show legend said he doesn't have a specific person in mind but hinted that it should probably be a woman.
"All you need is a competent host to help keep things moving," he told Vulture. "But we're in the #MeToo movement now, it's the year of the woman, so I suspect that the producers might give serious consideration to having a woman host. She'll obviously be younger; she'll have to be personable, bright, have a sense of humor. My recommendation is Betty White," he joked.
Even though he'll eventually retire, Jeopardy! fans know there's no replacing Trebek.