'Jeopardy!' Announcer Johnny Gilbert Talks About Life Without Alex Trebek: 'Part of Me Left This World'
Jeopardy! is consistently airing new episodes following the death of legendary game show host Alex Trebek in November in 2020. From Jeopardy! GOAT Ken Jennings to upcoming celebrities in news and entertainment as guest hosts, the long-running game show remains a staple in honor of Trebek.   
Johnny Gilbert, 92, has served as the announcer of Jeopardy! for over 36 years. He recently spoke of his longtime partnership with Trebek, and continuing his legacy.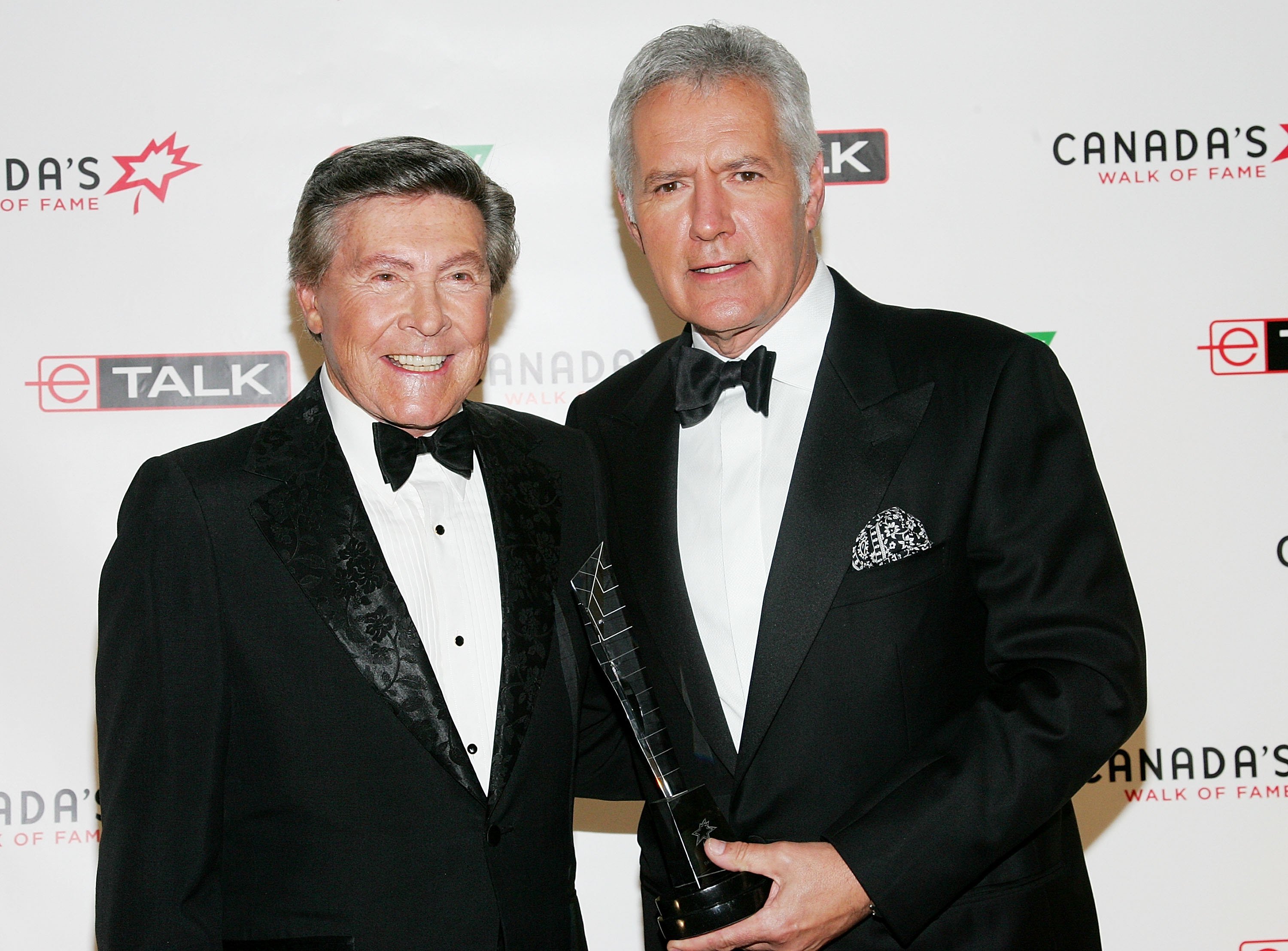 'Jeopardy!' host Alex Trebek and announcer Johnny Gilbert had a solid bond
Gilbert is known for his booming cadence, announcing Jeopardy! guests at the top of each show. Fans are well-versed in the final line of his intro for 37 seasons: "And now, here is the host of Jeopardy!… Alex Trebek!" 
Vocally paving the way for Trebek's entrance on Jeopardy! since the host debuted in 1984, Gilbert admitted to struggling with his friend and colleague's death.
"As much pain that he was in, I just never thought he was actually dying," Gilbert told the New York Times in January 2021. "The day I heard that, part of me left this world."
Their fondness and respect for each other was clearly mutual. In his memoir The Answer Is . . .: Reflections on My Life, Trebek had nothing but praise for Gilbert.
"We've been together longer than either one of our marriages," Trebek wrote, as reported by NYT. "We've never had a cross word."
RELATED: Ken Jennings Called Following Alex Trebek an 'Intense and Nerve-Wracking Experience' as He Wraps Up Guest Hosting Stint
'Jeopardy!' announcer Johnny Gilbert considered retiring after Alex Trebek's death
Gilbert marveled at Trebek's resilience following his cancer diagnosis in March 2019, where the Jeopardy! host remained at the game show lectern even as his health deteriorated.
"Regardless of how he felt when he walked out onstage," Gilbert remarked, "when I introduced him, there was Alex Trebek."
The Jeopardy! announcer pondered retirement after Trebek's death in November 2020, unsure of continuing without the show's iconic host.
"I thought, 'Gee, can I go on doing this?'" Gilbert revealed. "'Can I still do what the show needs?' And I decided, yes, I would go on. I would go on because Alex wanted the show to go on."
Johnny Gilbert called 'Jeopardy!' a 'very special game'
The Jeopardy! announcer raved of Trebek's vast knowledge and sense of humor, which would sometimes break out during commercial breaks.
"He would answer any question anyone wanted to ask," Gilbert recalled to People in December 2020. "He would get so involved that we would have to hold up coming back out of commercial for him to finish with the audience, but he insisted. … One gal asked him, 'Boxers or briefs?' Alex took a beat and said, 'Thongs!' I told him a long time ago, 'If this show goes away, you could be a stand-up comedian.' He always loved to do jokes."
Now with the guest-host rotation under way, Gilbert noted that having anyone but Trebek manning the quiz board is an adjustment.
RELATED: More 'Jeopardy!' Guest Host Dates Released: Exec Producer Mike Richards and Katie Couric Are Next in Line
"It was a very bizarre feeling," Gilbert shared, according to NYT. "I have never thought of anyone as host of the show except Alex."
Gilbert advised anyone standing in for the game show legend should just let Jeopardy! work its own magic.
"Jeopardy! is a very special game," Gilbert told People. "All that information that he gave out, aside from what was actually on the show, was in his mind. Somebody has to be able to handle that. If the person lets the show be the show, it will be fine."