'Jeopardy!': Can You Solve These Tricky Clues About Hollywood Western Flicks?
"Who is Alex Trebek" would be the Jeopardy! answer to "This beloved game show host was mourned by millions when he passed away in November 2020."
Trebek, who had hosted the game show since 1984, died November 8 at age 80 following a battle with pancreatic cancer. However, there was more to Trebek than being a game show host. 
Trebek was also a fan of classic movies – so much so that Turner Classic Movies gave him an obituary spotlight even though he was not a movie star. Classic movies were the subject of more than a few clues on Jeopardy over the years. 
Alex Trebek loved the classics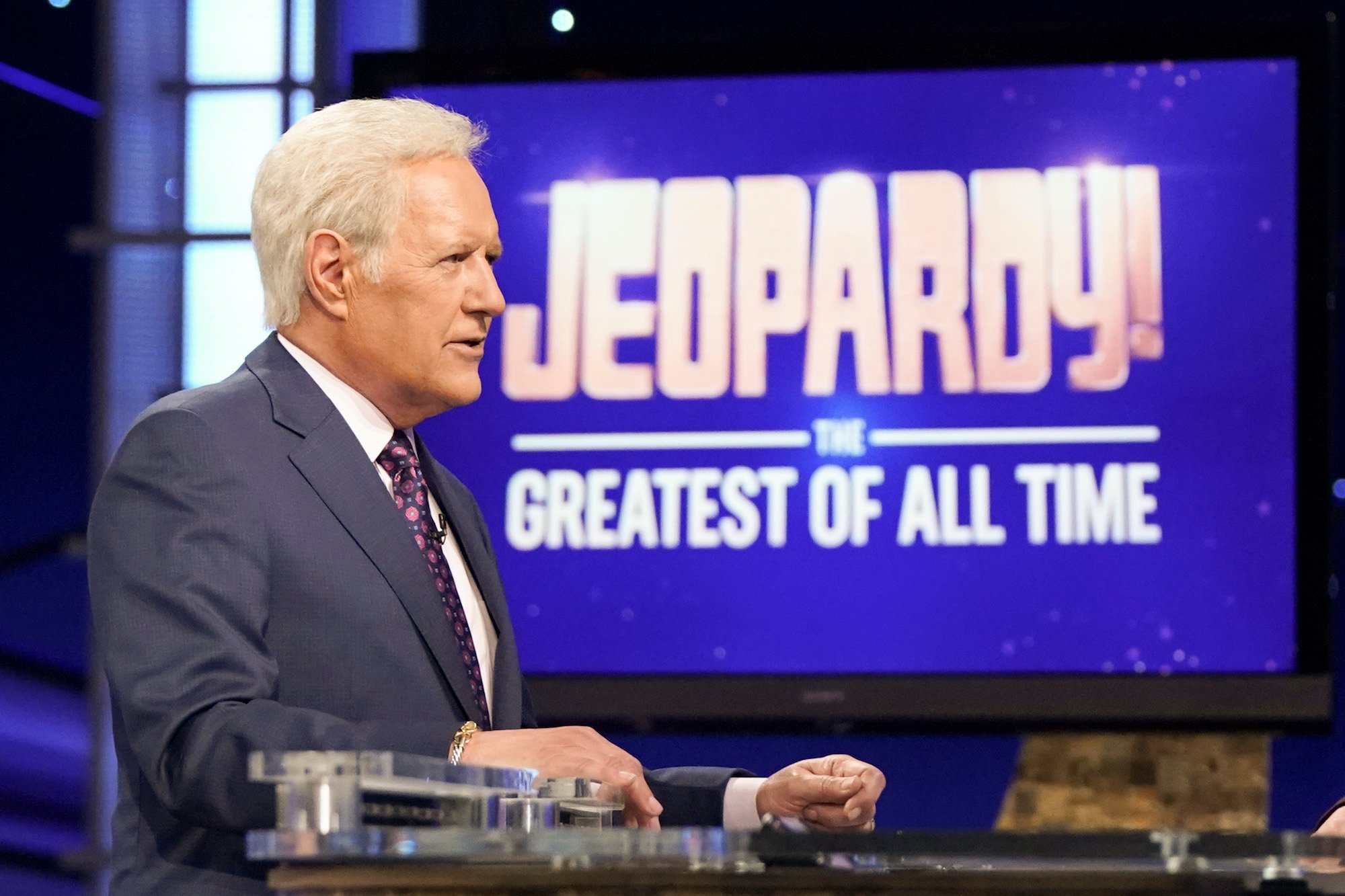 Jeopardy had been around long before Alex Trebek hosted it. According to a history on Cleveland.com, the show began on NBC in 1964, with the original host being Art Fleming. That version aired only weekly and it went on and off the air before that version ended in 1979. It was revived in 1984, with Trebek, and he eventually became the longest-running game show host on TV. 
One of Trebek's interests was classic movies, and he became a friend of Turner Classic Movies, appearing at their film festival and classic crews events. He took time to answer a TCM questionnaire, and said the first movie he fell in love with was 1939's Wuthering Heights, with Laurence Olivier and Merle Oberon.
Asked what his favorite scene from a movie was, he replied, "The scene at the dinner table from How Green Was My Valley (1941), where the father, played by Donald Crisp, turns to Roddy McDowell and says, Yes, I know you're there, my son after  the other sons had left. "
When Trebek died, TCM host Ben Mankiewicz tweeted, "I'm honored to have known Alex Trebek, have a few meals with him, have him share some of his wisdom. On the @TCM cruise, he got me to swim w/ the dolphins. No one else could've done that. He was the best at what he did."
The western is synonymous with classic Hollywood
The site Stacker.com listed a handful of Jeopardy clues about westerns, which are arguably the quintessential genre of the golden age of Hollywood that lasted from the 30s through the 50s. Westerns were plentiful in those years, and a pair of them served as a call and response.
One of the Jeopardy! clues was "It's the Western for which Gary Cooper won an acting Oscar." That would be 1952's High Noon, in which Cooper plays a lawman trying and failing to round up help to fight a gang of killers heading into town.
The events unfold more or less in real time and were seen by some as a coded message against the anti-communism hearings in Congress going on at the time. The movie so offended John Wayne and director Howard Hawks that they made the 1959 movie Rio Bravo, about a group of men who band together against a gang of gunfighters without pleading for help.
By the early 60s, the western was starting to fall out of favor, with fewer of them being made. However, Italy, of all countries, revived the genre. The Jeopardy clue was "This 1964 Sergio Leone film starring Clint Eastwood introduced the spaghetti Western."
 That would be A Fistful of Dollars, which gave way to For a Few Dollars More to The Good, the Bad and the Ugly. 
'Jeopardy' spotlights latter day westerns
The Good, The Bad and the Ugly came out in 1966, and after that, the frequency of Westerns declined again. There were still some prominent stragglers in the late 1960s and the early 70s, however. Another Jeopardy Clue was "Matt Damon took on Glen Campbell's Texas Ranger role in the remake of this Western."
That western was 1969's True Grit, which won John Wayne an Oscar. 
That movie was remade in 2010, with Jeff Bridges taking on John Wayne's role, and Bridges got an Oscar nomination. It was the highest grossing movie to date by the Coen brothers (No Country for Old Men), and it's also the highest-grossing western of the last decade, proving the genre still has some life in it. 
Trebek's final Jeopardy will air on Christmas Day. Jeopardy! champion Ken Jennings will be the interim host.