'Jeopardy!' Champ Amy Schneider Reveals Her Pick for Permanent Host
Following her epic 40-game winning streak, 'Jeopardy!' champ Amy Schneider is weighing in on who should serve at the legendary lectern for good.
Amy Schneider made a name for herself on Jeopardy!. After knocking former champs Matt Amodio and James Holzhauer each down a ranking for most consecutive wins, the Oakland resident finished her epic streak with 40 victories and over $1.3 million in cash. After spending a solid chunk of time on the Jeopardy! stage, Schneider shared her thoughts on who should permanently host the legendary game show.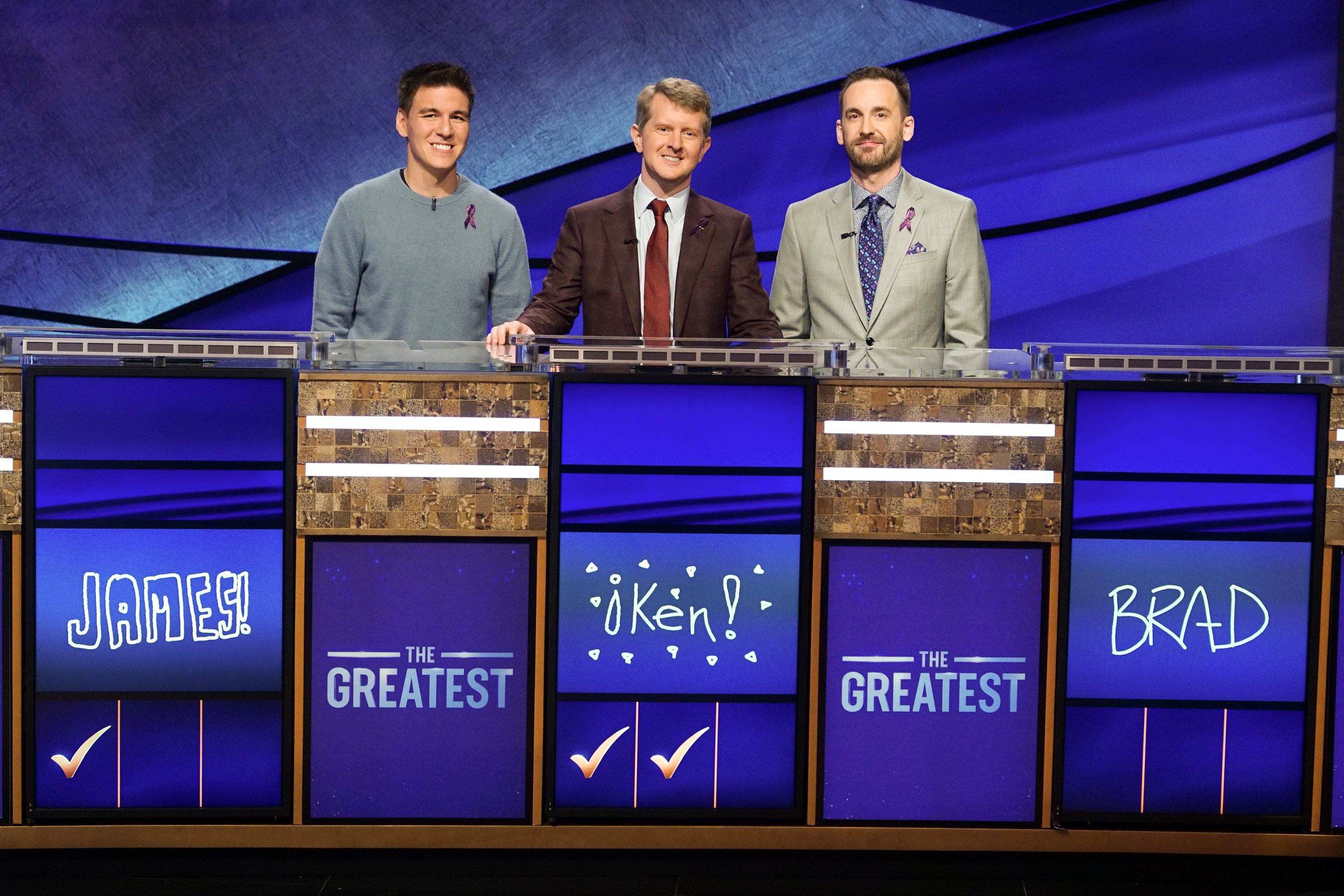 'Jeopardy!' GOAT Ken Jennings and 'TBBT' alum Mayim Bialik continue to tag team
In September 2021, Jeopardy! GOAT Ken Jennings and former The Big Bang Theory star Mayim Bialik were announced as hosts of the game show through the end of the year. Their tenure was extended in December, with news breaking that both shall be taking turns at the Jeopardy! helm through the rest of season 38.
Jennings was the first to fill the guest-hosting role in January 2021, after the death of game show icon Alex Trebek in November 2020. The Jeopardy! alum seemed like an obvious choice due to his history with the show and maintaining his number one ranking for most consecutive wins at a total of 74. Jennings also serves as a consulting producer on the show.
Bialik brings her performance background as well as an impressive Ph.D. in neuroscience to the podium. The Call Me Kat star made her Jeopardy! debut in May 2021 and immediately fell in love with the gig.
"Having a full-time job [on Fox's Call Me Kat] didn't stop me from wanting it," she shared with Glamour in September 2021. "But it really was after those two days [as guest host] that I realized I had never wanted anything more than that job. From just those two days [taping episodes to air over two weeks]. I said to the crew, 'I don't want to leave. I really don't want to leave.'"
'Jeopardy!': Fans React to the End of Amy Schneider's Record-Breaking Winning Streak
Amy Schneider thinks the full-time 'Jeopardy!' gig should go to the 'GOAT'
Jennings was manning the trivia board during Schneider's victory run. At first, she didn't consider him a shoe-in for permanent host despite his record as a long-running contestant. After seeing the Jeopardy! GOAT in action at the lectern, Schneider views Jennings as the only one for the job.
"Ken Jennings should be the host," Schneider said on CNN, according to The Week. "I really can't say enough about him. I didn't necessarily think that before going into this because, yes, he was a great champion, but this is a different skill set. But you could see the work that he put into it, and I just thought he did a really great job. So as far as I'm concerned, that's my endorsement." 
Schneider isn't alone on her vote. Rhone Talsma, who ended Schneider's epic streak, also named Jennings as the top pick.
"If I'm able to endorse a host, I 100 percent endorse Ken Jennings," Talsma told Vulture. "His knowledge of the game gives him so much credibility. … There's nobody better suited for the job." 
'Jeopardy!' alum would accept a hosting offer
Prior to Jennings and Bialik being the only two names on the hosting roster, several television personalities took a turn moderating the famous quiz board. Katie Couric, LeVar Burton, Savannah Guthrie, and NFL star Aaron Rodgers were just a few famous faces pinch hitting as guest host. Schneider admitted she wasn't tuning in too often during the rotating schedule.
"I didn't actually watch a ton of the guest hosts," Schneider remarked, as reported by Newsweek. "It felt really weird because everyone was in their first couple of weeks hosting it, so seeing somebody new and slightly uncomfortable every time."
Now with her Jeopardy! fame, Schneider is open to future career paths, including game show host. She revealed she would be more than happy to try the Jeopardy! board from the other side of the stage.
"It would certainly be a cool experience," she said of hosting the game show. "It's a lot harder than it looks. Whether I'd actually even be good at it, I don't know … But yeah, I'd certainly consider it if somebody asked."