'Jeopardy!' Champ James Holzhauer Posts Humorous Tweet Promoting New Show With Brad Rutter and G.O.A.T. Ken Jennings
James Holzhauer of 'Jeopardy!' fame is heading a new quiz show with former competitors Brad Rutter and Ken Jennings, but has one change to the promo.
Professional gambler "Jeopardy! James" Holzhauer wowed viewers on the legendary game show with his unique style of mastering the quiz board. Holzhauer recently joined celebrities and past contestants in mourning the loss of the show's longtime host, Alex Trebek, who died on Nov. 8.
Initially appearing in April 2019, Holzhauer returned in January 2020 to face off against Brad Rutter and Ken Jennings for the Jeopardy!'s The Greatest of All Time competition. With the three knowledge kings launching their own show in 2021, Holzhauer recently noted some discrepancies in the opening sequence, along with a warning to his agent.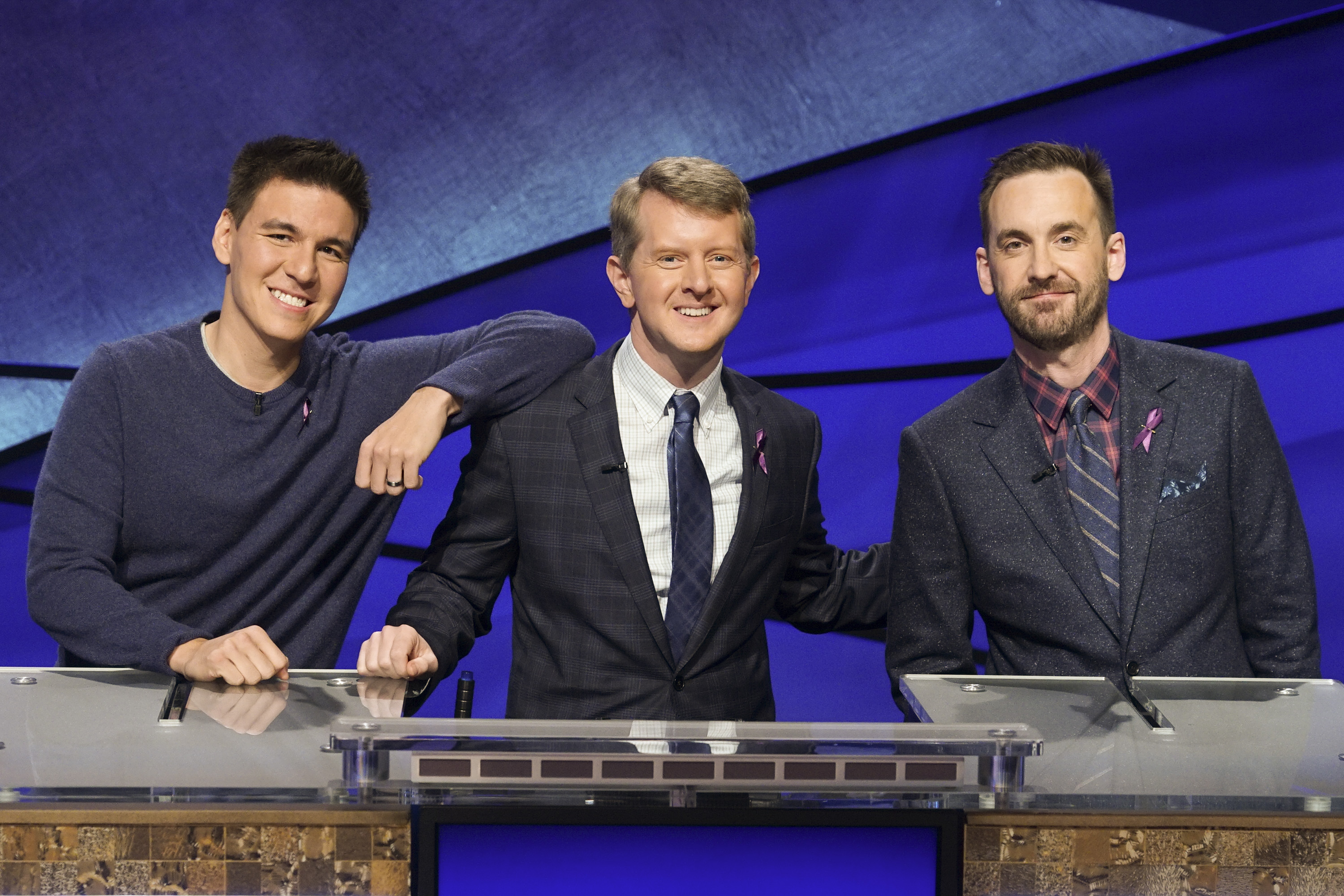 'The Chase'
With the ratings windfall brought in by Jeopardy! The Greatest of All Time, ABC decided to bring back the three brainiacs for their own quiz show. Creating a U.S. version of the British competition, The Chase is described as "a ruthless quiz genius determined to stop contestants from winning cash prizes. Each week, new contestants face-off against the Chasers in a battle of brain power," according to Variety.
Hosted by The View co-host Sara Haines, the 60-minute competition features Holzhauer, Jennings, and Rutter alternating as the "Chaser." Hoping to reach the end of a giant game board, contestants try to earn big bucks by answering up to 166 questions, while the "Chaser" starts from a few paces behind and attempts to catch up.
After the success of the Jeopardy! face-off in January 2020, ABC execs knew they needed to bring the three quiz masters back into prime time.
"Whether it's something with Jeopardy! or not, certainly I would argue these three guys are the biggest stars in primetime right now," ABC alternative head Robert Mills told Deadline at the time. "When you look at [the success of the prime time specials], you say, 'We have got to do something, something that taps into what these guys are.'"
It's 'Holzhauer' – don't forget the 'e'
Rutter recently tweeted out the preview of the show, which is sure to bring in game show enthusiasts.
"They are the titans of trivia," the announcer says as Jennings, Rutter, and Holzhauer each walk through a lighted hallway. The three are then showcased separately with their names spelled out as the announcer asks, "Can you take them down?"
While Holzhauer is clearly eager about the new show, he felt compelled to call out a typo in the promo. The professional gambler apparently had some guidelines on how his name appeared, which included correct spelling.
"Just checked my contract," the former Jeopardy! champ tweeted. "My name must be: in the same font/size as other chasers, no less prominently displayed, spelled correctly."
While the first two items on the list featured a green check mark next to them, the third had a red 'X'. "My agent will be receiving a strongly worded tweek," Holzhauer added in his trademark humor.
Ken Jennings takes on two games shows
Jennings was recently named as one of several guest hosts who will be serving on Jeopardy! in January. The game show G.O.A.T. tweeted his appreciation for the honor, paying homage to Trebek.
"There will only ever be one Alex Trebek, but I'm honored to be helping Jeopardy! out with this in January," Jennings wrote.
Executive producer Mike Richards noted Trebek's commitment to the iconic quiz show and his desire for Jeopardy! to continue.
"Alex believed in the importance of Jeopardy! and always said that he wanted the show to go on after him," Richards said, according to NPR. "We will honor his legacy by continuing to produce the show he loved."
Production of Jeopardy! will resume on Nov. 30. The Chase is scheduled to premiere on ABC on Jan. 7.