'Jeopardy!' Contestants Are 'Banned' From Telling Alex Trebek Stories About Cats
Jeopardy! is all about trivia but contestants don't spend the entire time on clues and categories. To break up the game, host Alex Trebek chats with contestants during a  small talk segment that airs after the first commercial break. A hallmark of the program that's been around for years, thinking of what to say can be a challenge for contestants. Keep reading to learn more about the segment.
'Jeopardy!' contestants come prepared with stories
RELATED: 'Jeopardy!': Julia Collins Says Alex Trebek Tried to 'Smooth Things Over' After a Contestant Made a Mean Comment to Her
During the game show, Trebek gets to know contestants and so do viewers watching at home. The TV personality spends a few moments with each contestant talking about various topics. Before they are on the show, contestants receive a list of questions to help them prep for the chat with Trebek. A month before taping, Jeopardy! senior contestant coordinator Corina Nusu gives players prompts.
"We send them a huge package of documentation via email. Included is an info sheet that asks them to list five interesting facts about themselves," Nusu told Mental Floss. 
Up to 32 questions may be given but Nusu says contestants don't have to provide answers to each one. When responses come in, she reviews them, and then on tape day, she sits down with contestants to get possibly another interesting fact from them. Nusu also tells contestants to elaborate when Trebek asks them a question.
They can't discuss cats, Arthur Chu says
Following his 11-game winning streak ended in 2014, Jeopardy! champion Arthur Chu discussed his time on the show with The A.V. Club. He shared that contestants are "banned" from discussing cats with Trebek during the small talk segment of the program. 
"Apparently all stories about cats are banned," he said. "No stories involving cats whatsoever. That threw out a lot of my stories."
Why are stories about cats not allowed? Not because the people at Jeopardy! don't like cats but probably because they've been mentioned too many times before.
When Jeopardy! champion, Julia Collins, discussed the game show's small talk segment with HuffPost TV in 2014, she recalled how she couldn't bring up jewelry because it had already been a topic of conversation in a recent episode.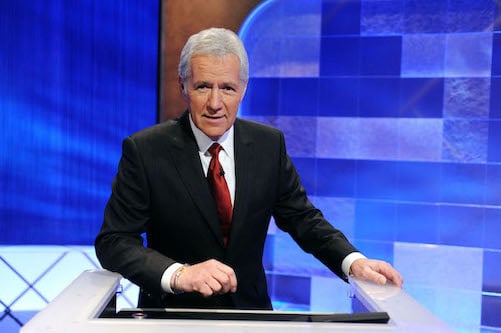 RELATED: 'Jeopardy!': Alex Trebek Likes Clues to Be Written a Certain Way
"I wore this ring most of the time I was on the show that my grandmother gave me and I was like we could talk about that," Collins said. 
But a contestant coordinator turned her down.
"Somebody else just talked about this cameo brooch that she got from her mother and he [the contestant coordinator] was like, 'No more jewelry from relatives.'" 
"They try not to repeat the stories too frequently because a lot of people have done the same things," Collins added. 
So, that's likely the reasoning behind the ban on cat stories. Jeopardy! contestants have simply talked about them too much.
It's one of the hardest things about being on 'Jeopardy!'
Chu and Collins are among the Jeopardy! contestants who feel coming up with an interesting anecdote is one of the hardest parts of the program. 
RELATED: 'Jeopardy!': What Happens to 'Problematic' Clues, According to a Head Writer on the Game Show
"Having to think of something on the fly, something interesting to say while you just won a game of Jeopardy! and you're soaked in sweat and you're ready to go out there and try to win another game—that is one of the most difficult things you can do on the show," Chu said. 
Collins, who won 20 games of Jeopardy! in a row, said it's "probably the hardest thing" about being on the show. 
So, knowing the answers to clues isn't the hardest part of Jeopardy! but coming up with interesting facts about yourself is. 
RELATED: Alex Trebek's Wife Asked Him to Take a Break From Hosting 'Jeopardy!' After Pancreatic Cancer Diagnosis