'Jeopardy!' GOAT Ken Jennings Gives a Shout Out to Current Champ Ryan Long
Ryan Long continues his epic run on Jeopardy!, recently clinching his 13th consecutive victory. Long's winning streak follows record-breakers Matt Amodio, Amy Schneider, and Mattea Roach this season, making for a must-see Tournament of Champions this fall. Jeopardy! GOAT Ken Jennings recently posted props to Long on his success at the quiz board.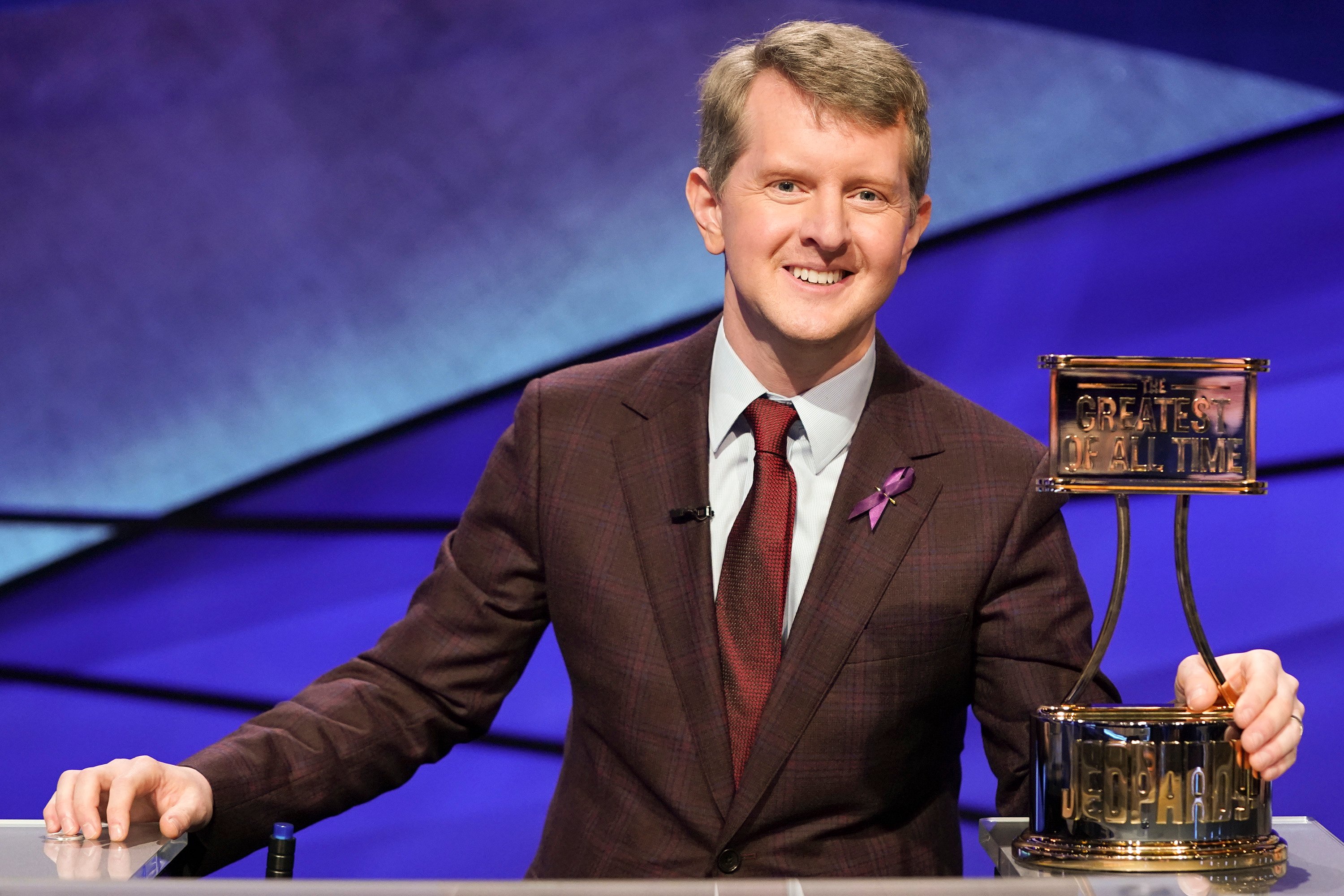 Ryan Long is a lock for 2022 Tournament of Champions
Long is acquiring quite a fan base on Jeopardy! between his down-to-earth demeanor and trivia expertise. The Philly native was working as a rideshare driver when he got the call to appear on the game show. Now with $252,700 in winnings, Long expressed his surprise at his current streak.
"'Surreal' is probably the best word I can think of," Long said after his fifth consecutive win, according to Jeopardy.com. "I thought that I could do okay, maybe. But I didn't think I would get anywhere near this level."
Recently bypassing former champ Jonathan Fisher's total of 11 straight victories, Long is headed for the ranks of previous brainiacs Amodio (38 wins), Schneider (40 wins) and Roach (23 wins). The 2022 Tournament of Champions includes the four now-famous players, along with Fisher, Professors Tournament winner Sam Buttrey, and National College Tournament Champ Jaskaran Singh.
RELATED: 'Jeopardy!' Champ Ryan Long Just Surpassed Jonathan Fisher's Record and Fans Are Loving It
Ken Jennings posts some praise of 'Jeopardy!' champ
Jennings recently handed over hosting duties once again to The Big Bang Theory alum Mayim Bialik, but has kept his eye on the Jeopardy! board. He recently gave a nod to Long on Twitter.
"If you haven't been watching @Jeopardy the last couple weeks, you're missing a heck of a run. Meet Ryan!" Jennings posted on May 30.
Jeopardy! viewers responded with cheers for Long and commented on his gentle nature.
"Ryan is a great champion and so different than the usual Jeopardy! champions. He doesn't seem like a massively prepped quiz bowl champ, just a guy who knows stuff," a follower tweeted.
"He's so good I love how humble he is," a fan wrote.
"We absolutely love this guy in the Philly area!" a viewer raved.
"It's really easy to cheer for Ryan – so calm, cool, and smart," another remarked.
'Jeopardy!' GOAT maintains his record
Jennings became a household name after winning 74 consecutive games on Jeopardy! in 2004 and racking up a jackpot of over $2.5 million in cash. In 2020, Jennings competed against former champs James Holzhauer and Brad Rutter and won the coveted Greatest of All Time title.
Now a consulting producer on the legendary game show, Jennings was the first to serve as guest host after the death of Jeopardy! icon Alex Trebek in 2020. Jennings and Bialik continue to tag team at the podium through season 38, though many fans are clamoring for the GOAT to take on the lectern permanently. His recent exit from ABC's The Chase has viewers suspecting an announcement on the full-time Jeopardy! post may be around the corner.
RELATED: 'Jeopardy!' Champs Weigh in on Upcoming Tournament of Champions