'Jeopardy!' Guest Host Robin Roberts Emotionally Honors Alex Trebek in Her 1st Game: 'His Spirit Is Very Much Here'
Good Morning America co-anchor Robin Roberts took her place July 19 at the lectern of late Jeopardy! host Alex Trebek. In guest-hosting her first game, the television personality paid tribute to the program, its contestants, and especially to Trebek's still strongly felt presence.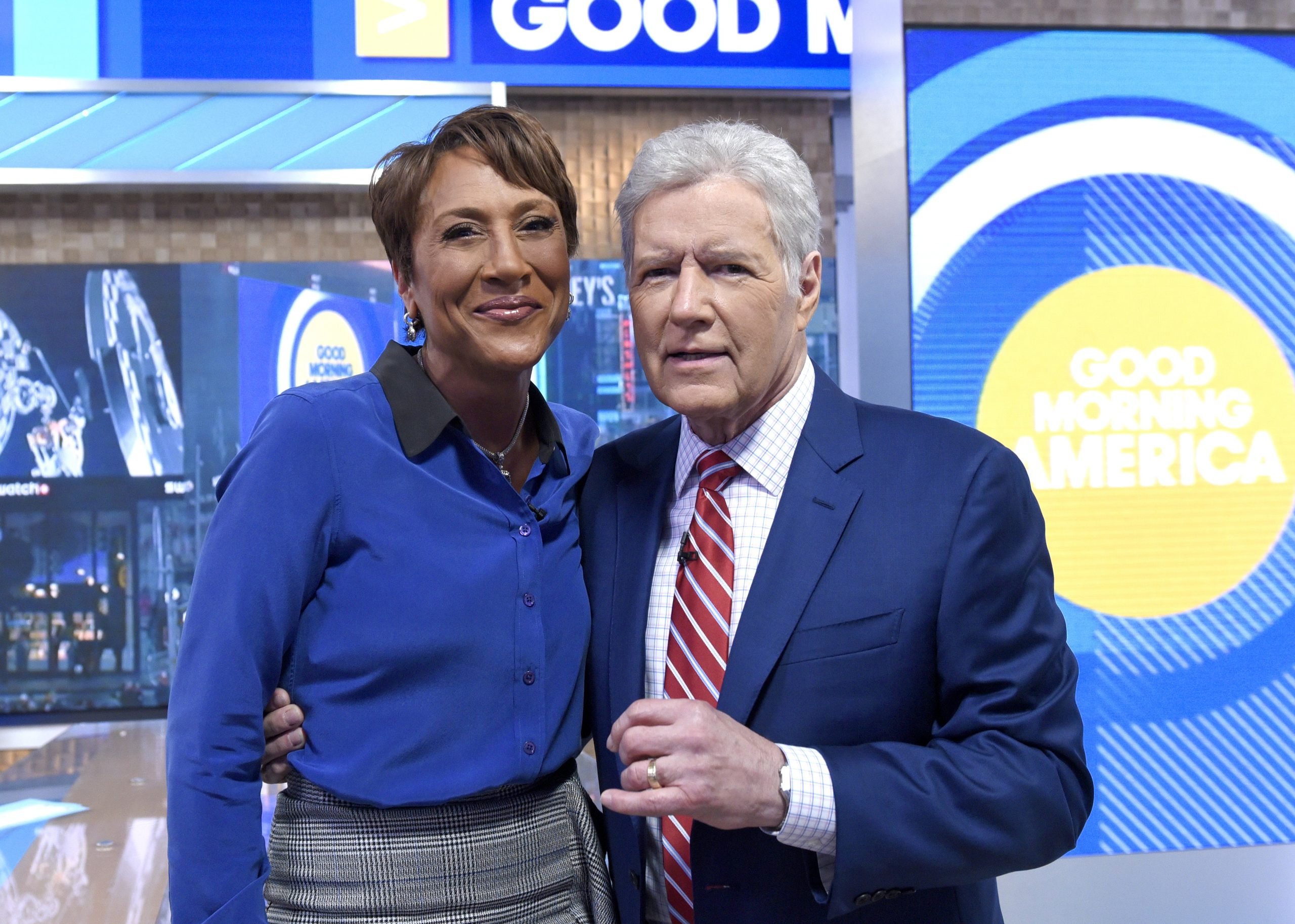 Roberts began her guest host stint following her colleague George Stephanopoulos
While most of the game show's guest hosts each appear for two weeks at a time, Roberts and Stephanopoulos shared their hosting duties. Stephanopoulos appeared the week of July 12 and passed the baton on to his colleague whose first game aired on July 19.
In a video interview conducted by the game show, Roberts revealed her hope of imparting even a small amount of Trebek's wisdom and personality in her time on the program.
"I just want to bring a little bit of Alex," she said. "Just a little bit. Can't be him. No one can be him, but just want to bring a little of the spirit that he brought each and every time he was here in the studio, that's all."
The morning anchor's heartfelt tribute to Trebek
As Roberts was introduced by announcer Johnny Gilbert at the start of the program, her excitement at hearing her name spoken by the legendary voice professional was evident. "Johnny Gilbert just said my name!," she said. "What a thrill! You have no idea, to hear him say my name."
Just as each guest host before her has opened their run on the show with remarks about the classic answer-and-question show's place in their childhood and lives, Roberts also had a few words to share. And for her, it was all about Trebek.
"Of course, I am honored to be here, guest-hosting Jeopardy!" she said. "And paying tribute to the great Alex Trebek, who I was blessed to get to know well over the years. And I have to say, his spirit is very much here, very present."
Trebek visited 'GMA' following his cancer diagnosis
After Trebek announced in 2019 that he had been diagnosed with advanced pancreatic cancer, Good Morning America was the first program he visited. He spoke on the air with Roberts, who handled with warmth and poise what could have been a difficult interview after Trebek's grim diagnosis. Roberts herself is a breast cancer survivor.
"I hope you understand how many people you are helping by watching you go through this journey, people who are walking a similar path," Roberts said to the game show host.
Trebek told her: "It's great to be considered an inspiration to other people. People all over America have been sharing their good thoughts, their advice, their prayers, and I feel it is making a difference in my well-being."
Roberts' time on Jeopardy! continues until July 23, after which she will be succeeded by actor and television personality LeVar Burton.