'Jeopardy!' Host Alex Trebek Knows Exactly What He Will Do in Retirement
Alex Trebek is an institution. He has been hosting Jeopardy! for so long it's hard to find someone who remembers a time without him on the air. But Trebek isn't planning on being the host forever. Trebek plans to retire from Jeopardy, though he's not committing to a time frame just yet. The 79-year-old television veteran will continue working until he can't anymore. 
Alex Trebek is locked in until 2022
Like most television stars, Trebek is under contract. His current deal means he will be the host of Jeopardy! until at least 2022. He could continue hosting the show past that if both he and the network are willing.
Trebek said he wants to work for as long as he can. He knows that eventually his health could interfere with his ability to do the job. When that happens he's out, even if it means retiring before 2022. 
Trebek has already started to notice some issues with his hosting abilities. He can't enunciate as well as he used to.
"I notice those things," said Trebek. "And I'm sure there are observant members of the television audience who notice also."
According to Trebek, his difficulty in speaking comes and goes. While some changes in speech may happen naturally because of old age, Trebek's difficulties are related to his cancer diagnosis and subsequent treatment. 
Alex Trebek's cancer diagnosis may force him to retire early
Trebek has been honest with fans about his prognosis. Last year, he was diagnosed with stage 4 pancreatic cancer. The outlook is bleak. Only 9 percent of patients live for longer than 5 years after this diagnosis.
Trebek has undergone all possible treatments, including chemotherapy, which is very difficult on the body. Chemotherapy essentially poisons the body to kill the cancer and can cause some serious side effects in the process. 
To his credit, Trebek hasn't held back when talking to the public about what he is going through. His straightforward explanation of his symptoms will definitely bring comfort to many who are in similar situations. Trebek has said the treatment has sometimes felt worse than the disease.
"Now I'd be lying if I said the journey had been an easy one," said Trebek. "There were some good days, but a lot of not-so-good days. I joked with friends that the cancer won't kill me, the chemo treatments will."
Although Trebek said there were times when he thought of giving up, his wife kept him going.
What will Alex Trebek do when he retires?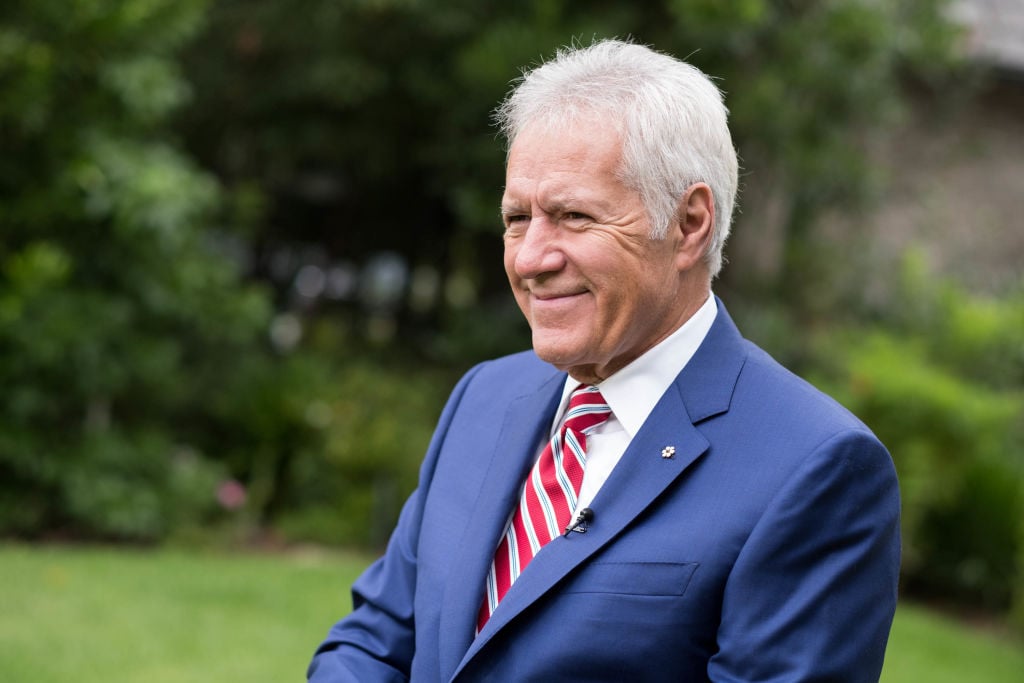 Trebek has survived one year after his diagnosis. Unfortunately, only 18 percent of patients make it to the one year mark, so Trebek is already beating the odds. He's still not ready to retire, but when he does, he knows exactly what he's going to do. He recently revealed that when the time comes for him to step down, he'll "work around the house." 
It turns out the game show host loves working with his hands. He has a passion for home improvement projects, and he's pretty good at them. Although he's not retired yet, he still found time to remodel his wife Jean's bathroom. Once he has more time on his hands, there's no limit to what he'll be able to accomplish.
He's not afraid to take on big projects, either. His family was in construction, so he knows more about how to DIY than the average person. Jean will likely be excited to have her husband home full time, but fans aren't ready to let go of Trebek just yet. Hopefully, he will continue hosting  Jeopardy!  for a long time to come.