'Jeopardy' Host Alex Trebek Opens Up About 24-Year Age Gap With Wife Jean
Beloved Jeopardy! host, Alex Trebek, announced his diagnosis with stage 4 pancreatic cancer in March 2019. Following the outpouring of love and support he received from fans after the diagnosis, Trebek was inspired to write an autobiography detailing the highlights of his life; The Answer Is… Reflections On My Life was published on July 21, 2020. In his book, Trebek credits his wife of 30 years, Jean, for keeping him alive throughout his battle with cancer.
Love at first sight for $200, please
RELATED: 'Jeopardy!': Alex Trebek Throwback Pic Have Fans Comparing Him to a Real-Life G.I. Joe and Bob Ross
During his fourth-year hosting Jeopardy! in 1988, a mutual friend introduced Alex to Jean Currivan. At the time, Trebek was 47 years old, making him 24 years older than his future wife.
Regardless of the age gap, the Jeopardy! host was not interested in starting a new relationship. Trebek had recently finalized the divorce from his first wife, Elaine Callei, in 1980.
While Alex and Callei never had children together, Trebek had adopted Calliei's daughter from a previous marriage: Nicky Trebek. After his separation from her mother, Trebek still considered Nicky to be his daughter.
Despite the initial odds against them, Trebek and Currivan's love has proven to stand the test of time. The two were married in 1990, and they've been the epitome of 'couple-goals' ever since.
Just three weeks after the wedding, Trebek and Currivan discovered they were pregnant with their first child together: Matthew Trebek. Three years later, their daughter, Emily Trebek, was born and the family of five was complete.
Relationship milestones for $300, please
In a 1990 interview with People, only two years after the couple met, Trebek admitted that they both had reservations about their 24-year age gap when they met. Trebek said: "At first it worried me, but then I thought, 'To hell with it. We'll make it work.'"
In another interview just two months prior to his cancer diagnosis, the game show host told People: "I'm pretty satisfied with my life, […] but if I'd just met Jean in my 20s we could have had a longer life together."
In the same aforementioned 2019 interview, the proud parents praised their two children. Trebek stated: "They're really sharp, and have done their due diligence in their respective endeavors."
Currivan added: "They're both very compassionate, sensitive people. They're really the best of Alex and [me]. You can talk to them. They're our good friends."
Happy endings for $500, please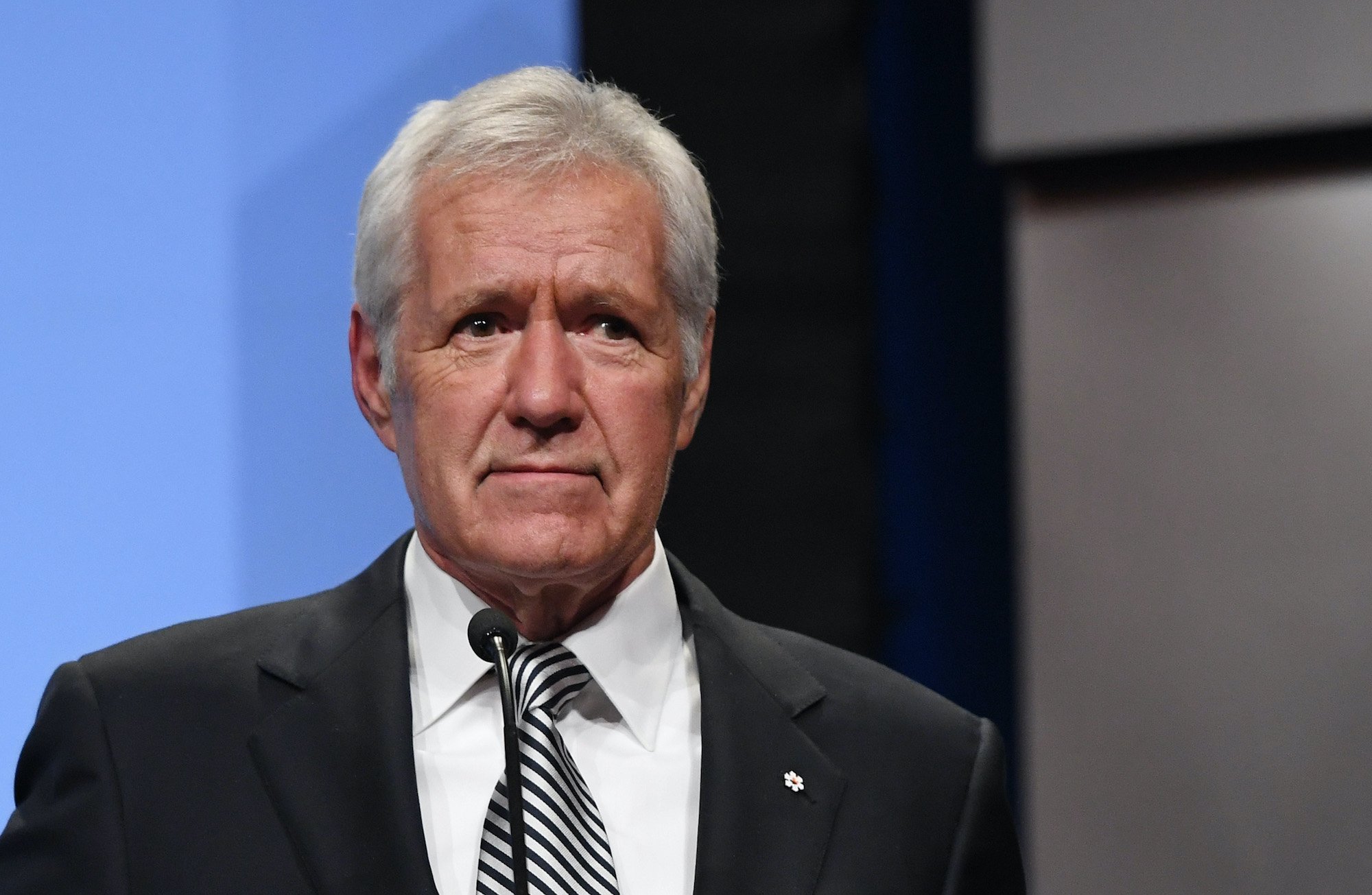 In his newly published autobiography, Trebek gives fans even more romantic insight on his 30-year marriage to Currivan and the role she's played in his battle with pancreatic cancer. He said: "Sometimes you look at something, you look at someone, and you know. […] With Jeanie that's how it was. I wasn't looking for love. But I recognized at a gut level that [Jean] was someone who was going to complete me as a human being."
The stories Trebek shares in his book aren't all so serious, he also wrote about some comical memories from his past. One story takes readers all the way back to the late 1980s, when he met Currivan's father — a man only 2 years his senior: "When Jeanie introduced me to him, he took one look at me and said, 'I guess I won't be calling you 'son.'"
Trebek and Currivan are featured on the cover of the August 3, 2020, issue of People Magazine. In the full cover story, Trebek shows even more of his vulnerable side: "She's kept me alive."
Trebek stated his wife's positive influence: "If it weren't for Jean, I'd have put myself out of this a long time ago."
Thank goodness for Currivan, because on July 15, 2020, fans were delighted with the news that Trebek has been responding well to his cancer treatments and his tumors have been consistently shrinking. However, he revealed in his autobiography that if immunotherapy care stops working, he will not continue treatment. Here's hoping for Trebek's successful recovery and continued love story with Currivan.