'Jeopardy!' Host Alex Trebek Said This Romantic Gift From His Wife Showed 'The Way I Look at Our Relationship'
Fans of Jeopardy! are mourning the loss of beloved game show host Alex Trebek. With the show announcing his death from pancreatic cancer on Nov. 8, tributes to the legendary quiz master continue to pour in on social media.
Married to wife Jean since 1990, the couple share son Matthew and daughter Emily, as well as Trebek's adopted daughter Nicky from his first marriage. The couple clearly had an unbreakable bond which was perfectly depicted in a gift Jean gave to Trebek that he looked at each day for inspiration.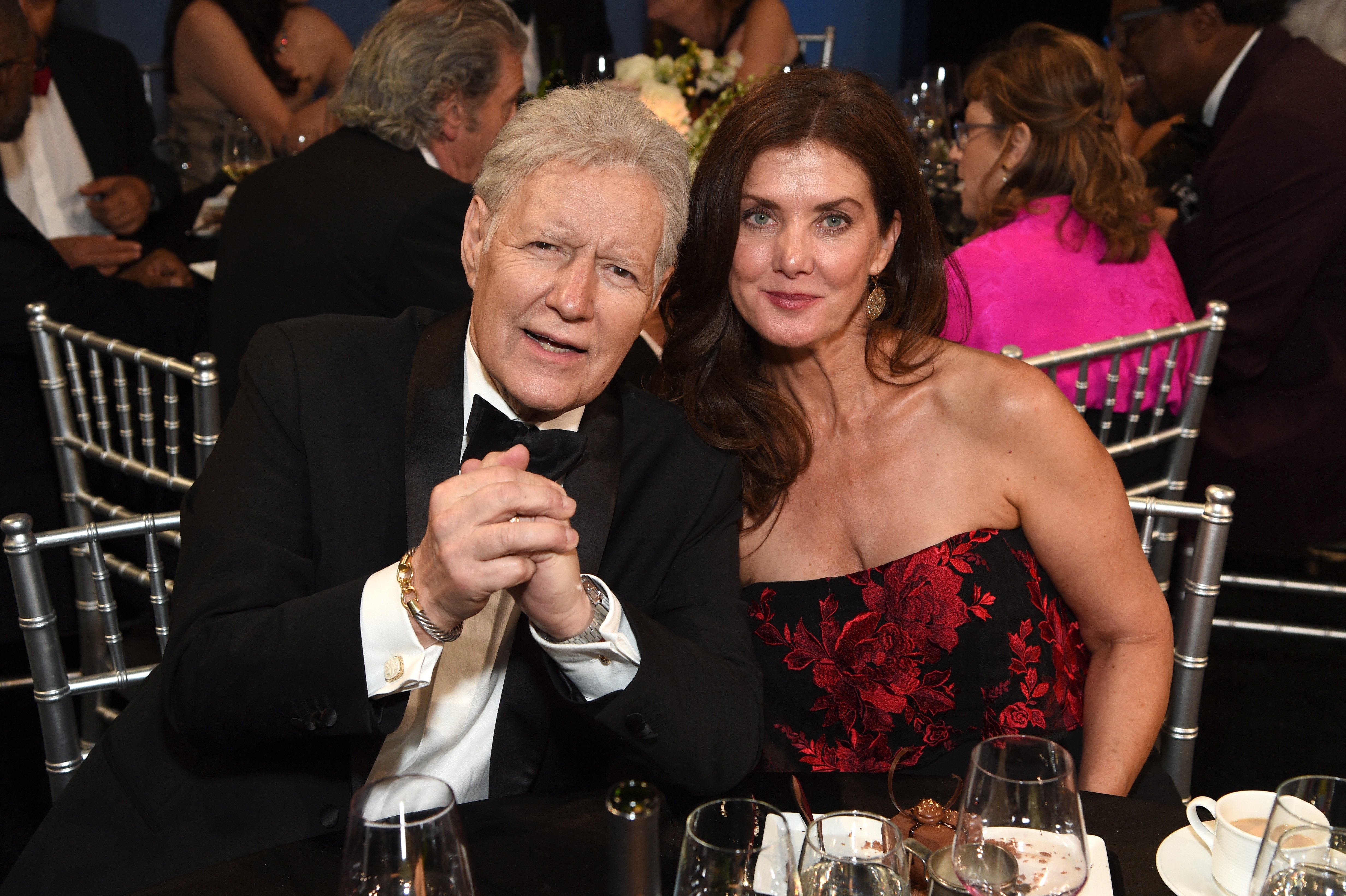 Alex Trebek and Jean didn't let their age difference get in their way
The pair met in 1988 and tied the know two years later. Despite their 24-year age difference, the couple knew they were meant to be together.
"There was just this deep sensitivity about him with a gruffy exterior," Jean commented in January 2019, according to People. "I kept thinking, 'He's 24 years older than me' … but there was something that just kept drawing me to him."
The Jeopardy! star also had a few reservations early in their relationship regarding the two-decades-plus difference in their ages. Yet Trebek knew ultimately, numbers didn't matter.
"At first it worried me," Trebek said of their age gap in 1990. "But then I thought, 'To hell with it. We'll make it work.'"
'Jeopardy!' host said he wished he met his wife sooner
Celebrating 30 years of marriage in April 2020, the couple's love for each other never waned. Trebek revealed he had only one regret when it came to his wife.
"I'm pretty satisfied with my life," the quiz master said last year. "But my wife Jean and I have been together almost 29 years, and I was thinking about President Bush when he died, and all the comments about his life about what a nice guy he is, and how he and his wife had been together 73 years. I thought, oh my gosh … if I'd just met Jean in my 20s we could have had a longer life together."
Jean noted her husband's ability to stay young at heart was due to his continuous thirst for knowledge.
"He's got a great sense of humor," she explained. "He takes his job very seriously, but won't take himself too seriously. He's just an intelligent human being. Part of Alex's staying youthful is his staying curious."
'One soul in two bodies'
One of the many common interests the couple shared was their love of classic films. In his memoir The Answer Is . . .: Reflections on My Life released in July 2020, Trebek gave readers a hint to how close the bond was between him and his wife.
"I've got [a] framed image. Jeanie gave it to me," the Jeopardy! star wrote. "It's a line from our favorite movie, Wuthering Heights: 'Whatever our souls are made of, yours and mine are the same.' That's the way I look at our relationship. We are one soul in two bodies."
Following his diagnosis of stage 4 pancreatic cancer in March 2019, Trebek remained at his post on Jeopardy! much to the delight of his fans. He credited his wife for giving him the strength and motivation to continue.
"She's kept me alive," Trebek said in July 2020. "If it weren't for Jean, I'd have put myself out of this a long time ago."