'Jeopardy!': Ken Jennings Once Trash-Talked the Show, Called Alex Trebek a 'Robot'
Game show contestant Ken Jennings might be highly regarded as the greatest Jeopardy! contestant of all time, but that doesn't mean he's never had any choice words for the show. Jennings, who won a staggering 72 times in a row in the early 2000s, once suggested that host Alex Trebek was robot — and had some other thoughts about the show as well.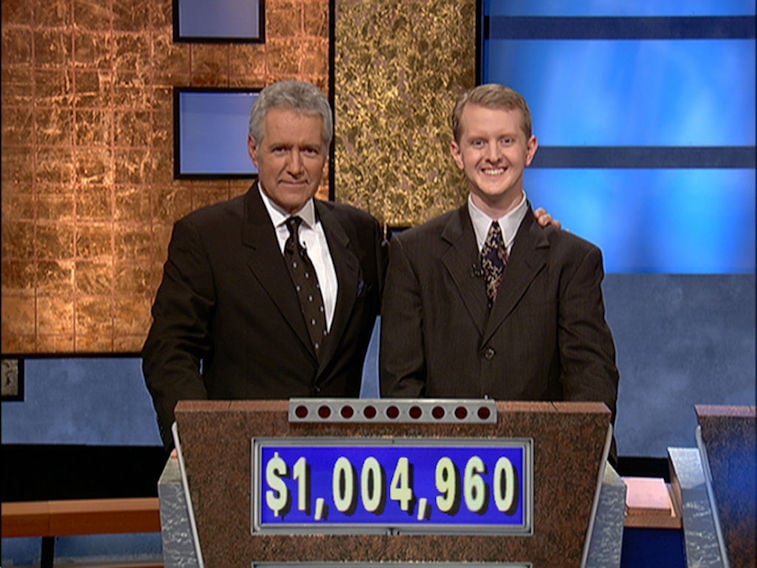 Ken Jennings has the most wins of any 'Jeopardy!' contestant
"Ken Jennings" is synonymous with "legend" in the world of Jeopardy!. Jennings first appeared on the show back in 2004; he was 30 years old, and the rule of unlimited Jeopardy! appearances was still relatively new (up until 2003, contestants were limited to only five wins on the show before they were booted).
Jennings' first episode aired on June 2, 2004, and from there, history was made. He continued to win night after night, drawing a massive audience as people became more and more interested in watching how many wins he was able to rack up. The streak continued for more than five months, though there were a few interruptions for various championship games. On November 30, 2004, Jennings lost his 75th match, officially ending his streak. Throughout his appearances, he set plenty of records, including the show's longest streak of all-time, and the most winnings from the show.
RELATED: Could Ken Jennings Be the Next 'Jeopardy!' Host?
Jennings once said Trebek was a robot and criticized the show
Though Jennings is thankful for his time on the show, in 2006 (about two years after he first appeared), he took to his website to write a post about how he really felt about the show — and about its host, Alex Trebek. "I know, I know, the old folks love [Trebek]," Jennings wrote, according to Access. "Nobody knows he died in that fiery truck crash a few years back and was immediately replaced with the Trebektron 4000 (I see your engineers still can't get the mustache right, by the way)."
Jennings suggested Trebek was actually a robot, likely because of the calm and consistent demeanor Trebek always keeps on the show. He also criticized the show as a whole. Access reported that Jennings' post attacked the show's "effete, left-coast" categories and "same-old" game show format that it's had for years. "You seem to think 'change' means replacing a blue polyethylene backdrop with a slightly different shade of blue polyethylene backdrop every presidential election or so."
Jennings has since had good things to say about Trebek
Jennings later noted that he was joking about the remarks, and despite his criticism more than a decade ago, he has since had good words about Trebek. In April 2020, Jennings told Fox News that he "enjoyed every second" of his last-ever appearance alongside Trebek on Jeopardy!: Greatest of All Time back in January. "That's a guy who loves his job," Jennings added, saying that he thinks Jeopardy! is what's keeping Trebek "healthy and alive at this point."
Jennings hinted that when Jeopardy! returns to filming (it's on pause due to the COVID-19 outbreak), there likely won't be a studio audience for a while so as to protect Trebek's health as much as possible. Trebek has been doing fairly well since being diagnosed with pancreatic cancer in 2019.