'Jeopardy!': Ken Jennings Described Alex Trebek as 'More the Goofy Uncle Than the Stern Dad'
Trivia expert Ken Jennings was asked to serve as a guest host of Jeopardy! after the death of the legendary Alex Trebek on Nov. 8. Earning the coveted Greatest of All Time title during the show's January 2020 competition, Jennings first appeared on Jeopardy! in 2004 and had since gotten to know the iconic game show host.
Jennings previously spoke of the famous trivia master and gave details of his interactions with contestants between quizzing rounds.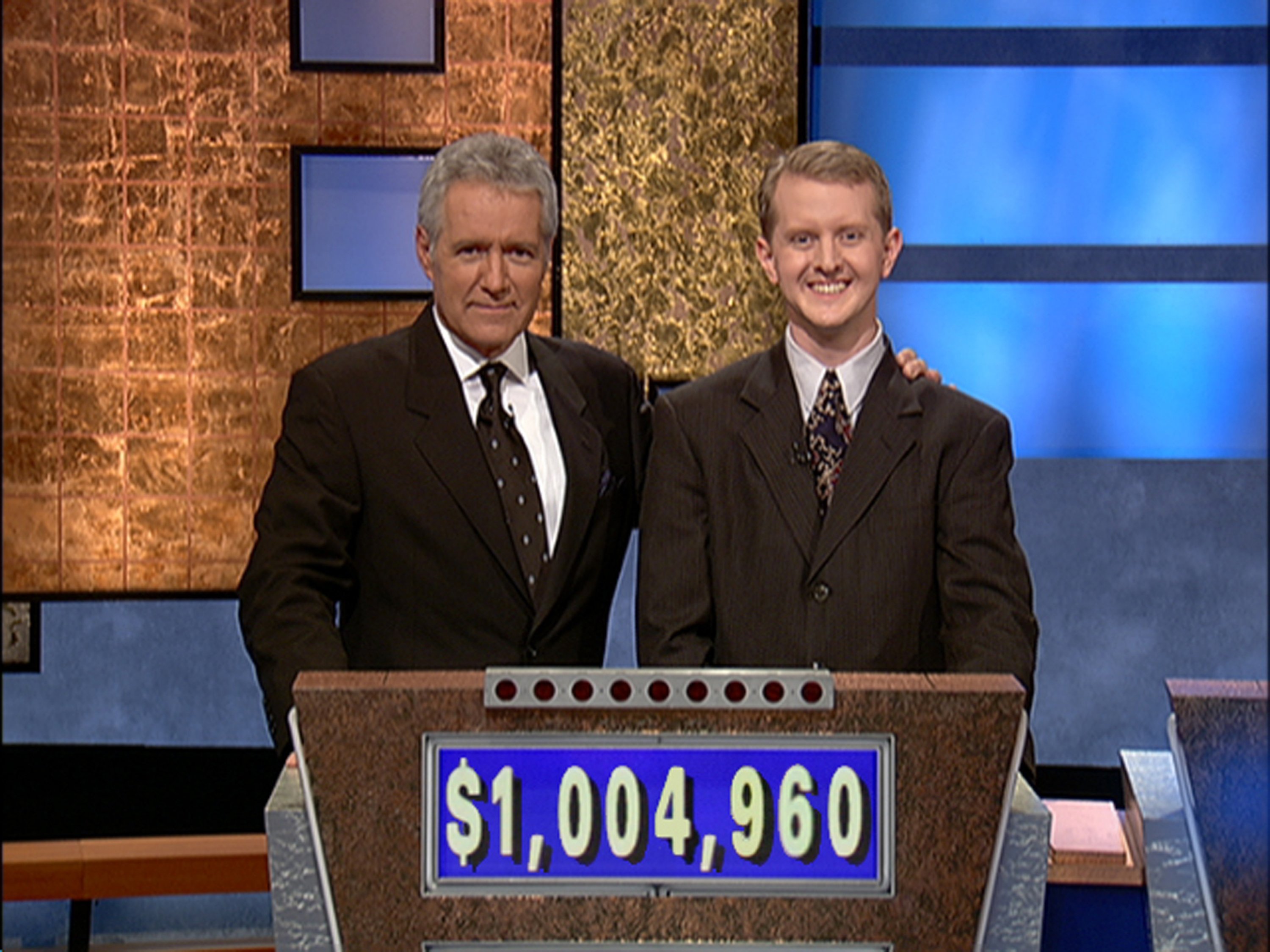 Ken Jennings saw Alex Trebek behind the scenes
Winning over $2 million in 2004 with his 74-game streak, Jennings has become somewhat of a Jeopardy! staple. Sometimes appearing in video clues, Jennings was recently asked to serve as a Consulting Producer on the show. His bond with the game show gave him an insider's view to Trebek's demeanor.
"Alex was something of an exotic presence in the game show ecosystem then: the Canadian accent, the curly hair, the mustache," Jennings wrote in his tribute to Trebek for Time shortly after his death. "And he didn't grin and bound around the stage like a stereotypical game show host. He was a cool, authoritative character. Toward the contestants, he could be stern, even a little prickly. He ran a tight ship."
Over time, Jennings learned the reasons for Trebek's management style and gained a respect for all that the game show host had to juggle.
"Later, watching Alex host the show from up close, I understood the persona better," the Jeopardy! champ explained. "Running a fast-paced show like Jeopardy! is a harder job than viewers realize; the host is not only moderating the game for the three contestants, but he's also interpreting it for viewers. In sports terms, he's the referee and the broadcast booth all at once. Alex wasn't aloof; he was just busy. But he always made it look easy."
Alex Trebek was 'a little bit goofier than you'd think'
Since FCC regulations prevented contestants from socializing with anyone knowing the answers to Jeopardy! questions, access to Trebek was scarce. Yet during Jennings' tenure on the show, he got to see the sophisticated game show host behind the scenes.
"Over the years, I've kind of gotten a sense of who he is," Jennings told TV Insider in November 2020. "He's exactly the guy we all want him to be from TV, not just the cool old-school broadcaster, but the reliably good authoritative person. He's also a little bit goofier than you'd think."
While Trebek always portrayed an image of class and maintained a serious demeanor, the quiz master had quite a sense of humor.
"Between rounds, he'll take audience questions and he's cracking jokes that are self-deprecating," Jennings shared. "He does accents. I've seen him do little bits of song and dance. He's really much more the goofy uncle than the stern dad, and I think America doesn't always see that because there's not a lot of time for him to make wisecracks."
'Jeopardy!' host was 'part of the family'
Though Trebek was in charge of the Jeopardy! operation, he never sought to be the center of attention.
"Despite that daunting job description, he was never introduced, as Art Fleming had been in the 1960s, as 'the star of Jeopardy!'" Jennings revealed in his Time article. "At Alex's own insistence, he was always just 'the host of Jeopardy!' The star of the show, he always maintained, was the game itself."
Welcomed into people's living rooms via television each night for over 30 years, Trebek was truly more than a game show host.
"He was part of the fabric of America's evening," Jennings wrote. "The center of a gathering place for the whole country, even as media was balkanizing into a million little niches everywhere else. People invited him over every night for decades, just to hear the calming sound of his voice. He wasn't just a broadcaster. He was part of the family."