'Jeopardy!': Ken Jennings' Offensive Tweets Could Keep Him From Living Up to Alex Trebek's Legacy
Even casual Jeopardy! fans know that it's impossible to live up to Alex Trebek's reputation. The Emmy award-winning TV legend served as host of the popular game show for 37 years before his death from pancreatic cancer in 2020.
Trebek offered a few suggestions for potential replacements before he died, wondering if perhaps a woman should take his place. But all along many Jeopardy! viewers thought one contestant would make a fantastic new host.
Ken Jennings has the intelligence to take Trebek's place — but he may not have the overall appeal. A series of insensitive tweets prove that Jennings could be a controversial pick for the new Jeopardy! host.
Alex Trebek loved hosting 'Jeopardy!'
Plenty of people go to work every day just to get a paycheck, never finding fulfillment in what they're doing. But Trebek excelled at hosting Jeopardy! in part because he truly loved it.
The longtime host said his favorite part of the show is spending time with the contestants, Variety reported. "I hate spending time with stupid people," Trebek joked. "You can't find any better environment in which to work than hosting a program like Jeopardy!… It's the very best kind of reality television."
Any replacement would need to have that same level of commitment, which is rare to find. But is Jennings the right option?
Ken Jennings became 'Jeopardy!' royalty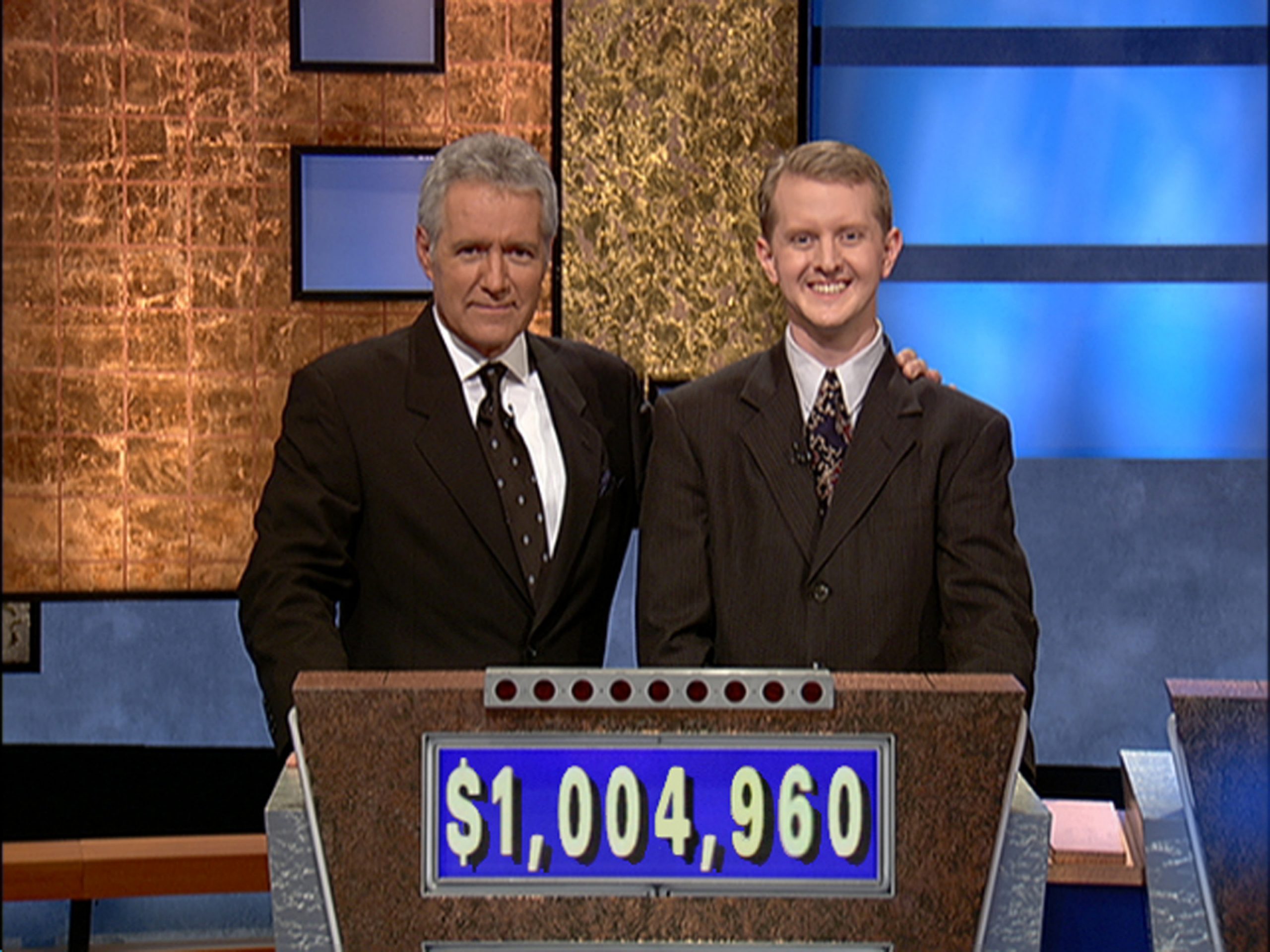 Jennings, a former software engineer, became the show's most popular contestant after going on an incredible 75 game winning streak in 2004. Over that time, the trivia whiz received tons of media attention plus amassed $2.5 million in winnings. And the network was happy with their higher-than-average ratings.
Over the years, Jennings came back to Jeopardy! several more times to compete in tournaments. After Trebek's death, the popular contestant became the interim host of the show until a permanent replacement could be found. But how long will he last?
Tweets have fans questioning Jennings as the 'Jeopardy!' host
The truth is no one can replace Trebek. It's rare to have such a universally beloved host who found fans on both sides of the political aisle and from all walks of life. Trebek was generous, kind, brilliant, and non-controversial both on and off the screen.
Meanwhile, Jennings has already stirred up some trouble. It goes back to some older tweets of his that some viewers are taking issue with.
"Nothing sadder than a hot person in a wheelchair," Jennings wrote in 2014, according to NY Post.
He later apologized when the tweet started making the rounds. "I never did a public flogging for this but I did apologize personally to angry/hurt people who reached out personally," Jennings said in a reply. "It was a joke so inept that it meant something very different in my head [and] I regret the ableist plain reading of it."
Jennings made a joke about someone dying from cancer
The wheelchair tweet wasn't the only offense.
In 2015, Jennings reacted to a Star Wars fan seeing the movie Star Wars: The Force Awakens just before dying. Jennings jokingly tweeted, "It can't be a good sign that every fan who has seen the new Star Wars movie died shortly thereafter."
Plus, a comment like that doesn't bode well for someone who could replace a beloved Jeopardy! host who also died from cancer.
There are more offensive tweets in Jennings' Twitter history, including once saying an "awful MAGA grandma" mourning her deceased son was "his favorite person on Twitter."
There are certainly worse things Jennings could say and do. However, when it comes to becoming the new host of Jeopardy!, he's already sullied the spotless reputation that Trebek spent decades building.
His public comments will likely be a consideration when network execs decide on a permanent replacement on the game show.