'Jeopardy!': Matt Amodio Isn't Shy About Being a Major Ken Jennings Fan
Matt Amodio has become a mainstay on Jeopardy!. After bumping former champion James Holzhauer to third place for most consecutive wins in the show's history, Amodio is hoping to take over the number one spot held by quiz master Ken Jennings. Still, the Ph.D. student holds the Jeopardy! GOAT in the highest esteem despite wanting to knock him down in ranking.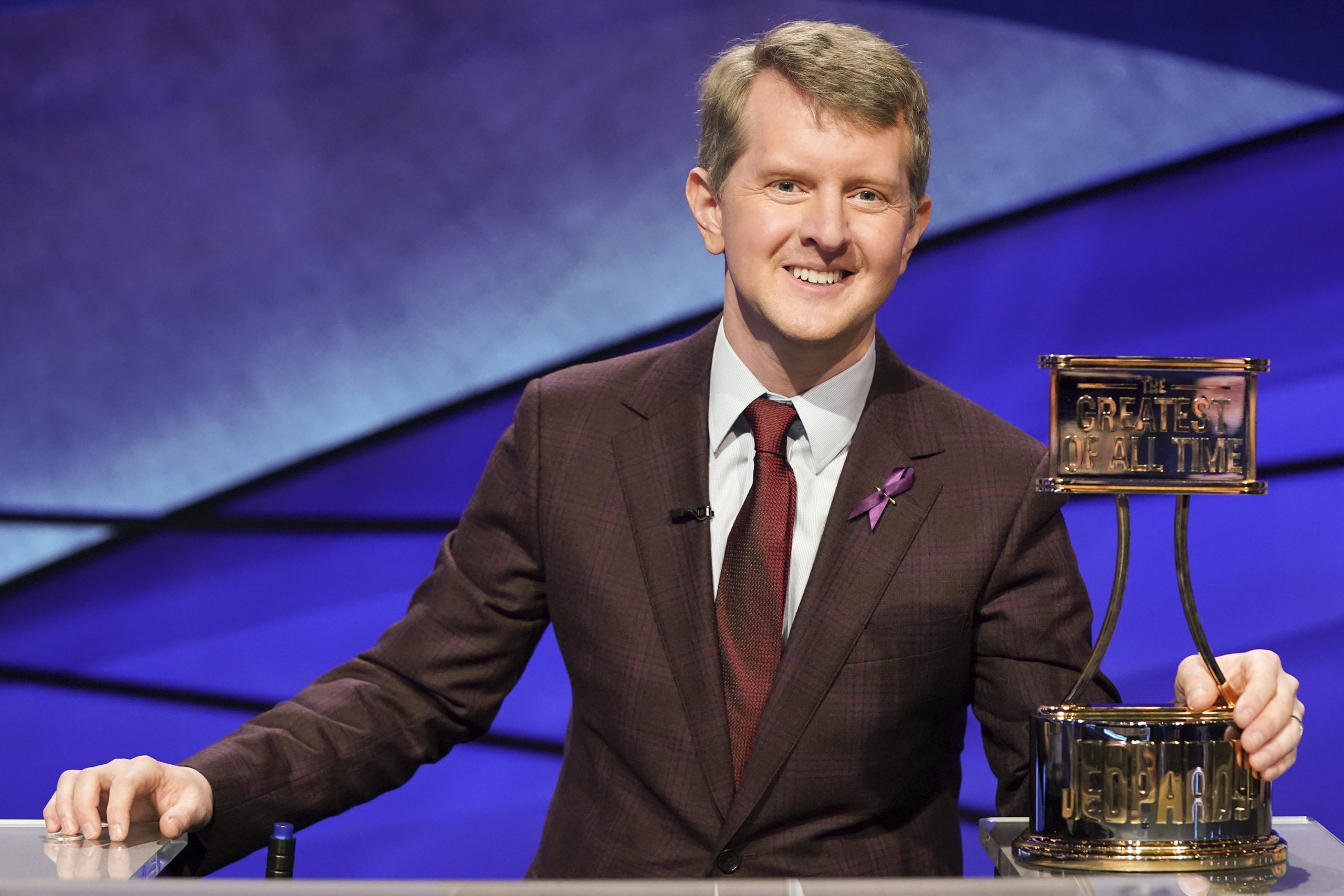 Matt Amodio could head into GOAT territory
Jennings still holds the record for highest winnings at $2,520,700 during his 74-game run. Holzhauer remains at second place (for now) at a total of $2,462,216. Holzhauer's number two spot of 32 consecutive games was recently broken by Amodio. Though he has quite an impressive track record, the Ph.D. student remains in awe of his predecessors.
"It's been nice to see my statistics accumulate, but I feel I'm always going to know less than James Holzhauer and Ken Jennings," Amodio wrote in an article for Newsweek. "Getting my name into the record books as having the second longest winning streak… is something to hold on to, but even having my name considered in the same running as them doesn't sound right to me."
Amodio isn't letting his newfound fame go to his head, even with his recently acquired millionaire status.
"I don't have a whole lot of self confidence, so I don't really think of myself as overly good and then I keep winning!" he shared. "Every time I miss a question, the first reaction in my head is: 'I bet Ken knew that!'"
'Jeopardy!' champ gets a 'Whoa' tweet from the GOAT
Amodio decided to go big or go home during "Final Jeopardy!" on the Oct. 4 episode, risking $37K of his $46K on the last clue. His correct response brought his grand total to $83K for the day. The jaw-dropping amount got the attention of Jennings, who tweeted one word – "Whoa" – after Jeopardy! posted Amodio's victory.
The computer science student was floored by the nod from the Jeopardy! GOAT and wasn't afraid to show it.
"Whoa. I made Ken Jennings say 'whoa,'" Amodio tweeted in response.
This isn't the first time Amodio has been acknowledged by a Jeopardy! record holder. Holzhauer posted a congratulatory tweet after Amodio broke his consecutive-win record, though he did include a note about Jennings' legendary jackpot.
"I've been betting sports since 2005 and this is the first time I've seen anyone hit a 33 game parlay. Congrats @AmodioMatt!" Holzhauer wrote on Twitter. "Still haven't seen anyone hit one for more than $2.46MM though. Stay hungry!"
Ken Jennings had a fan during his 2004 'Jeopardy!' streak
Amodio recalled growing up with Jeopardy! thanks to his parents' devotion to the game show. He became an avid watcher when Jennings was mastering the quiz board in 2004.
"It was on in my household from before I was able to understand what the words were," he told Vulture. "My parents were everyday watchers for my entire life, so I grew up with it. … I was a huge Ken Jennings fan. It was like a sporting event. If there was gear, I would've bought gear and a big foam finger to root him on from my living room. I'm a huge Ken fan."
Jennings took notice of Amodio's trivia chops in August after he won 14 games and posted his accolades on Twitter.
"This guy is the Jeopardy! story no one is following," Jennings wrote.
The Ohio native was clearly starstruck, tweeting in return, "Ken Jennings knows who I am…"
"I still can't believe it," Amodio said of the social media shout out by Jennings. "In terms of the top moments of my life, I assume getting my Ph.D. will be a good one. When I get married, that'll be a good one. … That's really number one in my book."
Despite his apparent admiration for Jennings, Amodio still intends to reach for that top Jeopardy! spot. "I guess the ultimate goal is to win one dollar more than Ken and to have the record for the show!" Amodio remarked.