'Jeopardy!': Mayim Bialik Was Asked to 'Tone Down' One Aspect of Her Guest Hosting Delivery
Mayim Bialik continues to guest host 'Jeopardy!' and spoke of one request from producers that she finds particularly challenging.
Mayim Bialik continues to balance guest-hosting duties on Jeopardy!, her Fox Network sitcom Call Me Kat, and a full home life with two sons. Despite the busy schedule, the Big Bang Theory alum hasn't been shy about expressing her hopes to host the legendary game show full time. Clearly a huge Jeopardy! fan, Bialik revealed she had some tweaking to do while moderating the quiz board.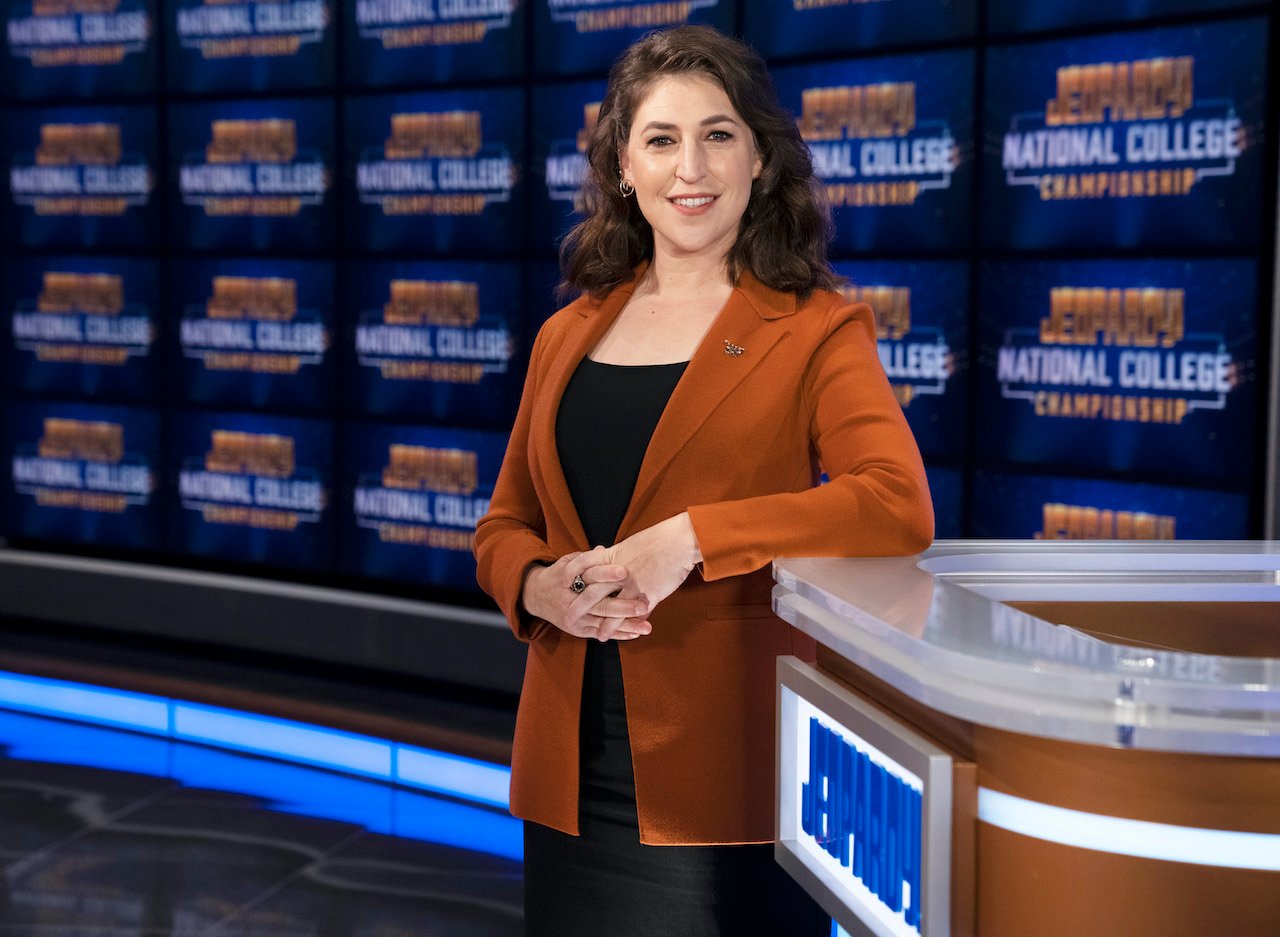 Mayim Bialik shows enthusiasm on correct 'Jeopardy!' responses
Bialik spoke about the responsibility of standing at the legendary lectern, where her approach is sometimes misperceived due to her gender.
"I think as a woman there's a special consideration, because when women sound definitive or stern it's a different message than when men sound definitive or stern," she told the Daily Beast. "And a lot of times when people will say, 'Oh, you sound like you think you know it all,' I'll think, gosh, that's just because I'm using an affirmative voice. One of the neat things about having a woman in this role is it's bringing up a lot of questions about the labels we put on those things."
The Call Me Kat star admitted it's a challenge to contain her excitement when contestants deliver correct answers, and was asked by producers to play it cool.
"One of my biggest challenges is I'm so impressed that people know the answers that they've asked me to tone down how excited I am when people get them right," Bialik shared, adding, "which I think is s a great note to get."
Juggling 'Jeopardy!' and other projects
In addition to her Jeopardy! guest-hosting gig and Fox comedy series, Bialik hosts a mental health podcast with her boyfriend and recently produced and directed the upcoming film, As They Made Us.
"It's been a lot," she remarked. "I guest-hosted Jeopardy! and that was super awesome, but I was working a full-time job as a sitcom actor, so it wasn't like I was planning on having two jobs, as I do. At this point, I only know through the end of this Jeopardy! season what I do, and hopefully I'll find out at some point what happens next. But yeah, it's been very surreal."
Turning 46 in December, Bialik commented on shooting a movie during the pandemic in addition to all of her other current responsibilities.
"A part of me is like, gosh, how does anyone work during COVID on a film?" the Jeopardy! star pointed out. "At the time, we were all running out of tests, so I was literally bringing tests from LA to use for actors. It was nuts. It's been a big 46th year."
Mayim Bialik shared a potential timeline on 'Jeopardy!' gig
The Blossom alum has made it clear from her Jeopardy! debut that she hopes to become the game show's permanent host. At a recent awards show interview in March, Bialik voiced her desire for the job once again and noted when she may find out some news.
"I would love that," Bialik told Entertainment Tonight of possibly being named Jeopardy!'s full time host. "I like to say, I've lived season to season, since I was about 13 years old. So, what I know is I'm hosting until May 6, and beyond that, hopefully – Hopefully, I'll know more before May 6."