'Jeopardy!': Mayim Bialik Hopes to 'Know More' About Hosting Permanently by This Date
Ken Jennings and Mayim Bialik have been tag-teaming as guest hosts on Jeopardy! since September 2021. The legendary lectern belonged to game show icon Alex Trebek until his death in November 2020, and Jeopardy! producers still haven't named his permanent successor. The Big Bang Theory alum has been openly lobbying for the prestigious post and gave a bit of a timeline on when she's hoping to get an answer.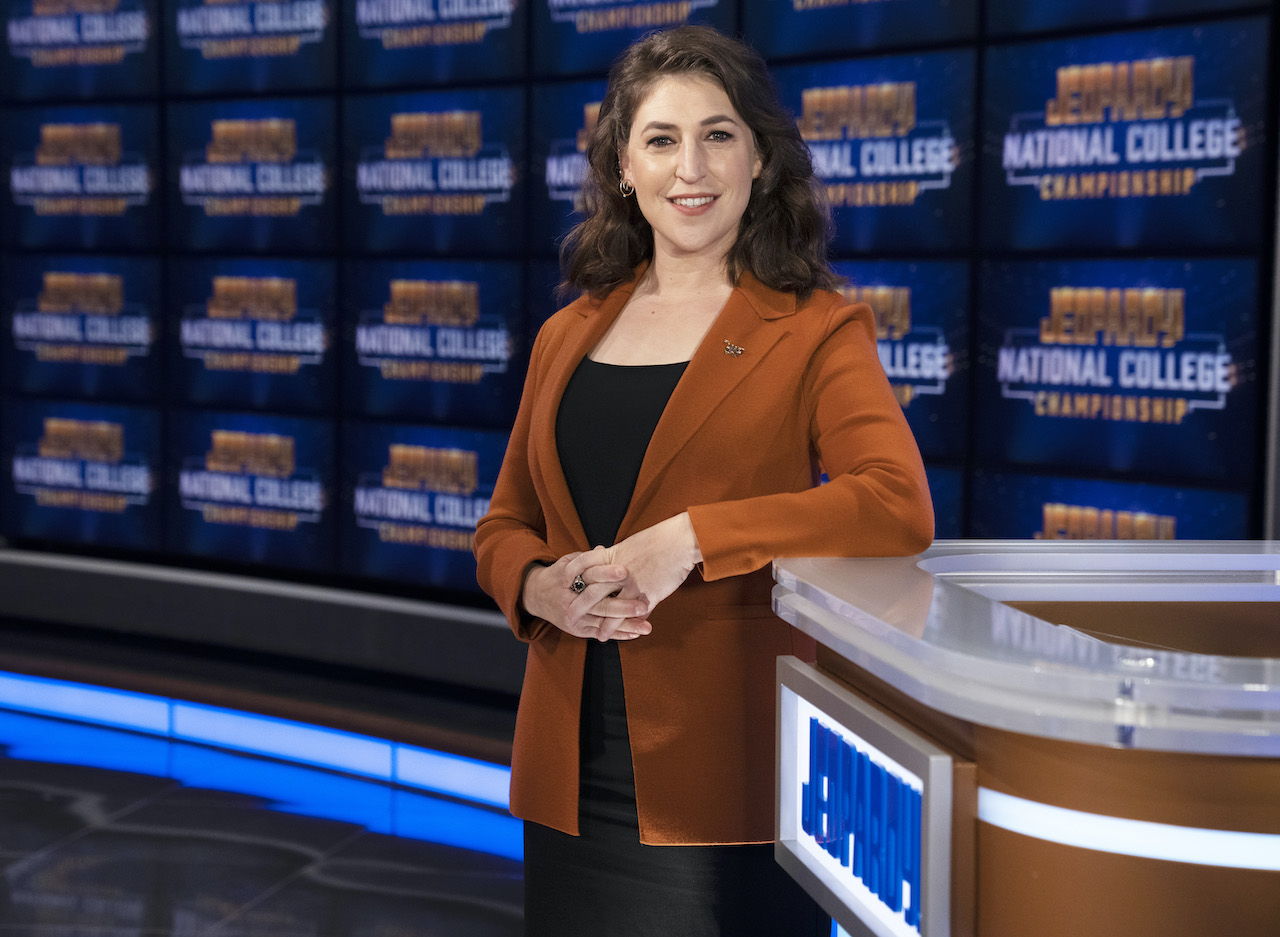 Mayim Bialik admits to 'pressure' on 'Jeopardy!'
The Call Me Kat star recently spoke on some of the challenges of hosting the iconic trivia game, which involves more moving pieces than viewers may realize.
"Speaking Jeopardese, as we call it, is an acquired skill," Bialik told Variety in February 2022. "Not saying the same thing every time something is right, having each commercial break sound a little bit different, those are all challenges."
While Bialik is known for her many sitcom roles, she noted how manning the quiz board is quite a difference from her previous onscreen gigs.
"I think the steepest learning curve is also [having] someone in your ear," she explained. "You are processing a lot of information in real time. When things go wrong, it's hard because wrong can mean they have to reset the whole board. Wrong can be very time consuming. There's a lot of pressure. It is a high pressure job that I do in heels."
'Jeopardy!' news in May?
Bialik attended the 27th Critics' Choice Awards on March 13 and was asked if Jeopardy! fans will be seeing her at the podium on a permanent basis. The Emmy-nominated actor didn't hold back on her desire for the job and mentioned when she's hoping to hear some definitive news.
"I would love that," Bialik told Lauren Zima of Entertainment Tonight in a red carpet interview. "I like to say, I've lived season to season, since I was about 13 years old. So, what I know is I'm hosting until May 6, and beyond that, hopefully – Hopefully, I'll know more before May 6."  
Potentially being named the first female host of Jeopardy! would be of special significance to Bialik.
"I think being a female is its own mark," she said. "My grandparents were immigrants to this country… so for me, to, in two generations, be in a position to be able to be a woman and a host in that iconic role – it blows my mind." 
Mayim Bialik wants to honor Alex Trebek's legacy
Bialik spoke of meeting Trebek's family in September 2021 when the Jeopardy! stage was named after the iconic host and shared her priority in honoring the late game show legend.
"I got to meet them when we dedicated the stage and just feel so humbled around them," she remarked of Trebek's loved ones. "I want to only honor – you can't match him, so there's no need to try – but do continuously kind of want their blessing that they feel what we are doing is supporting that legacy."  

The former Big Bag Theory star credits Jeopardy!'s enduring popularity and loyal audience to the show's engaging style of nurturing a love of learning.
"It is a very simple show that is celebrating the best of our intellectual capacity as humans, and that is timeless," Bialik pointed out to Variety. "Mastering things and holding information are skills that we, as animals, need. Jeopardy! tapped into that and found a way to encapsulate the highest level of our intellectual capacity in a way that is entertaining and will likely never go out of style."