'Jeopardy!': This NFL Icon Wants to Be the New Host
Not all is well in the world of Jeopardy!. After the beloved host Alex Trebek died in 2020, the show has scrambled to find a replacement host. The show did a tour of guest hosts while searching for a replacement. The likes of Katie Couric and LeVar Burton all got a shot at hosting the popular game show. One surprising guest host was Aaron Rodgers, the disgruntled quarterback for the Green Bay Packers.
At the time, it didn't seem Rodgers would be a candidate to become the new permanent host. He was coming off another impressive season with the Packers. While he did get high praise from show producers, it seemed like his guest hosting duties would be just a one-time, off-season gig. However, there have been a few dramatic changes in the past few months. 
This is 'Jeopardy!'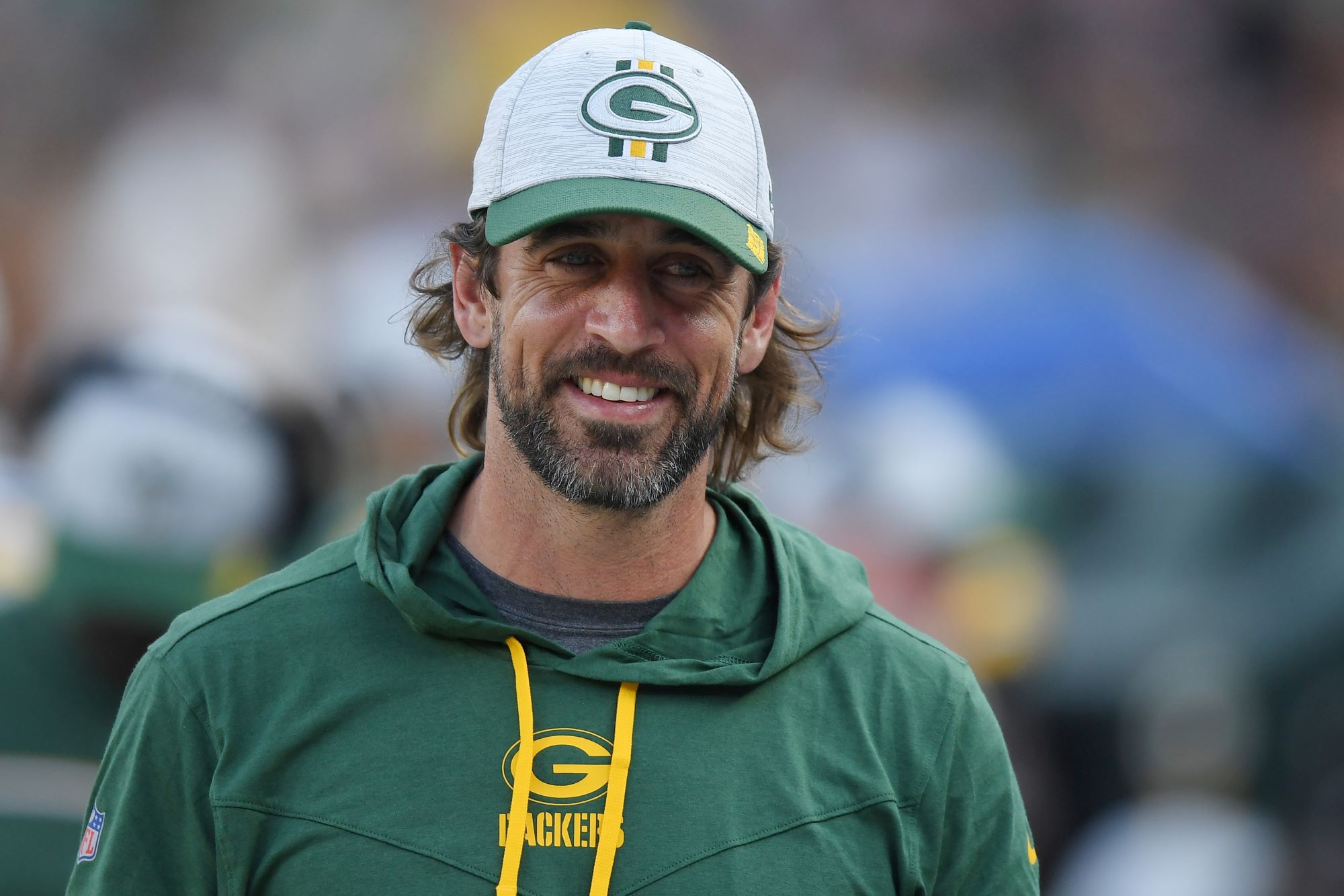 Jeopardy! is a longstanding game show that has been a permanent fixture in American culture. TV legend Merv Griffin founded the show in 1978. Art Fleming originally hosted it. 
In 1984, Alex Trebek undertook hosting duties. In time, Trebek became an icon. His personality and hosting style would be a recognizable feature of the show itself. Trebek and Jeopardy! would become a commercial and critical hit. The show won 39 Daytime Emmy Awards, a Peabody Award, and would make many lists of "Greatest American Shows."
After about 35 years of hosting duties, tragedy struck Trebek. He announced to the world that he had stage IV pancreatic cancer. While the prognosis was bleak, Trebek continued to host the show. According to Global News, he was committed to fighting cancer without giving up his beloved role as host. 
Sadly, Trebek died of his illness on November 8, 2020. It was a dark day for fans who grew up watching Trebek host the show. Deadline reported that producers aired a heartfelt tribute to Trebek and dimmed the lights on set as a sign of respect.  While it was a sad day for television, the show must go on. 
Replacing Alex Trebek
Replacing Alex Trebek as a host is not an easy task. Producers went through a gambit of celebrity hosts that served as a somewhat audition. Guests included former contestants Ken Jennings, Dr. Oz, and Anderson Cooper, to name a few. 
One surprising choice was Aaron Rodgers. Would a jock be good at hosting the cerebral game show? The answer ended up being yes, but it didn't seem like Rodgers would be considered a permanent host. He would be returning to Green Bay after the offseason to continue the golden years of his career. But things would change quickly for Rodgers and Jeopardy!.
Could Aaron Rodgers be the new host?
Rodgers did not have a quiet offseason. He was quite public about his dissatisfaction with the Packers and demanded to be traded. The Packers refused to trade him, and there were rumors that he might retire if he wasn't traded. However, USA Today reports that Rodgers has since reluctantly returned to training camp. 
There was just as much drama behind the scenes at Jeopardy!. Show producer Mike Richards had the task of designating a new host. In his infinite wisdom, Richards declared that he himself would be the perfect host for Jeopardy!. Fans revolted, and things got worse for Richards. Richards eventually stepped down from the hosting position. 
This opened the door for other prospective hosts, including Rodgers. Rodgers was asked if he would accept permanent hosting duties if offered the opportunity in a recent interview. His response was yes if it could have been worked out with his NFL schedule, as reported by MSN. 
However, we are doubtful that Rodgers will actually be named permanent host. It seems most Jeopardy! fans favor LeVar Burton or Ken Jennings. Despite a turbulent offseason, it doesn't sound like Rodgers will be retiring from the NFL anytime soon. Being an NFL quarterback is a full-time commitment for at least six months of the year. With that scheduling conflict, we find it hard to believe that Rodgers could become the permanent host. 
RELATED: 'Jeopardy!': Ryan Reynolds Made a 'Heartbreaking' Appearance in Alex Trebek's Final Week
Related post url: