'Jeopardy!' Star Ken Jennings Gained Several Nicknames Before Becoming 'Greatest of All Time'
Ken Jennings had quite a few monikers from media outlets after his 74-winning streak long before being crowned 'Jeopardy!' GOAT.
Ken Jennings is headed back to the Jeopardy! lectern on Nov. 8 to moderate the beloved trivia game, exactly one year after the death of legendary host Alex Trebek.
Known as the Jeopardy! GOAT after competing against alums James Holzhauer and Brad Rutter, Jennings was given some previous monikers following his 74-game winning streak in 2004.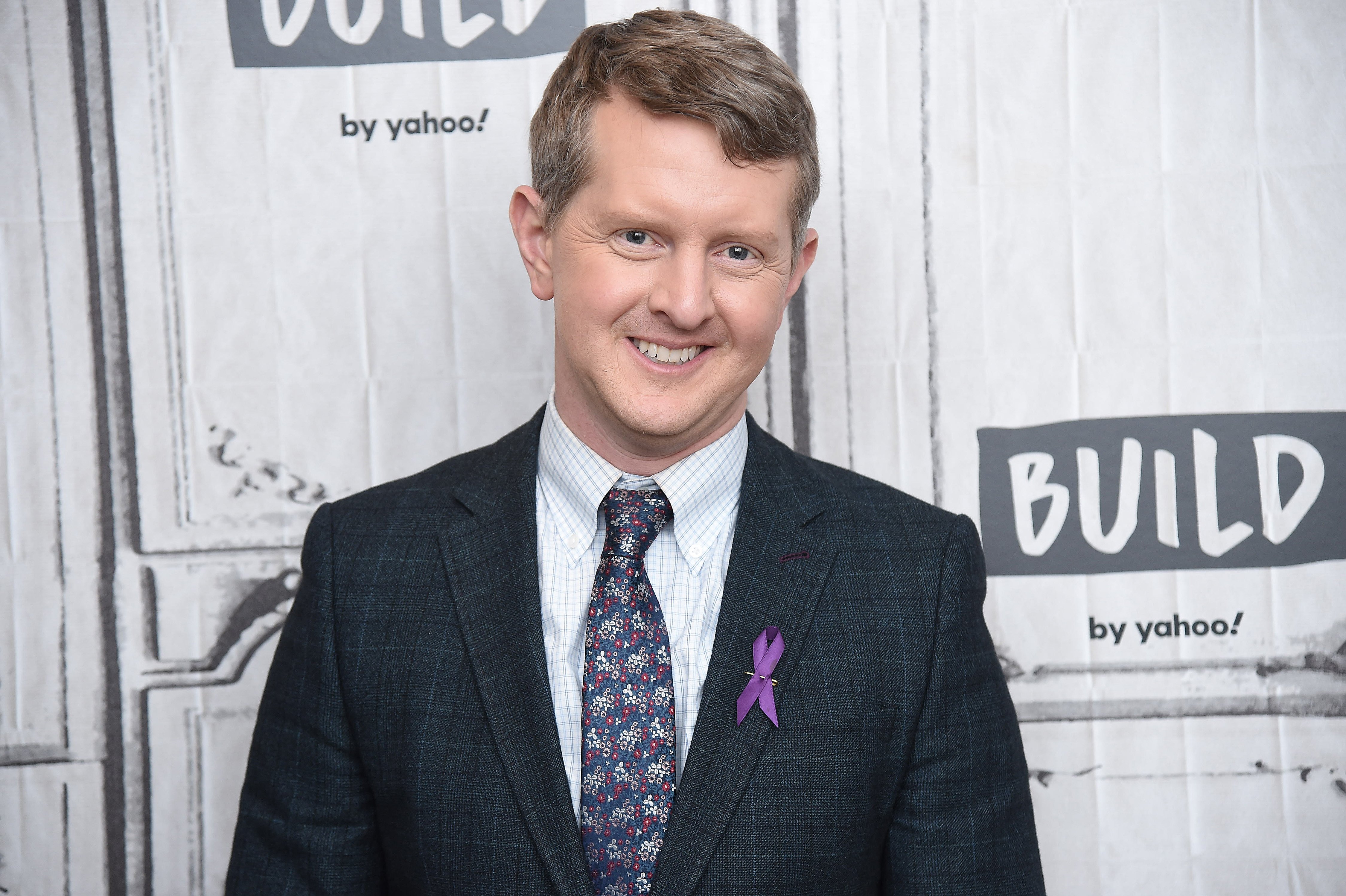 Ken Jennings broke 'Jeopardy!' records in 2004
Jennings rose to fame during his record-breaking stint on Jeopardy! and racked up over $2.5 million in winnings. Little was known about the software engineer in 2004, but soon Jennings became a household name. Appearing on talk shows including The Late Show with David Letterman and Live with Regis and Kelly, Jennings even caught the attention of television icon Barbara Walters and was put on her list of that year's ten most fascinating people.
Several media outlets took notice of Jennings and christened him with a variety of titles. According to his website, The Christian Science Monitor called Jennings "the king of Trivia Nation" and Slate magazine gave him double billing as "the Michael Jordan of trivia" and "the Seabiscuit of geekdom." 
Unfortunately, not all nicknames were so flattering. ESPN: The Magazine referred to Jennings as "smarmy (and) punchable," with "the personality of a hall monitor".
Despite some naysayers, the Jeopardy! GOAT has parlayed his trivia mastery into celebrity status. Since his landmark run, Jennings has written several books, serves as a consulting producer on Jeopardy! as well as guest host of the show, and is currently on ABC's The Chase alongside Holzhauer and Rutter.
'Jeopardy!' GOAT considers fame 'pretty good'
Jennings had no idea that his entry on Jeopardy! would eventually give him a major claim to fame.
"I never thought I would be famous but I thought, 'Wouldn't that be exciting?'" Jennings shared in a virtual fundraiser for the Edmonds Center for the Arts in March 2021. "And for some reason it never occurred to me that you could just do it. You could just try out for a game show.'"
Now that Jennings is a full-fledged television personality, he doesn't seem to mind having somewhat of a fan following – though there are some exceptions where he values privacy.
"Being famous is pretty good," The Chase star remarked. "People look at you in restaurants a lot, that's what I've found. Sometimes you're just in the restroom and people think they can chat with you because you're famous. But sometimes in the restroom you want to have private time."
Ken Jennings hopes to continue Alex Trebek's legacy
Jennings has been asked over the years how he's acquired so much knowledge. The Jeopardy! GOAT chalks it up to natural inquisitiveness.
"Mostly, it comes down to curiosity," he explained. "I think I'm a pretty inquisitive person about the world around me, so as a result I find myself learning new stuff no matter what I'm doing: watching an old movie on TV or doing a crossword puzzle or reading the back of a cereal box. There's information all around us, if we'd only pay attention to it. It's a state of mind more than anything else."
Now scheduled to trade off guest hosting duties with Mayim Bialik through the end of 2021, Jennings unequivocally clarified from his first time at the iconic lectern that there is only one true star of Jeopardy!
"Like all Jeopardy! fans, I miss Alex very much and I thank him for everything he did for all of us," Jennings said at the opening of the episode on Jan. 11, 2021. "Let's be totally clear: No one will ever replace the great Alex Trebek. But we can honor him by playing the game he loved."