'Jeopardy!': What Alex Trebek Has Learned About Life Since His Cancer Diagnosis
Alex Trebek and Jeopardy! go hand in hand. Mentioning one without the other is impossible. Fans watch the TV personality quiz contestants on trivia as he's done for 36 years and counting. Trebek began hosting the classic game show in 1984 and since then he and Jeopardy! have become a fixture on TV. But everything changed when the 79-year-old started having intense stomach pains. Keep reading to find out what he's learned about life since his cancer diagnosis. 
Alex Trebek goes public with pancreatic cancer diagnosis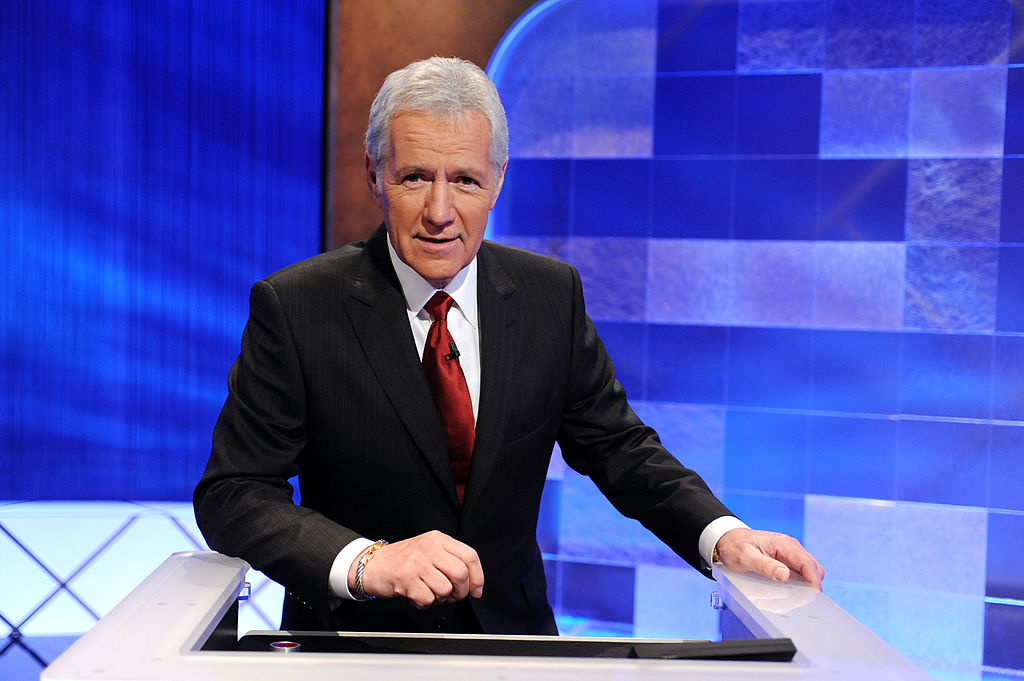 On March 6, 2019, Trebek went public about his health. In a video posted to the game show's YouTube, Trebek announced a stage 4 pancreatic cancer diagnosis. Standing on the Jeopardy! stage, he shared his intentions "to fight this."
"I'm going to keep working and with the love and support of my family and friends — and with the help of your prayers also — I plan to beat the low survival rate statistics for this disease," Trebek said in the brief clip.
He went on, at one point joking about his Jeopardy! contract.
"Truth told, I have to [continue hosting] because under the terms of my contract, I have to host Jeopardy! for three more years. So, help me. Keep the faith, and we'll win. We'll get it done."
Following his announcement, Trebek's received an outpouring of support from Jeopardy! fans. So much, in fact, he's decided to write a memoir about his life and time on the show. 
He's learned how many lives he's touched hosting the show
Following the announcement of his diagnosis, Trebek opened up about his situation giving solo interviews as well as one with his wife, Jean Currivan Trebek. During a joint interview they did with Good Morning America in early 2020, the game show host shared some insight about what he's learned about life; that it doesn't last forever. 
After 36 seasons and thousands of episodes, fans have come to know him. Since he announced his cancer diagnosis, Trebek's learned how many lives he's touched. 
"I have learned something in the past year and it's this: We don't know when we're going to die," Alex Trebek said. "Because of the cancer diagnosis, it's no longer an open-ended life, it's a closed-ended life because of the terrible…survival rates of pancreatic cancer," he told GMA's Michael Strahan.
He continued, since the diagnosis he's learned just how much he's touched fans' lives because of the sweet messages they send him. 
"Because of that, and something else that is operating here, people all over America and abroad have decided they want to let me know now, while I'm alive, about the impact that I've been having on their existence," he said. 
"They have come out and they have told me, and my gosh, it makes me feel so good," he added.
Alex Trebek continues to host 'Jeopardy!'
As stated in his initial announcement, Trebek hasn't stopped being a game show host. He's still hosting Jeopardy! despite his wife asking him to take a break. He's been open about experiencing depression as a result of chemotherapy, and in March 2020, he filmed another video sharing an update on his health. 
"The one-year survival rate for stage 4 pancreatic cancer is 18%," he said in the video. "I'm very happy to report I have just reached that marker."

In the face of the diagnosis, Trebek continues to host Jeopardy! and now he knows just how much he's impacted others with his job.