'Jeopardy!': 'Wheel of Fortune' Host Pat Sajak Is Superior to Alex Trebek In a Record-Shattering Way
Jeopardy! has been one of the most popular game shows on television for decades. The show, best known for its iconic music and dignified, likable host, has won numerous awards over the years and gone through numerous iterations.
For generations of fans, Jeopardy! cannot be topped. However, there is another syndicated game show on television that vies for the title of the best-known game show, and the host of that show was recently honored with an insanely impressive accomplishment that even Alex Trebek cannot claim. 
'Jeopardy!' is a fan-favorite
Jeopardy! first premiered on television in 1964. However, many of today's viewers might not have recognized the original version of the television classic.
It was hosted by Art Fleming, and while it ran initially during the day, it ended up switching to an evening format before changing to daytime syndication once again. In 1984, the show got a major overhaul when showrunners hired Canadian-American host and actor Trebek to host.
To this day, Trebek remains the host of Jeopardy! and beyond just being known as a popular TV host, Trebek has become a staple in pop culture. The show is widely considered to be one of the greatest television game shows of all time, and to fans, Trebek takes the crown as the most compassionate, eloquent host in the business.
Even after being sidelined by cancer in early 2019, Trebek has remained strong, hosting the show that means so much to so many fans. 
'Wheel of Fortune' is hosted by Pat Sajak
Another television game show that has become standard viewing for thousands of Americans is Wheel of Fortune. The show debuted in 1975 and features various word puzzles, which contestants solve in order to spin the giant, colorful wheel — which can determine whether the contestants win a fabulous cash prize or a host of other tangible prizes.
While the show is probably best known for the wheel itself, the host of Wheel of Fortune, Pat Sajak, has also become a figurehead in entertainment.
Born in Chicago, Illinois, in 1946, Sajak served as a disc jockey for the army before transitioning to a career in entertainment radio. He even served a stint as a weatherman for a time, until he caught the eye of showrunners looking for a host for the game show, Wheel of Fortune.
Sajak was brought on board in 1981 and has remained as the host of Wheel of Fortune ever since. Although Sajak has appeared on many other television shows and guest-starred in a few acting roles, he remains best known as the good-natured host of Wheel of Fortune. 
Pat Sajak's major milestone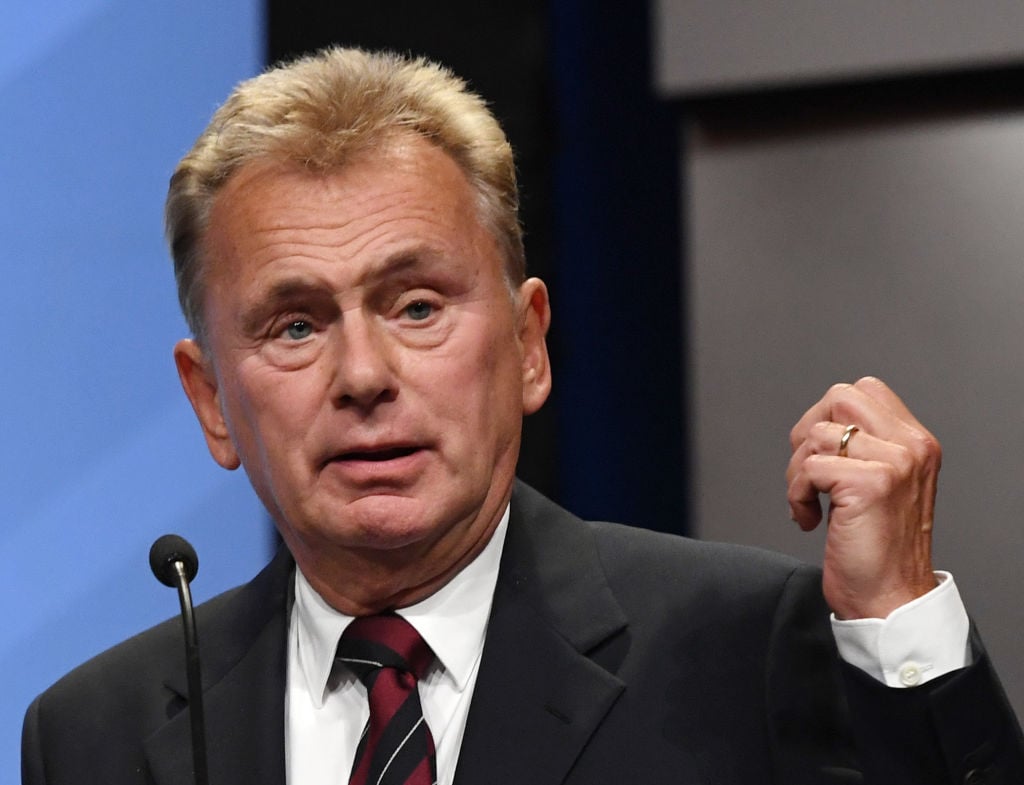 Although Trebek's stint on Jeopardy! is nothing less than impressive, he plays second fiddle to Pat Sajak on at least one count. In early 2019, Sajak was honored by the Guinness Book of World Records when he won the title for the Longest Career as a Game Show Host of the Same Show.
At that time, Sajak's stats for Wheel of Fortune included hosting the show for an incredible thirty-five years. Trebek, brought on board to host Jeopardy! in 1984, is only a few years behind Sajak. 
Not only did Sajak take the Guinness title, but his co-star on Wheel of Fortune, Vanna White, won the title for "Television's Most Frequent Clapper" in 2014. Still, as beloved and as acclaimed as Sajak is, there are many fans who believe that Trebek will ultimately be honored with an award all of his own — especially considering his recent cancer battle.