'Jeopardy!': Who Is Alex Trebek Outside the Game Show?
Alex Trebek and Jeopardy! are practically one and the same. The longtime host of the classic game show has stood behind a lectern for decades dishing out trivia to contestants. He's won Daytime Emmy Awards for hosting and has headed up thousands of episodes of the program. But what is Trebek like outside the show once he leaves set and goes home? Ahead, find out what the Canadian-born TV personality is like when he's not a quiz master. 
Alex Trebek has hosted 'Jeopardy!' since 1984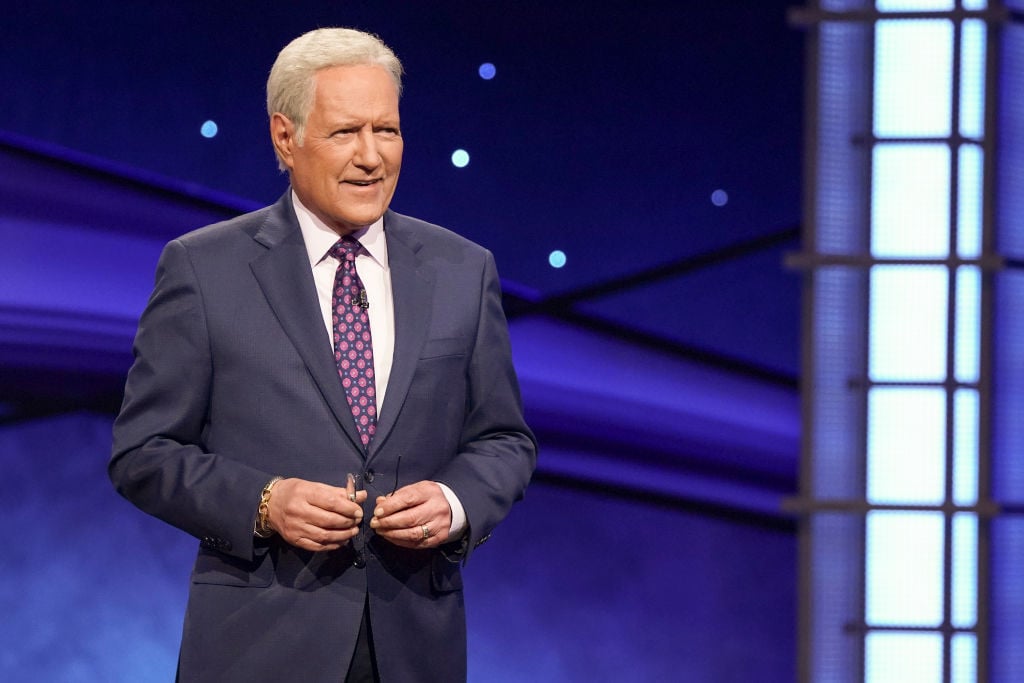 RELATED: 'Jeopardy!' Host Alex Trebek Is Releasing a Memoir, Here Are 3 Questions We Want Him to Answer
Born in Ontario, Canada, Trebek's first hosting gig was for a Canadian music program. He booked a few other hosting jobs and in 1973 he moved to the U.S. to continue his career. He appeared on other game shows but wouldn't achieve success until Jeopardy! in 1984. Trebek took over from Art Fleming as the show's host.
He's 'much more casual than he is on the show,' wife says
On Jeopardy! Trebek is all business with the occasional joke. But outside of work, he's more laid back. Following their 1990 wedding, Jean Currivan Trebek opened up about what her husband's like when he's not working. She recalled being "really nervous" about the idea of dating Trebek after the game show host invited her to have dinner at his house.
"I was afraid I'd mispronounce my own name! But Alex is really down to earth," Jean told People. "He's much more casual than he is on the show."
RELATED: 'Jeopardy!': Alex Trebek Reveals the Secret to Why Viewers Keep Tuning In
Despite the significant age difference between them — Trebek is 79 and Jean is 56 — the two hit it off at a party in 1988 and been together ever since. Today, they are parents to three kids and Trebek has said his only regret regarding their marriage is that they didn't meet sooner. 
Alex Trebek loves to get his hands dirty
When he's not wearing a suit on Jeopardy!, chances are Trebek will be doing work around the house. His wife Jean who is a professional sound healer, Religious Science practitioner, and Reiki master gave some insight on what Trebek does when he's not taping Jeopardy! on her website, InsideWink. 
"Alex would much rather figure something out on his own, than call in someone to take care of it," Jean wrote. She continued, saying he redid her entire bathroom exactly how she wanted it by finding "unique solutions."
RELATED: 'Jeopardy!': Alex Trebek Told Fans to 'Get a Life' When They Freaked Out Over His Mustache Shaving
Alex Trebek: 'I'm not a nerdy person who spends all his time researching'
During a 2018 interview with Vulture, Trebek shared what people are surprised to learn about him. 
"People think because I'm the host of a fairly serious, intelligence-based quiz show that I must know all the answers. I do—because they're written on a sheet of paper in front of me," he said. 
Trebek continued, saying fans are surprised he can do things that don't involve reading books 24/7. 
"And audiences are always surprised when they discover that I like to fix things around the house, that I'm not a nerdy person who spends all his time researching information that might come in handy on Jeopardy!" he said." But I don't mind surprising people in that way."
RELATED: Alex Trebek of 'Jeopardy' Opens Up About Cancer and Depression