'Jeopardy!' Writers on How They Come up With Questions
Jeopardy! is a mainstay when it comes to game shows. The award-winning program's been airing for decades and its popularity hasn't wavered. Every episode viewers tune in to see longtime host Alex Trebek deliver trivia to eager contestants. But who comes up with the clues and categories? Keep reading to find out more about the writers working behind the scenes of Jeopardy! to fill the board with trivia. 
'Jeopardy!' writers have to produce 14,030 clues a season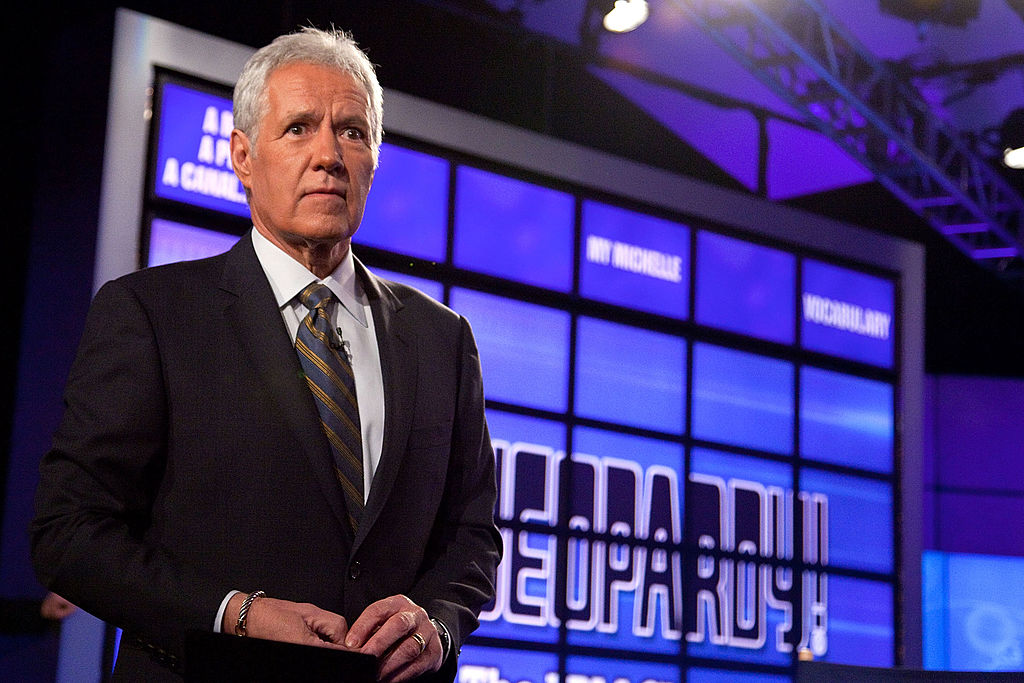 RELATED: 'Jeopardy!': Alex Trebek Reveals the Secret to Why Viewers Keep Tuning In
As the official Jeopardy! website says, writers are responsible for churning out enough content for a whopping 230 games each season which breaks down to 14,030 clues.
According to what head writer Billy Wisse wrote about the show on the Jeopardy! website, those charged with coming up with content for the board "should typically be able to come up with two to three categories (14 to 21 clues)," on a typical day. But when the show's being taped or the writing staff is reviewing games that number will be slightly lower. 
Inspiration comes in many forms
Given that literally thousands of clues that have to be crafted, it's no wonder Jeopardy! writers find inspiration from anywhere and everywhere. For head writer Michele Loud, she typically approaches clue and category creation in two different ways.
"Sometimes I think of a great title and just think, Well, great, I've now gotta figure out something to do with this," she told Vulture in 2019. 
Loud continued, saying her other strategy involves finding things that are alike. 
"My other way is coming across a list of something in common," she said. "A list of seven things is very useful to us writers, because our categories actually start with seven clues — something as simple as seven Tom Hanks movies that have whatever in common. One way or another, you get into your category that way."
RELATED: 'Jeopardy!': Who Is Alex Trebek Outside the Game Show?
Other times, inspiration strikes more naturally. 
In a post on the Jeopardy! website, Loud shared how inspiration struck when she'd been in her car. 
"Apollo 13 was coming out, and there was a Whitney Houston song playing on the radio when I saw the poster," she said. "I said to myself in my car, 'Whitney Houston, we have a problem.' And I wrote it into a Before and After [category] the next day."
What happens next is clues and categories go through a review process. 
Writers have a 'roundtable' to review clues and categories
After writers come up with questions they go to Wisse. Then occasionally throughout the season, the writers will get together for a meeting in what's called "the roundtable." Wisse rings a cowbell — yes, really — signaling it's time for the writers to gather round for a discussion about clues and categories. The purpose is to hash out details before the content goes to researchers for the second time. 
"It's constantly dialogue and comments to try to break the games down and make them as clean as possible," Wisse told Vulture in 2017. 
RELATED: 'Jeopardy!': Will The Quiz Show's Announcer Johnny Gilbert Retire When Alex Trebek Does?
Once the writers are satisfied with the clues and categories they head to research where the information is put through a rigorous fact-checking process. Each clue has to be confirmed by two separate sources or else it doesn't make the cut. According to Wisse the researchers also do something they refer to as "penning" where they review each clue to make sure it only has one correct answer. 
Believe it or not the review process continues right up until an episode of Jeopardy! is being taped. So, next time you watch the show and see the quiz board, know that a lot of work is required to get to the final product. Even then there are no guarantees. Trebek's had to dumb down a category when no contestants answered correctly.