Alex Trebek of 'Jeopardy' or Pat Sajak of 'Wheel of Fortune': Who Has the Higher Net Worth?
Alex Trebek of 'Jeopardy' and Pat Sajak of 'Wheel of Fortune' are both considered iconic game show hosts. Which host has the bigger bank account?
To Tell the Truth, Card Sharks, and Match Game are just a few of ABC's prime time game shows lined up for summer programming. The network may be banking on the success of the two most iconic televised contests — Alex Trebek's Jeopardy and Pat Sajak's Wheel of Fortune — which both remain ratings gold.
With Trebek and Sajak probably the most renowned game show hosts in television history, some may wonder who brings in bigger bucks.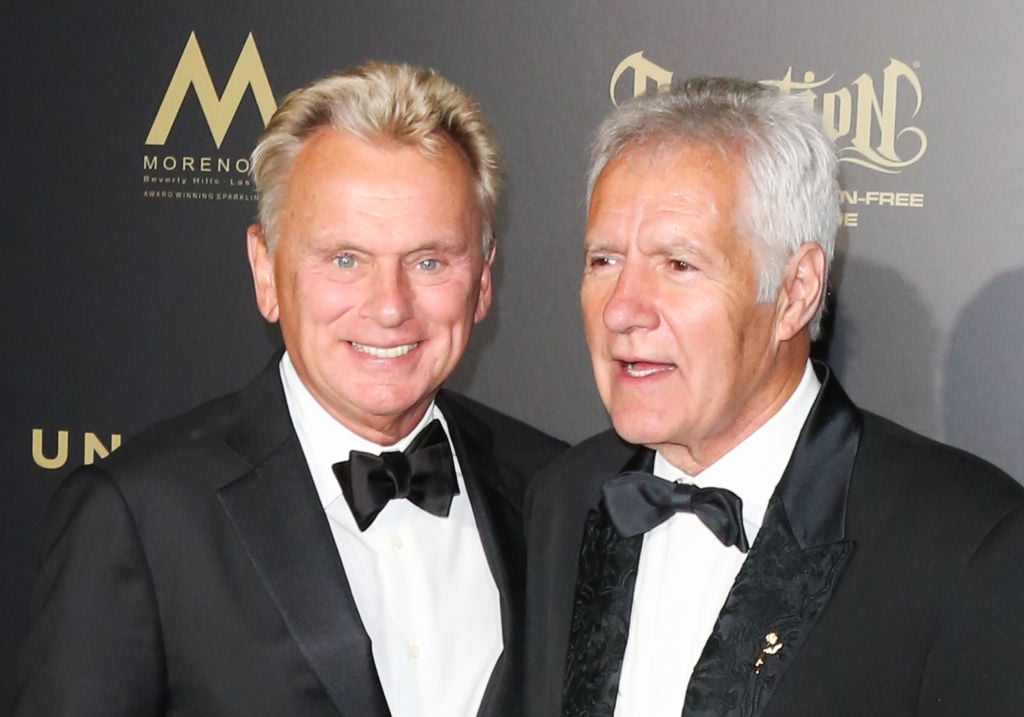 Trebek and Sajak aren't the original hosts of 'Jeopardy' and 'Wheel of Fortune'
Though the two quiz masters are now synonymous with the title of "game show host," Trebek and Sajak were not the original moderators.
According to the Los Angeles Times, Art Fleming hosted Jeopardy when it debuted in 1964 as an NBC daytime show until its cancellation in 1975. When the reboot titled The All-New Jeopardy premiered in 1978, Fleming returned to man the quiz board until the show was canceled again in 1979.
When Jeopardy was resurrected one more time in 1984, Trebek was at the helm and has been there ever since.
Wheel of Fortune's first host to take a spin was Chuck Woolery, along with Susan Stafford as his partner at the board. According to Daily Press, Woolery was a singer and composer before being discovered by media mogul Merv Griffin. Signing on to the Wheel in 1975, Woolery left the show in 1981 after contract negotiations fell apart with Stafford soon following in 1982.
Griffin then hired Sajak, a former Los Angeles weatherman, at the end of 1981, followed by America's favorite letter-turner Vanna White.
'Wheel of Fortune' hits a milestone
Though Wheel of Fortune airs Monday through Friday, both Sajak and White tape the show just four days a month, as reported by Good Housekeeping. Doing six shows per day, the co-hosts only have to work 26 days per month. Not a bad gig!
The two celebrated an impressive milestone in May, hitting 7,000 shows together, according to the USA Today. Sajak even earned a Guinness World Records title for the longest career of a game show host for the same show. "When we went on, there were only three networks," he said. "Cable was in its early days and streaming networks didn't exist. We're in such a different environment, and yet still succeeding. I think that's the biggest accomplishment of the show."
Celebrity Net Worth reports Pat Sajak's 2020 net worth at $70 million.
While Sajak isn't planning on retiring in the near future, he prefers to go out while the show is on top. "I'd like to leave while the show's still popular, and I'd like to leave before people ask me to leave," the Wheel master shared. "I'd like to leave before people tune in and see me and go, 'Ooh, what the hell happened to him?'"
Alex Trebek isn't planning on leaving the quiz board anytime soon
Diagnosed in March 2019 with pancreatic cancer, Trebek chose to stay on the job and keep manning the Jeopardy board. "I've had good days and bad days," Trebek said of his health, according to Entertainment Weekly.
Despite his illness, Trebek doesn't have his eye on retirement, though he has considered how to go about his departure from the show.
"Someone asked me if I had thought about retiring. I'm not sure how it's going to work out. We'll see what happens," Trebek revealed. "As long as I feel my skills have not diminished too much and as long as I'm enjoying spending time with the right people… then I'll continue doing it."
Jeopardy fans are hopeful that Trebek stays as long as possible. His tenure has clearly paid off financially, where his net worth for 2020 is reported at $75 million.