Jerry Seinfeld Rejects the Claim that 'Seinfeld' Was a Show About Nothing — 'That Was Made Up by the Press'
Jerry Seinfeld said his show had a point, and wasn't 'a show about nothing,' as the press claimed.
Seinfeld fans and critics have been calling the popular 90s sitcom "a show about nothing" for decades now. They're not exactly sure where that descriptor came from, but it makes sense: unlike so many other television shows in the era, Seinfeld embraced the minutiae of daily life and explored controversial topics that no other writers were willing to cover.
But the titular star of the show did not agree that his show was really about nothing. He also claims the whole thing was made up by the press.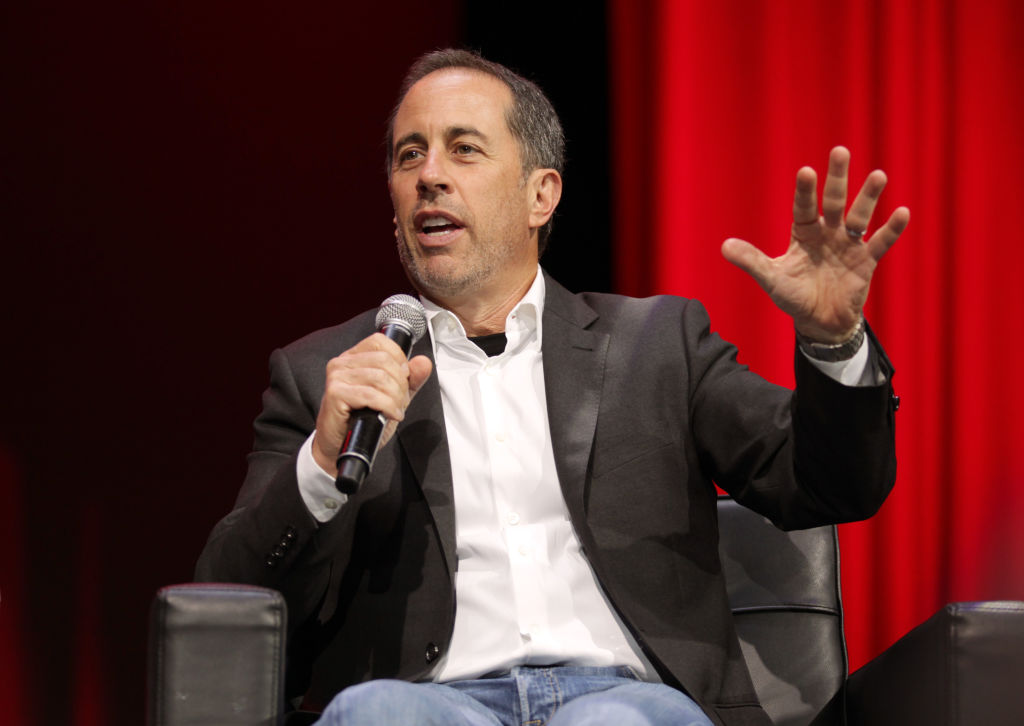 Jerry Seinfeld teamed up with fellow cranky comedian Larry David
Though Seinfeld admitted he had a decent middle-class childhood and not much to gripe about, he rose to fame performing stand-up comedy where he complained about stuff. The 66-year-old comedian said during an interview that his stand-up focused on "observational humor" about "small things" and never included swearing, drugs, or other progressive topics, The Hollywood Reporter wrote.
Those funny observations were similar to another comic, Larry David, who had the same brand of humor. Their idea for Seinfeld came from one random interaction.
'Seinfeld' didn't have a clear direction at first
The idea for the hit show Seinfeld was a bit sporadic. The comedian met up with David at a Korean deli and as usual, they started making fun of everything they saw.
Seinfeld remembered that's how the rough idea for the show began.
"[David] said, 'You should do a show like this.' I go, 'Yeah, that would be fun. Let's do a show like this. Two comedians. Nothing to do. Walking in and out of places in New York. Talking about stuff.' That was it."
Viewers weren't sure what to make of Seinfeld when it debuted in 1989, but after several seasons, the fan base started loving how different it was.
Jerry Seinfeld swears it wasn't 'a show about nothing'
Though the co-creator admitted that the show wasn't supposed to have a point, at least not at first, ultimately he denies it was "a show about nothing"
THR reported that Seinfeld called that description "nonsense" and said, "That was made up by the press." Instead, he said Seinfeld was a close representation of his own life as a single stand-up comedian working in New York City.
Instead of being about nothing, he says Seinfeld was just closer to reality than anything else.
They created dark humor with the 'no hugging, no learning' rule
Plenty of other sitcoms, even comedies, tried to teach their audiences life lessons. The characters might experience personal growth or celebrate a tender moment with a big hug. But none of that was allowed on Seinfeld.
The writers adhered to a strict "no hugging, no learning" policy that steered away from moral instruction. Even the controversial series finale carried on this tradition. In the final episode of Seinfeld, the four friends witness a carjacking but instead of helping the victim, they just mock him.
The final scene shows Seinfeld performing jokes in a prison jumpsuit proving that maybe the show was about something after all. You can't change a person who doesn't want to change.