Jerry Seinfeld Revealed the Genius Way He Paid His 'Comedians in Cars Getting Coffee' Guests
How much did Jerry Seinfeld's guests get paid on his interview show Comedians in Cars Getting Coffee? Seinfeld recently shared the fee that guests were paid, but even more interesting was the way in which he paid them.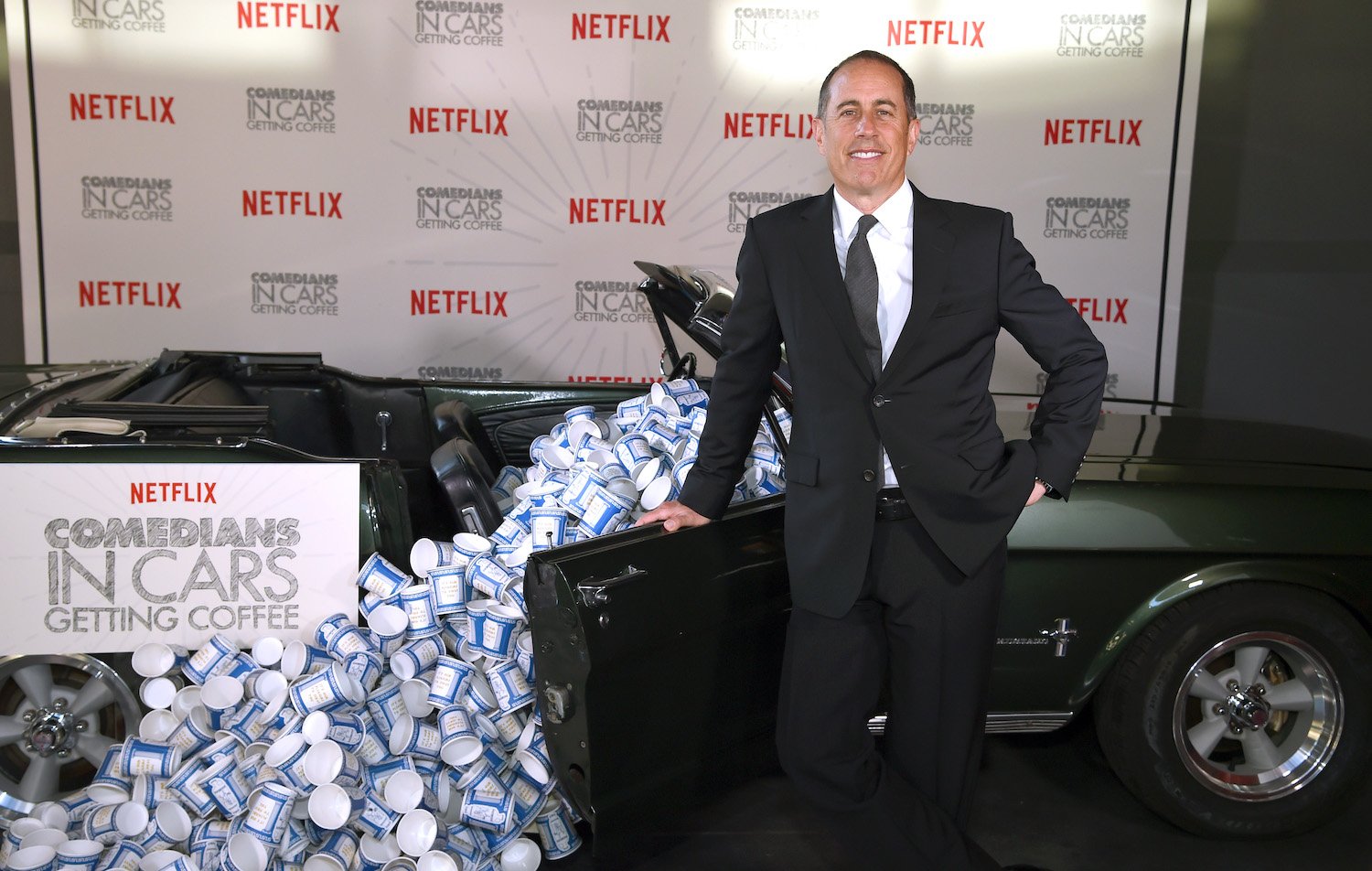 Jerry Seinfeld paid his 'Comedians in Cars' guests in an old-school way
During a Netflix interview with David Spade, the two comedians took a walk down memory lane about some of their stand-up gigs and the way they were paid for the work.
Spade shared, "You go out and you do a gig and you get paid, there's almost nothing like it."
In response to Spade's comment, Seinfeld shared the amount that his Comedians in Cars Getting Coffee guests are paid for an appearance, but it's the old-school way he did it that was so genius.
"If I were still doing Comedians in Cars Getting Coffee — which I don't know if I'm going to get back to that — but I wanted you to come on the next season," Seinfeld said. "And the way I pay people for that show, I give them $4,000 in twenties in a white envelope."
The cash in an envelope payment was a throwback to everyone's comedy club days, he explained. "That was our comedy club money — nothing felt better than when they would hand you that envelope at the end of the week," he shared.
RELATED: Why Jerry Seinfeld Didn't Want to Do 10 Seasons of 'Seinfeld'
Seinfeld once said this 'Comedians in Cars' experience was 'the most fun'
Seinfeld has driven a lot of people around in cars on his Netflix series, but he counts one non-comedian among "the most fun" experience he had on the show.
During a 2016 Reddit AMA, Seinfeld was asked about his experience interviewing President Barack Obama. It turns out it was pretty cool for the comedian.
When a fan asked, "Any behind-the-scenes story you can tell us about the President Obama CCC episode? Seemed like a lot of fun," Seinfeld admitted, "That was the most fun I ever had."
"The coolest part of that episode, that you couldn't see, was the head of the secret service explaining to me what was going to happen if someone started shooting at us," he continued. "What they would do to the president and where they were going to throw me in the back of a van. That was really exciting Bourne Identity stuff."
Seinfeld was also asked, "Which dead comedians would you have liked to have on Comedians in Cars Getting Coffee?" and he said he had "tons," including "Chaplin, George Burns, George Carlin, and Joan Rivers."
He revealed, "Believe it or not, the idea has been explored to do some kind of CGI effect, using footage of dead comedians to get them in the car, and then we would write dialog around it. It was a total disaster, but you're not the first person to think of it!"
The comedian was also asked about his coffee order during the sit-downs he has with guests and he revealed it's never anything too fancy. "I place no limit on the amount coffee I can drink," he answered. "I allow myself an infinite amount and I like it hot with cream. Sometimes cappuccino, sometimes americana, but nothing fancier than that."