Jerry Seinfeld Revealed the Real Reason He Doesn't Do Movies
There's a good reason why Jerry Seinfeld didn't pursue movie roles after his show Seinfeld ended, though it's likely he's gotten plenty of offers. During an interview with David Spade, Seinfeld explained why he has no interest in acting on the big screen.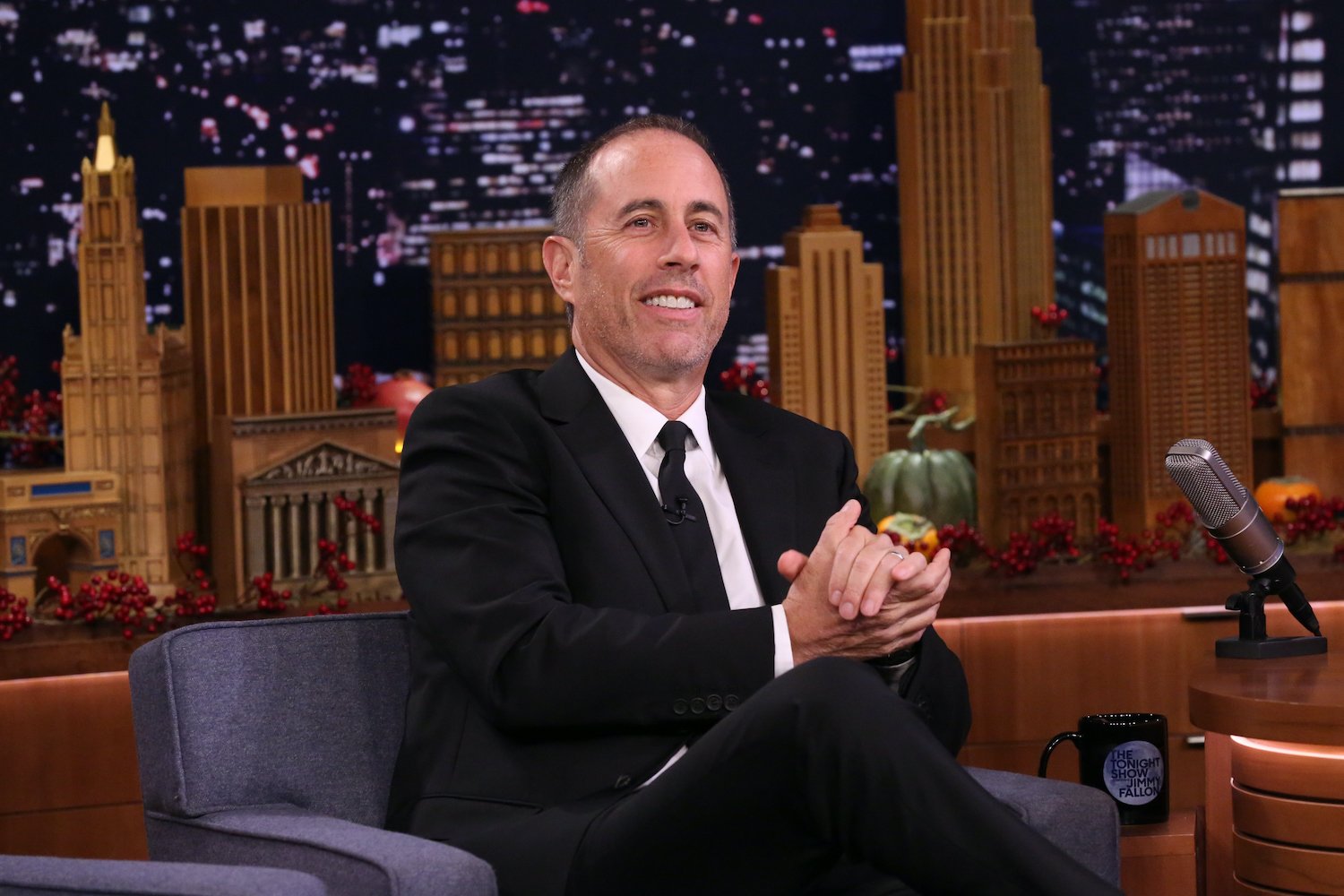 Jerry Seinfeld doesn't want an acting career
Seinfeld had a great run acting on his hit sitcom and could have had more gigs in other roles, including starring in movies. Besides lending his voice to Bee Movie, Seinfeld doesn't care to appear in any films.
He explained the reason why while chatting with Spade during an interview for Netflix — and it's got a lot to do with control.
When Spade asked, "I know you did the Bee Movie, but did you ever — obviously you had a million opportunities — want to be in movies as an actor or you just, that wasn't your thing?," Seinfeld answered, "No."
"I don't like other people's material, first of all," Seinfeld explained, "I was fine doing the series, but after that I wasn't looking. I really feel like I need to control the words, otherwise it won't be funny. I can't do other people's material and make it funny."
Seinfeld added that stand-up is really the ultimate job for him. "I can't get over the incredible racket of stand-up comedy," he said. "I say yes to every gig because I love to go out and do the gig … I can't deal with all the paraphernalia of other things and I don't wonder what it's like to have a hit."
Seinfeld once said 'the funniest things are shorter'
Seinfeld explained more of his disinterest in doing movie roles when a fan asked him about it during a 2016 Reddit AMA session.
The comedian shared some insight into why he thinks there's more funny to be found in shorter material, so movies aren't something that's been on his radar.
When a fan asked, "How come you don't do movies?," he explained, "I don't do movies because I think generally the size of that content does not lend itself to great comedy; it lends itself to people saying, 'Hey, I made a movie.'"
He added, "To me, the funniest things are shorter, so I think TV series or Comedians in Cars, I think I have a better chance of making you laugh.'
Will Seinfeld make 'Bee Movie 2'?
Seinfeld has certainly found a winning formula with stand-up, a successful sitcom, and the interesting interview format of Comedians in Cars Getting Coffee, so it's understandable that he has little interest in movies.
When another fan asked about the possibility of a Bee Movie 2, Seinfeld shared that he gave it some brief consideration but ultimately, it's not happening.
"I considered it this spring for a solid six hours," he explained. "There's a fantastic energy now for some reason, on the internet particularly. Tumblr, people brought my attention to."
The comedian continued, "I actually did consider it, but then I realized it would make Bee Movie 1 less iconic. But my kids want me to do it, a lot of people want me to do it. A lot of people that don't know what animation is want me to do it."
"If you have any idea what animation is, you'd never do it," he added.