Jessa Duggar Just Shared How She's Already Bringing Religion Into Her Kids' Lives on Instagram
The Duggars have been on television for so long that fans have their favorites — and many have made it known just how much they love Jessa. She's proven to be one of the most active Duggars on social media, and her husband, Ben Seewald, also seems incredibly down-to-earth. Even so, we know Jessa is a Duggar through and through, and her religious views influence all facets of her life. And it looks like she's already teaching her young children about the church and Christianity.
Here's what Jessa just posted to Instagram that shows exactly how she's inserting religion into her kids' everyday lives. And it seems her sister Joy-Anna had some interesting insight to give in regards to Jessa' teachings, too.
The Duggars' lives are deeply steeped in religion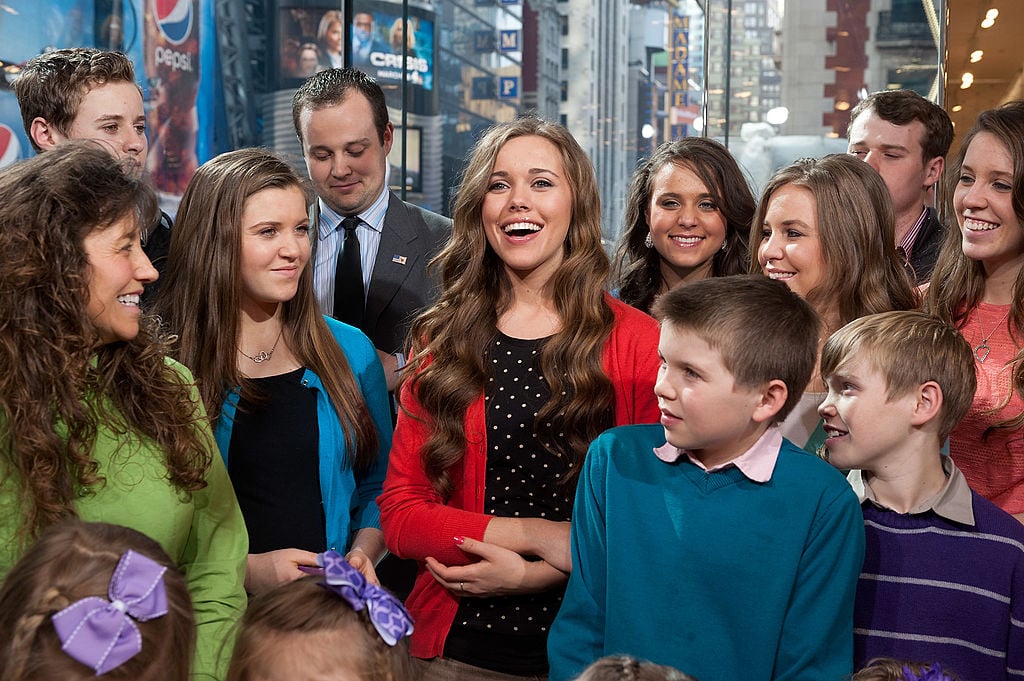 Whether you've followed the Duggars for years or you've just been introduced to their family via TLC's Counting On, it's no secret that they're deeply religious. They're reportedly devout independent Baptists, and church members have even spoken out about what their exclusive church is like. Bustle reports one church member said, "You'll see a family with 21 children who sit up front and behave amazingly well. The Duggars sit in the back generally, and we like that too. When someone is as popular and in a leading position, it is always nice to see them put themselves in the back seats and not be on display as if important. Well done, Duggars."
Since they devout their lives to being conservative Christians, the Duggars live by incredibly strict rules, too. They believe they should dress extremely modestly, they shouldn't consume modern media, and they engage in courtships instead of traditional dating. Courtships also typically encourage no hand-holding, hugging, or touching of any kind until the wedding day.
Jessa is having daily devotions with her two sons
With Jim Bob and Michelle having 19 kids, it seems likely at least one of them would stray away from the family's religion. And while Jessa has adopted some modern practices, like wearing pants, she seems to be following right in her parents' footsteps with her religious teachings. She posted this photo of her two sons, Spurgeon and Henry, on Instagram of them singing hymns she's been teaching during their daily devotions.
"For the past few months we have been trying to do better about having regular family devotions. Sometimes we block out time for it in the morning, and sometimes we do it at night, just before bed," Jessa captioned her post. And she also added more information regarding what her devotions include. "The boys have loved learning new songs! We sing the same hymn (first verse & chorus) several times a day for a week straight, before moving on to a new song," she wrote. Jessa also added that she's been adding scripture memory and Bible stories to her kids' daily practices, too.
Joy-Anna had an interesting comment to make about the hymns Jessa's boys are singing
It appears Jessa's following right in her parents' footsteps, too. Some of Jessa's family members, like Jana, commented on how precious Jessa's footage of her sons' devotional practice is. And Joy-Anna even brought up how there's home footage of Jessa singing the exact same hymns her sons are singing in her post. "Mom and Pops have home videos of you singing those exact songs when you were their age!! This is so sweet! You're doing so good with them!" Joy-Anna commented on Jessa's post.
While Jessa's followers typically have something negative to say about her parenting, it seems they're supportive of this practice with her kids. As one fan commented, "I love this!!! My son is almost 2, and it is hard to take him to church!" And another mentioned, "Love this! As a first generation Christian I sometimes struggle to find an age appropriate routine, but this is great! I've had some wonderful examples of other parents but it's great to see this!"
As Jessa's baby girl, Ivy, gets older, we expect to see her joining in on the religious fun, too!
Check out Showbiz Cheat Sheet on Facebook!