Jessa Duggar Subtly Mentioned Another Responsibility She Had for Her Younger Siblings Growing Up
It's not easy being a Duggar. Jim Bob and Michelle Duggar's 19 children grew up in the spotlight, and many of their adult children have followings of their own. Jessa Duggar is one of the most popular Duggar kids, as she shares photos and videos of her three children and her husband, Ben Seewald, via social media. And it's her YouTube videos that are getting more attention than ever.
Jessa has shown off her home and parenting tactics via her YouTube video. And now, she's sharing how she cuts Ben's hair at home. While the video provides plenty of helpful tips for at-home hair-cutters, Jessa mentioned one aspect of her childhood that gives us even more insight into all of her responsibilities. Here's what she said.
Jessa Duggar helped her siblings a ton growing up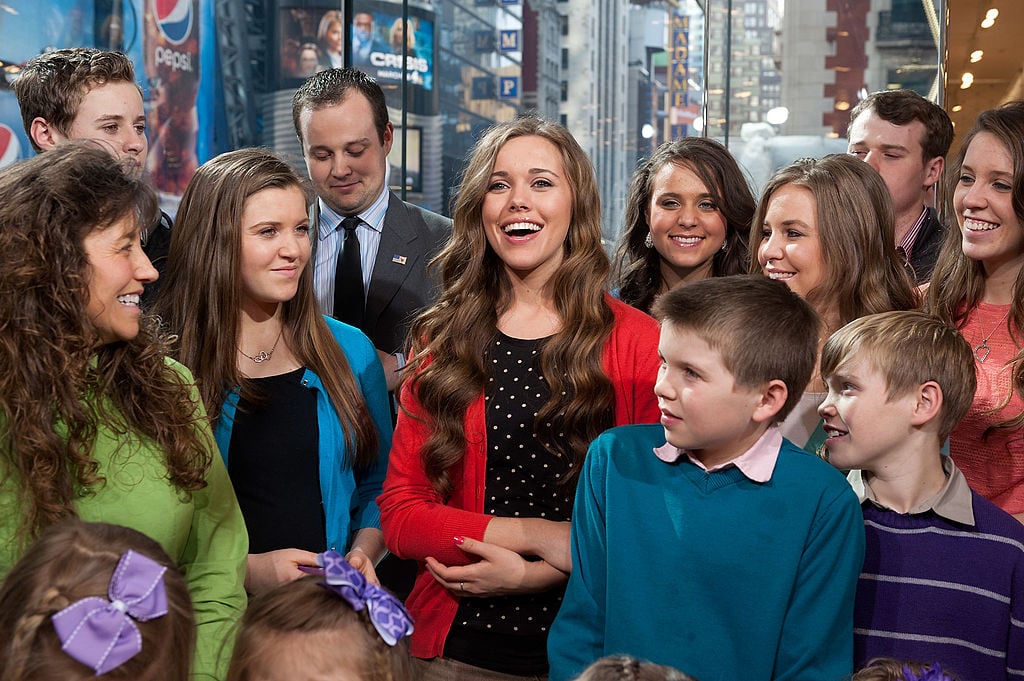 Growing up with 18 siblings is no easy task. Since Jessa was one of the older Duggar children, that means she helped with a ton of household duties, like cleaning up the home, grocery shopping, cooking, and homeschooling. And snippets from 19 Kids and Counting remind us just how much her younger siblings respected her authority.
"At times some of the kids have not wanted to do their schoolwork or maybe not been as diligent as they should, and Jessa is very good about talking to them about the importance of accomplishing their tasks," Jim Bob told the TLC cameras.
Jill also added that the "younger kids listen to Jessa," too. "They listen 'cause they know she means business."
As for what Jessa thinks, she agrees the phrase "don't mess with Jess" is quite popular in the Duggar household. "They say, 'I don't want to do that,' and I say, 'it's not up to you. Nobody asked you. This is what we're doing.'"
She also frequently assisted with tasks in the Duggar family home
Aside from helping with the younger Duggar kids, Jessa was a huge help with other tasks at home. Michelle discussed in the past how all her children would help in the kitchen, and we're willing to bet Jessa helped spearhead some of those tasks.
"All of the kids take turns in the kitchen. I always let each one of them take a turn at learning how to prepare a meal," Michelle told TLC. "We usually have teams of three or four kids that'll work together on the cooking. … There's a leader and then the rest of them follow the instructions of the leader."
Jessa's also been spotted alongside Jinger by TLC cameras grocery shopping for her parents in the past for a special event. "I'm used to cooking big pots of spaghetti or whatever for the whole family, and I thought, well this is gonna be great … this is gonna be good practice for me," she told the camera.
Jessa subtly mentioned another task she'd help with when growing up
It looks like cutting hair is another one of Jessa's specialties. She shared how she cuts her kids' hair and how she styles and grooms Ben's. On Feb. 26, she added a hair cut tutorial for her YouTube followers. And she noted that she got really good at cutting hair because of how she grew up.
"I am not a professional, but I have been cutting hair for my brothers, their friends, family, for a little over a decade now, and I really enjoy it."
While we doubt Jessa is giving her younger siblings hair cuts anymore, perhaps Jana is the one who does it now. The 30-year-old Duggar daughter is unmarried but still living under Jim Bob and Michelle's roof. And it's clear she does a lot for the younger children who share the home with her.
Check out Showbiz Cheat Sheet on Facebook!