Jessa Duggar Wore Tight Pants in a New Photo With Ben Seewald, and 'Counting On' Fans Lost Their Minds
In 2008, TLC viewers met the Duggar family on the long-running television series 19 Kids and Counting. The show, which ran for 10 seasons, featured a devout religious family that lived by a strict set of rules.
In 2015, Jill and Jessa Duggar starred in the spinoff Counting On, which focused on the girls starting their own families. Jessa is now 29 years old, married to Ben Seewald, and the mother of four young children.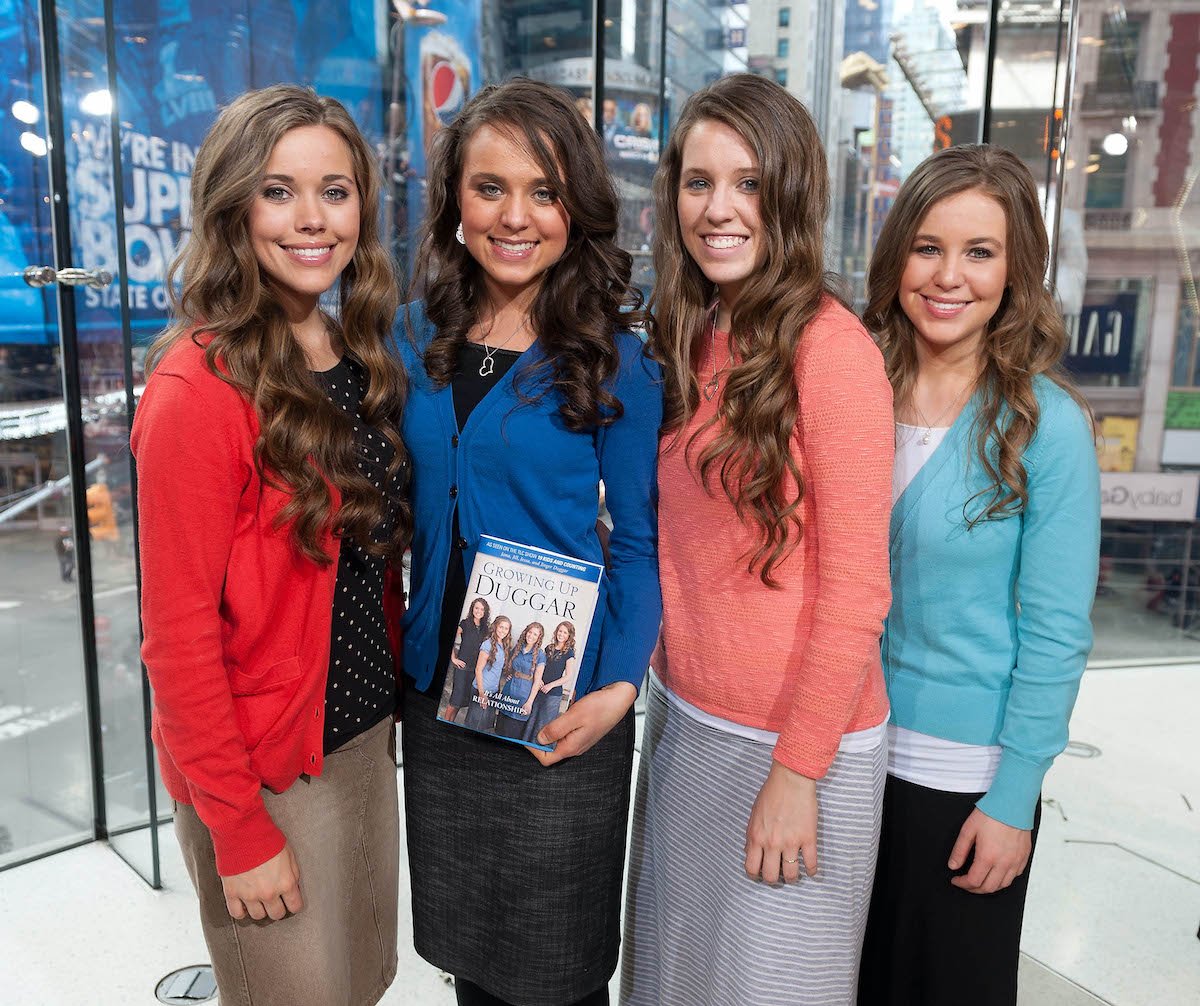 Growing up, the Duggar girls were only allowed to wear skirts. Jessa had stuck with the strict family dress code until recently when she was spotted in a new photo wearing tight pants. Fans of Counting On couldn't believe the young mother was finally breaking free of her family's demands.
The Duggars girl had a strict dress code growing up
Jinger was one of the first Duggar daughters to wear pants. In Touch Weekly reported that "she was ready to live by her own rules" after getting married. Jill and Jana followed suit, seen wearing ripped jeans and even shorts.
In the 2014 book, Growing Up Duggar, the sisters said their parents implemented strict dress code rules because their bodies were a "special gift from God" saved for their future husbands.
The Duggar boys learned at an early age to look away from temptation. When walking past a woman deemed inappropriately dressed, the girls would say "Nike" to signal the boys should look down toward their sneakers.
In a TLC blog, Michelle, the mother of the Duggar clan, explained she was following scripture. She said her daughters needed to express their modesty by being covered from the neck down to the knees.
The girls were not allowed to wear "low-cut, cleavage-showing, gaping or bare-shouldered tops." In their tell-all book, the girls admitted to covering the top of their shirt whenever they bent over to avoid playing the "peekaboo game" with their neckline.
What 'Counting On' Fans had to say about Jessa wearing pants
Jessa recently posted a photo on Instagram that showed her kissing her husband of seven years. The picture was innocent enough, but fans went wild seeing her in a pair of tight black pants. Comments ranged from "Pants! Whaaaatttt. Finally," to "Jessa rocking the pants." One fan said, "Pants are looking great!!! Keep at it girl!!!"
The new look is a big deal for Jessa, who typically dresses very conservatively. Less than two years ago, Counting On fans questioned why Jessa never wore pants like her sisters. Then suddenly, at the start of the coronavirus (COVID-19) pandemic, she was seen wearing pants for the first time, and fans could not believe their eyes.
It seems the isolation of the pandemic may have changed her styling habits. Cafe Mom posted a photo of Jessa in sweat pants and a low-cut top while answering the door for food delivery. Fans were not only taken aback by the revealing shirt but were surprised to see the modest mom out of her regular attire.
While most of us learned to live in our pajamas during the pandemic, it seems Jessa discovered pants are downright comfy.
The evolution of the Duggar girls' wardrobe
Jinger was the first Duggar daughter to toss the pants and start wearing pants. In 2018, she casually wore pants under her skirts until she eventually started wearing pants on their own. Her sisters approved of the look and also started moving away from skirts as their primary choice of clothing.
Over the past several years, Jill has strayed from wearing skirts and developed her own sense of style. These days, according to In Touch Weekly, she favors jeans and sometimes shorts. In 2019, she even rocked a pair of edgy leather pants.
Last year, Jana was spotted wearing pants in an Instagram photo, and Counting On fans couldn't believe the modest woman was ditching her trademark skirts. 
It seems Jessa isn't the only Duggar daughter that has been shopping in the pants section these days.
RELATED:  'Counting On' Fans Shocked After Jana Duggar Appears to Wear Pants in Instagram Photo
Related post url: