Jill Duggar and Derick Dillard: The 11 Most Shocking Revelations the Former 'Counting On' Stars Made in 2020
Since leaving 'Counting On,' Jill Duggar and Derick Dillard keep shocking fans and distancing themselves even further from her famous family.
Former Counting On stars Jill Duggar and Derick Dillard have been quite talkative in 2020. Three years after walking away from her family's reality TV series, the couple started speaking out about why they left while spilling some family secrets. Here are the 11 most shocking revelations that Jill and Derick made this year.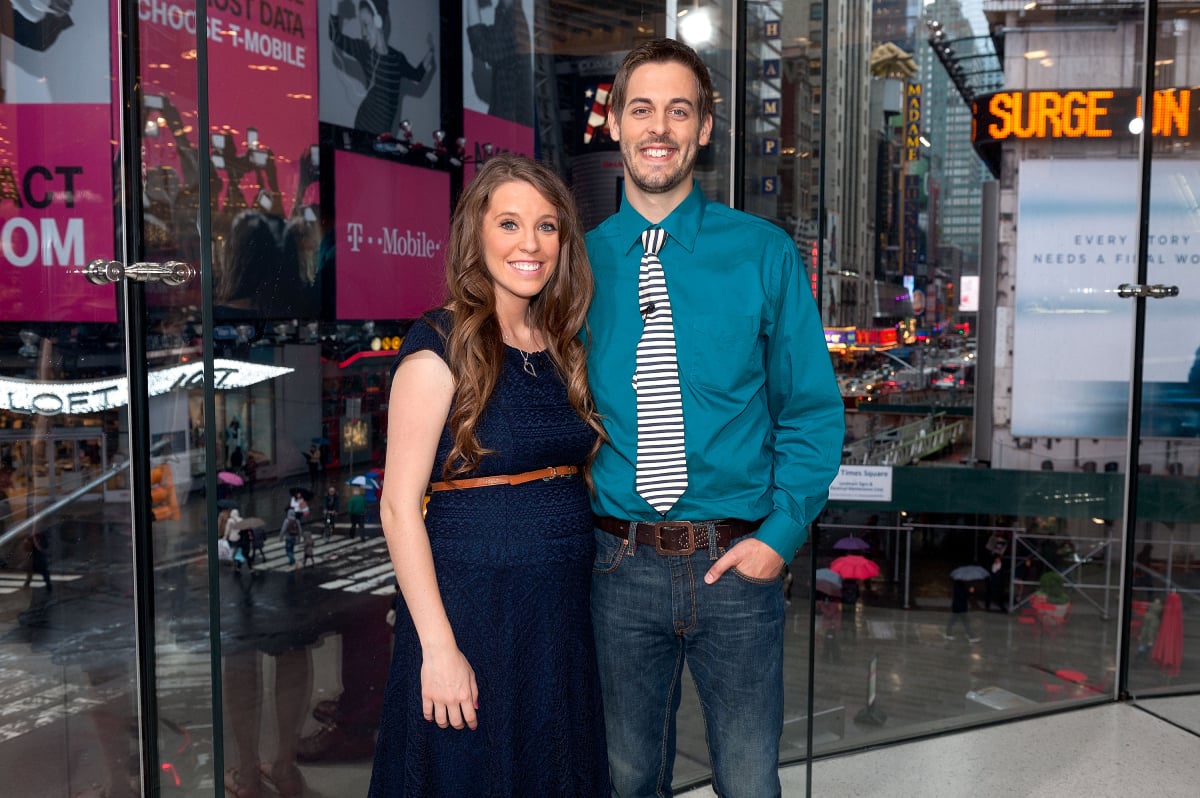 11. Jill really enjoys her sexy time
Jill waited until her wedding day in 2014 – when she was 23 – to get her first kiss. As a married woman, she has discovered the wonderful world of physical intimacy and she wants everyone to know about it.
In November, Jill partnered with the "fun and sexy app" Intimately Us on Instagram for a giveaway that featured a prize with "bedroom games & tons of ideas to make intimacy and sex in your relationship fun and alive." The prize basket also included sex toys, but Jill's oversharing didn't sit well with some fans.
10. Jill Duggar drinks alcohol
Unlike her parents, Jim Bob and Michelle Duggar, Jill does enjoy drinking alcohol. A handful of Instagram posts this year have featured the 29-year-old enjoying a cocktail. She and Derick say they enjoy a lot of things that her parents don't allow. She and Derick say the key is "moderation."
"So, with drinking, it's not like we're just going crazy. It's more socially here and there, or at home, for a date or something. Our kids are pretty young right now, but I think it's good for them to see a healthy balance," she told People in September.
9. Jill was taught there was 'something wrong' with her if she didn't have a lot of kids
It's obvious that Jim Bob and Michelle are extreme when it comes to their views on having children, and they aren't up for discussion in their home. Jill told People magazine that when she was growing up, her parents "ingrained" in her the idea "that if you don't have as many kids as you're able to, that there's something wrong with that."
8. Derick Dillard is writing a tell-all
Derick has said on social media that he is writing a tell-all book about his experience on Counting On. According to an insider, the book will be Jim Bob's downfall.
"He's definitely gonna do his book, and when he does his book, Jim Bob is done. He is done," the insider stated.
7. Things didn't go well when Jill and Derick quit 'Counting On'
Derick revealed on social media that when he and Jill first tried to walk away from Counting On, it didn't go well.
"We were humiliated and threatened when we first tried to not film. Now it's not dependent on us anymore to keep the show going because more kids got married, so it's more OK if we quit," Derick explained.
6. Derick calls Jim Bob 'deceptive'
The former Counting On star also claimed that the way Jim Bob took over the show is "a deceptive business plan." He explained that TLC allowed 19 Kids & Counting to continue after Josh Duggar's molestation scandal. Derick stated that Counting On is "designed to defraud the public with deceptive marketing and deceptive implications."
5. Jim Bob is 'ruled by greed and money'
Jim Bob has spent a lot of years building his Christian conservative Duggar family brand. But, Derick says that his father-in-law is "ruled by greed and money."
"We have to break this culture that cares more about money and ratings than protecting the most vulnerable," Derick wrote. "Jeff Epstein already showed us that if you have enough money, power, and influence, you can get away with anything."
4. Jill Duggar and Derick Dillard's fundraising was legit, but it hurt their credibility
Before Jill and Derick started speaking out, the couple attempted to raise money for their mission work. However, it didn't go well because fans assumed the couple was piling up cash from Counting On.
"Please never assume things; that's part of our message," Derick wrote on Instagram. "People criticized us for raising funds to work on the mission field because they assume we had an income from reality tv. This unnecessarily hurt our work and credibility, so I wanted to set the record straight and remind people that things aren't always as they seem."
3. Jim Bob controls his adult kids' lives
Derick says that after he and Jill tied the knot in 2014, they spent time and money working towards various opportunities. But he says they would always "hit a dead end when we'd be told 'Well, you're not allowed to do that.'"
According to The Hollywood Gossip, Jill says that Jim Bob controls where his children live. Before she and Derick left Counting On, she says their "control to choose what jobs we were allowed to accept and even where we were allowed to live was taken away from us."
2. Jill Duggar and Derick Dillard had to take legal action to get paid for 'Counting On'
In a YouTube video titled Q & A: Babies, Pants, Nose Ring, Tattoos & Faith!, the couple revealed that they had to get a lawyer involved to get paid for appearing in Counting On. They claim that Jim Bob keeps all of the TLC money and doesn't give any to his kids.
The speculation is that Jim Bob has raked in as much as $40,000 per episode for the past 12 years. After they quit the show, their attorney was able to recover some of the money.
"It probably ended up being a little more than minimum wage," Derick revealed. "But we were able to recover at least something."
1. The Duggars get married young so they can have sex
This shocking revelation came from Derick. But, it wasn't what he said that was shocking for most fans, it was the fact that he said it publicly. After Jill's brother Justin announced his engagement to Claire Spivey just one day after his 18th birthday, a fan asked why all of the Duggar kids marry at such a young age.
"Because we want to have sex," Derick wrote.
New episodes of Counting On will return to TLC in 2021.