Jill Duggar Just Got Real About Her Sex Life With Derick Dillard and Some 'Counting On' Fans Are Not Having It
Former Counting On star Jill Duggar didn't get her first kiss until her wedding day. But since breaking away from her famously conservative parents, Jim Bob and Michelle, she's gotten quite comfortable talking publicly about her sex life with husband Derick Dillard. In a recent Instagram post, Jill got really open and honest about bedroom games. But some Counting On fans weren't happy.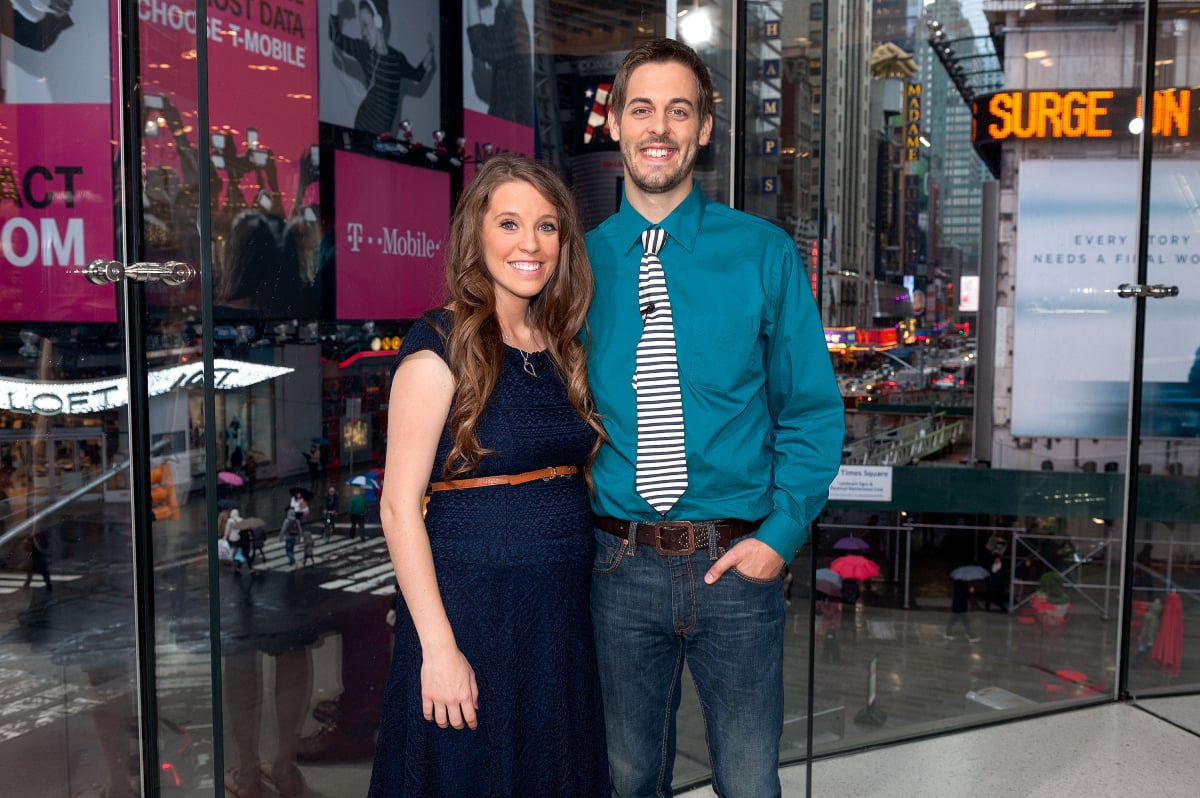 Jill Duggar reveals she has partnered with a 'fun and sexy' app
Since leaving her family's TLC reality show, Jill has become a social media influencer with 1.7 million Instagram followers. In a recent sponsored post, the mom-of-two announced a giveaway that had her "blushing a little."
"🥰 Y'all know how we love to support healthy marriages!! I recently came across this AMAZING app called Intimately Us," Jill wrote. "It's a fun and sexy app for your marriage with fun bedroom games & tons of ideas to make intimacy and sex in your relationship fun and alive!"
Jill shared a picture of the $400 prize basket that included a $100 Married Dance gift card, a $100 Mentionables Gift Card, a massage candle, twinkle lights, and "other" surprises. One Counting On fan was quite surprised to find that the other surprises included what they described as "Christian sex toys."
Jill explained that her and Derick have been using the Intimately Us app for "about a month and have LOVED it." They decided to reach out to the app creator and do a special giveaway "to encourage you to keep your marriages strong."
Some 'Counting On' fans didn't appreciate Jill Duggar's post
Jill told her followers that keeping her marriage strong and passionate is a priority for both her and her husband, even amidst the "chaos of life."
She explained her favorite parts of the app were the bedroom games that are "clean and fun" and the questionnaires that "let you get to know each other's preferences." The 29-year-old also loves "the daily intimacy challenge to keep the sparks of passion alive."
In addition to the sponsored post on her feed, Jill also posted a video to her Instagram Stories where she gave fans even more details about her sex life.
"Derick and I are always looking for ways to keep marriage exciting and fun," Jill said. "We came across the Intimately Us app – it was something I was excited about just for us to use."
The video didn't go over well with some of her followers. One called out Jill for oversharing.
"I'm glad you're excited about your marriage. We that are, are blessed," the follower wrote. "I would just warn against putting what you may or may not do in your private time as a husband and wife out in the public eye."
The former 'Counting On' star understood her fans' concerns
The skeptic told Jill that per her recommendation, they googled "marriage dance" but "chose not to actually click on it." The follower explained that they didn't want to accidentally see something they didn't want to see.
They also didn't want to have something on their computer that could possibly be "an open door for temptation later." The fan was also concerned about their daughter accidentally seeing something they shouldn't.
"Hey! It is a clean site (so no nudity or models)," Jill assured the worried fan. "But, I totally get wanting to be careful about what your kids are exposed to at young ages!"
Sex has been quite the hot topic in the Duggar world this week. Jill's brother Justin turned 18 and announced his engagement to Claire Spivey the next day. When a fan asked Jill why her siblings get married so young, Derick chimed in.
"Because we want to have sex," Derick quipped.
Episodes of Counting On are available on Hulu.