Jill Duggar Just Told a Story About Michelle Duggar's Parenting Despite Family Tension
Jill Duggar might not be in good standing with the rest of her family, but she recently told a parenting story about Michelle Duggar.
Jill Duggar has become the black sheep of the Duggar family over the years. While she seemed to get along quite well with her parents, Jim Bob and Michelle Duggar, and her siblings back when she was on 19 Kids and Counting and Counting On, her husband, Derick Dillard, has been exposing family secrets to the press. Now, it seems Jill doesn't see her family much anymore.
Despite it all, she's still telling stories about her parents, particularly her mom. Here's the story she recently told about Michelle's parenting and what her followers had to say about it.
Jill Duggar's husband, Derick Dillard, spilled major tea about the Duggar family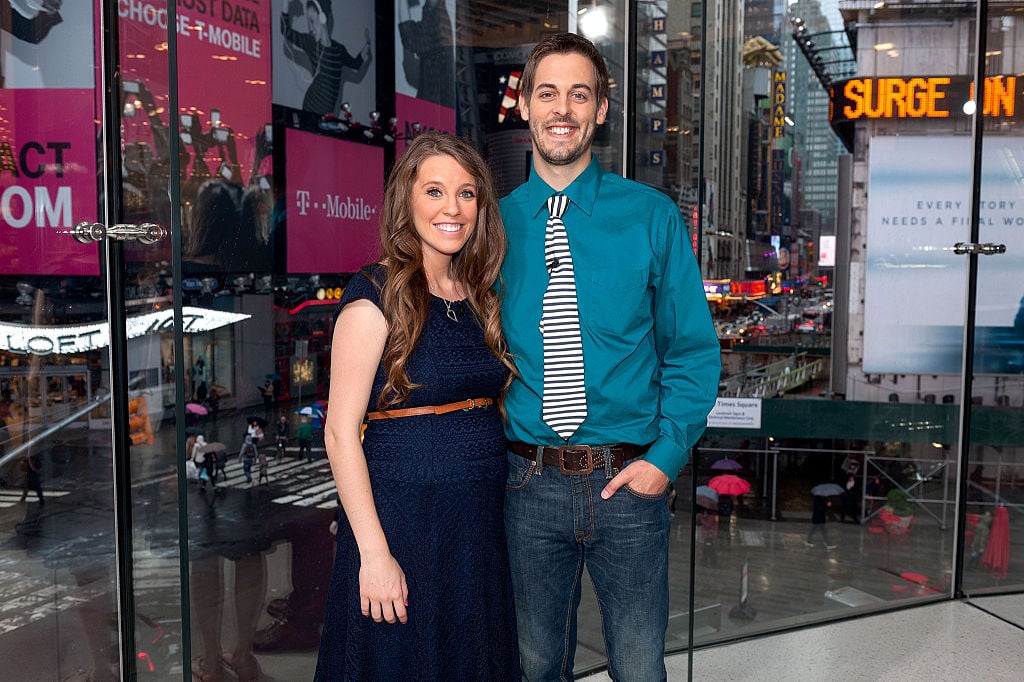 Derick's been spilling Duggar family secrets since the end of 2019. He took to Instagram to answer a fan who asked why Jill and Derick never seem to go over to Jim Bob and Michelle's place for holidays and family gatherings. And Derick explained that they're not welcome at the Duggar family home without direct permission from Jim Bob. From there, the conversation spiraled — and Derick has talked to several media outlets since about the family's treatment of Jill.
According to Derick, Jim Bob holds on to the show's earnings and doesn't evenly distribute the wealth. During an interview with YouTuber Without a Crystal Ball, the Duggar kids and in-laws were under the impression that money wasn't exchanged at all and that it was a volunteer ministry.
Not only that, but Derick also insinuated that Jill's been cut off from seeing her siblings. Derick told The Sun that Jim Bob is uncomfortable with him and Jill being around Jill's unmarried younger siblings.
Jill told a story about growing up with Michelle Duggar as a mom
Despite all the tension between Jill and the rest of her family, she hasn't said much about any of it herself. Instead, she decided to tell a cute story about how Michelle chose to parent her and her siblings when they were just kids. Jill added the story to her Dillard Family blog under a post titled, "How to Cut Down on Tattling."
"When I was a kid, I remember my mom constantly encouraging us kids to work out disagreements between ourselves," Jill started. And she then went into how it was often difficult seeing "eye-to-eye with a sibling," which led to a plethora of fights and disagreements that needed adult intervention.
However, before an adult intervened in the argument, Jill explained Michelle "had two rules" the kids had to ask themselves. "Rule number 1: 'Talk Sweet.' Rule number 2: 'Go and tell' … an adult (and to be used only if rule number one didn't work). If we came running to her with our little problem without having applied these two rules in the correct order, then we would be reminded of them and might be asked if we would like to 'try again.'"
Jill explained that she now uses the rules with her own kids, too.
She joked around with her fans on Instagram about the story
Jill's followers adore her Instagram and blog content. And many took to her Instagram post that promoted the story to share their funny anecdotes.
"My rule is, 'Is someone bleeding? Are they in immediate danger? Are they doing something illegal? No? Then I don't want to hear about it, y'all work it out,'" a follower commented. Jill laughed in response.
"Does your blog about tattling apply to adults too?" another joked.
Jill replied, "haha yeah!"
"When a toddler is quiet, you're better off grabbing the cleaner and paper towel before investigating," another replied. "Odds are excellent you'll need it."
"Haha so true!" Jill laughed back.
We're glad Jill's followers got a kick out of her story despite whatever may be happening between her and her family currently.
Check out Showbiz Cheat Sheet on Facebook!