Jill Duggar Linked to a Post About the Difficulties of Father's Day Amidst Tensions With Jim Bob Duggar
We know Jill Duggar's saga with her family quite well. While she was once featured on TLC's 19 Kids and Counting and Counting On, she and her husband, Derick Dillard, have now completely parted ways with the network. And Derick's been spilling the family tea for months as Duggar family followers wonder what's going on.
Now that Father's Day has come and gone, many Duggar fans might be wondering if Jill did anything special for Jim Bob. While she likely didn't spend time with him, it seems she did quietly give him a shoutout via Instagram. And she also linked to a post about the difficulties of Father's Day. Here's what happened.
Jill Duggar's husband, Derick Dillard, continues to speak negatively of Jim Bob Duggar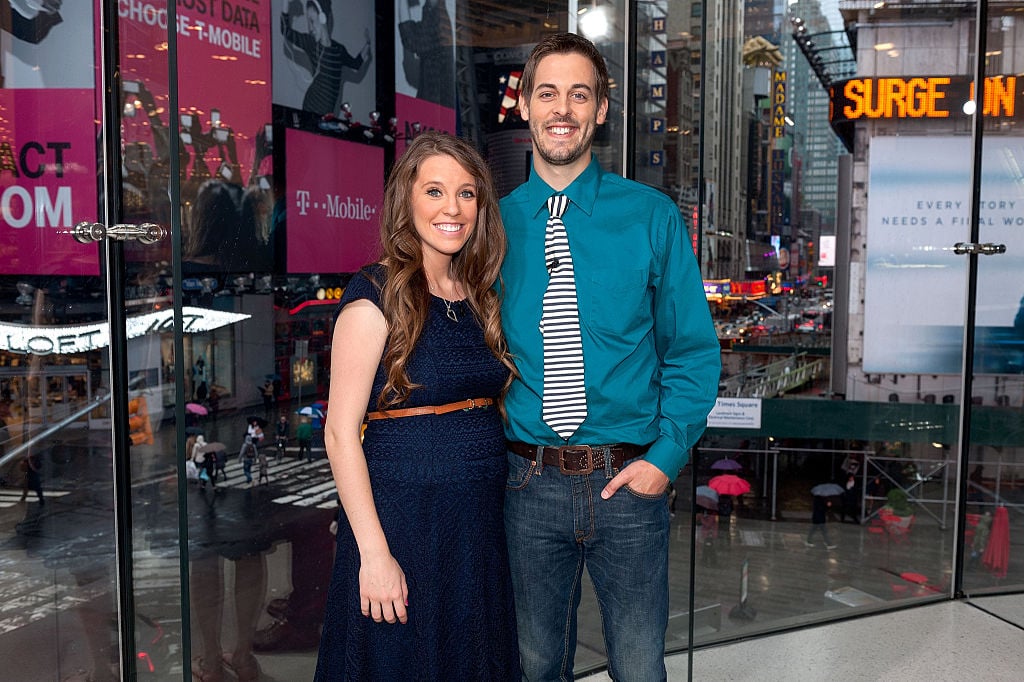 RELATED: 'Counting On': Derick Dillard Suggests Jim Bob Duggar Has Restricted Jill Duggar's Access to Her Siblings
Duggar family followers have had a hunch that Jill's on the outs with her siblings and parents. Jill rarely attends any Duggar family functions, holidays, or events, and she doesn't post about her parents too often, either. At the end of 2019, a follower asked Derick via Instagram if he and Jill ever see Jill's side of the family — and Derick claimed Jill actually needs permission from Jim Bob before going over to the family home.
Discussing Jill's family drama via Instagram was just the beginning, too. Since then, Derick's spoken with YouTuber Without a Crystal Ball and the publication The Sun about his and Jill's relationship with Jim Bob.
"I think he's mainly worried about the influence we might have on his children," Derick told The Sun.
It looks like Derick is open to repairing the relationship with Jim Bob, though. "We hope and pray God would restore relationships where there is brokenness," he said. "But, at the same time, we recognize that only God can change people's hearts and bring healing."
Many of the Duggar daughters wished Jim Bob Duggar a happy Father's Day
While Jill may have a complicated relationship with Jim Bob, such isn't the case for all of the Duggar kids. Many of Jill's siblings make it known that they adore Jim Bob and think of him as the perfect father. And we can't forget that Jessa Duggar created an hour-long tribute video to Jim Bob that details exactly why he's amazing.
As for Father's Day 2020, the Duggar daughters also shared plenty of sweet tributes to Jim Bob. Jinger Duggar shared an entire montage of photos to her Instagram Story showing her with her dad through the years to celebrate the big day. And Jessa also linked her Instagram followers to her tribute video to Jim Bob.
Jana, the oldest Duggar daughter, wrote a sweet post dedicated to Jim Bob on social media as well. "Happy Father's Day to this fun-loving Dad of mine! Thanks for being the best Dad ever!" she captioned the post that included a number of childhood photos of herself with Jim Bob.
Jill linked to a post about the difficulties of Father's Day
Jill didn't wish her father a happy Father's Day on her Instagram Story, nor did she create an entire post dedicated to him. But she did link to a post about why Father's Day can be difficult for some.
"Father's Day might be difficult if: Your father was/is abusive. Your father passed away. Your father is in prison. Your father won't apologize. Your father is not active in your life. …," the post lists. And it continues on from there.
Jill didn't elaborate on what the post means to herself. But she did give Jim Bob a small shoutout in her Father's Day post dedicated to Derick.
"Happy Father's Day to all dads, but especially to my hubby, my dad, & my father-in-law (who I never had the privilege of meeting)," she captioned her post. "So grateful for all 3 of them and blessed by them in so many ways."
We're not sure if Jill and Jim Bob will ever truly repair their relationship, but we're hoping they can reconcile eventually.
Check out Showbiz Cheat Sheet on Facebook!