Jill Duggar Might Have Just Called Out Her Family's Negligence on Her Instagram Story
Jill Duggar linked to a post about proper parenting in her Instagram Story, and it might be a call-out to her own family.
It's tough keeping up with the drama surrounding the Duggar family. While Josh Duggar's scandals of the past were the biggest issue for Jim Bob and Michelle Duggar years ago, a lot has changed since then. And it seems Jill Duggar and her husband, Derick Dillard, are making a splash since leaving Counting On behind.
Dillard has made various scathing claims on Instagram regarding the Duggars while Jill has kept mum. But it looks like Jill may be clapping back at her family in other, more subtle ways. And a recent link on her Instagram Story that's all about raising kids is making us wonder if she's calling out her own parents for their behavior.
Derick Dillard called out the Duggars for how they've treated him and Jill in the past
Dillard has always been one of the more outspoken Duggar in-laws. And his rant at the end of 2019 didn't disappoint. He posted a photo of his family to Instagram right around the holidays, and when a fan asked if he ever sees the Duggars anymore, he let loose with information.
Dillard noted that while he and Jill will occasionally see Jill's family, "it's just harder now because we're not allowed at the house when JB isn't there." And he went on to explain that they both need permission from Jim Bob in order to enter the large Duggar family home.
"Jill even had to ask JB permission to go over to the house to help her sister when she was in labor because her sister wanted her help, but Jill couldn't provide the assistance until we got it cleared with JB," Dillard added.
Not only did Dillard mention the Duggars, but he also dragged TLC. He said the network pressured him and Jill into continuing the show for viewership.
Jill Duggar still has yet to make any public comments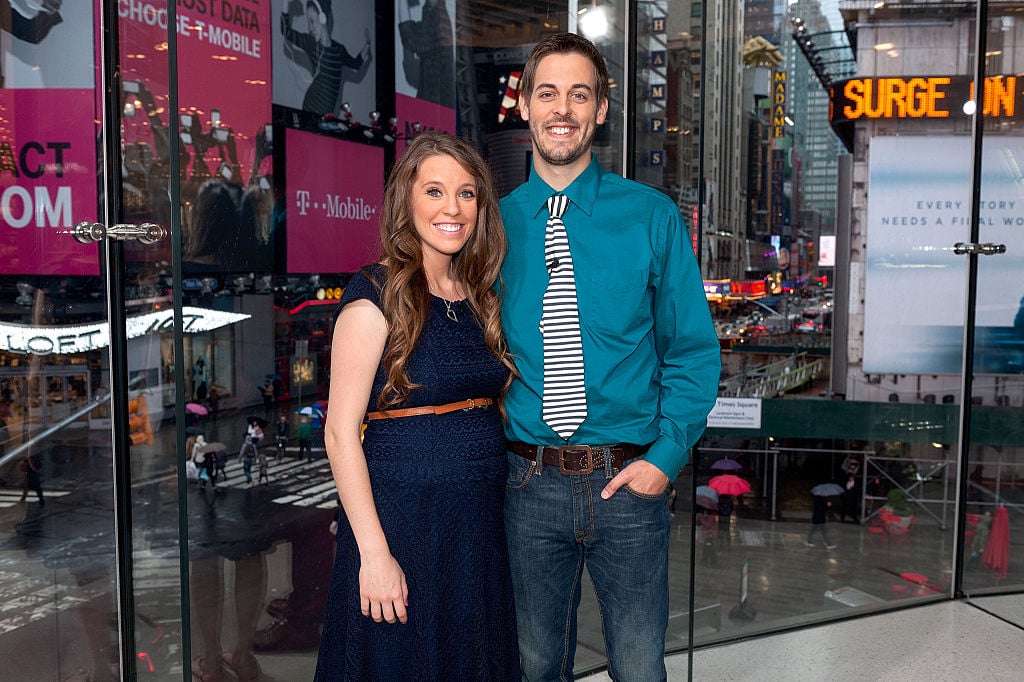 Jill has a very active Instagram presence, so she's certainly aware of everything that's going on on her husband's 'gram. But she's choosing to stay out of it and instead continue to post about her family life and kids. So far, Jill hasn't mentioned the debacle head-on. But she has left a few clues that might reference what's going on.
After everything occurred on Dillard's Instagram, Jill set up a P.O. box for fans to send letters and packages. And while she rarely responds back to folks on Instagram who leave lengthy, concerned comments, she did tell one follower she was grateful they were "concerned" for her.
"It's OKAY not to be a stay at home mom, it's okay not to like it, but it's not okay to be constantly overwhelmed and sad. You need to be happy too and if that's outside the home, that's okay! You raised your parents kids for enough years at home, you deserve to focus on yourself now," the follower commented.
To that, Jill replied, "Thanks for being concerned. … We do revaluate goals regularly, but we also understand that to everything there is a season and right now although at times it's stressful, I'm actually quite content with where I'm at."
She linked a post to her Instagram Story that might be a call-out to her family
Jill linked to a post via her Instagram Story that's a message to all parents. The post is from a woman named Sarah B, and she added a quote from Christian author Edith Schaeffer.
"You cannot expect to have a close relationship with a teenager who, after all, is still the same person as the two-year-old you stuck crying into bed, the three-year-old you spanked and shoved aside, the four-year-old you wouldn't listen to …," the post starts. "[G]reat moments of trust and confidence do not spring out of concrete. They need a long time of being planted, fertilized, weeded, watered, warmed by sun and cared for lovingly before they become mature 'plants' …."
Some Reddit users think Jill is referencing her parents by linking to the post.
"I'm really hoping all these baby steps leads to something monumental for her," one Reddit user commented.
"Jill seems to be realizing her whole life was an abysmal lie and I actually feel bad for her because that is a horrible thing to have to process," another added.
No matter what, we're hoping Jill is healthy and happy despite all the drama going on with her family. And we're looking forward to a potential tell-all book from her husband, too.
Check out Showbiz Cheat Sheet on Facebook!